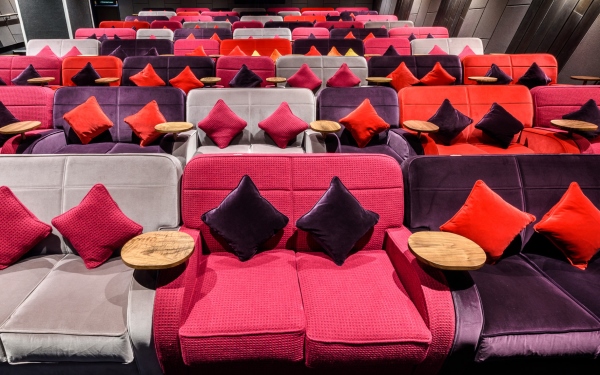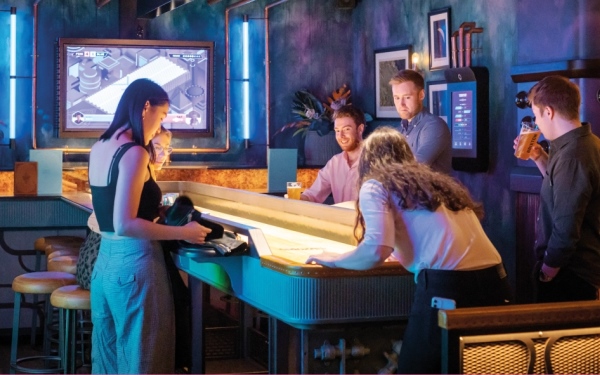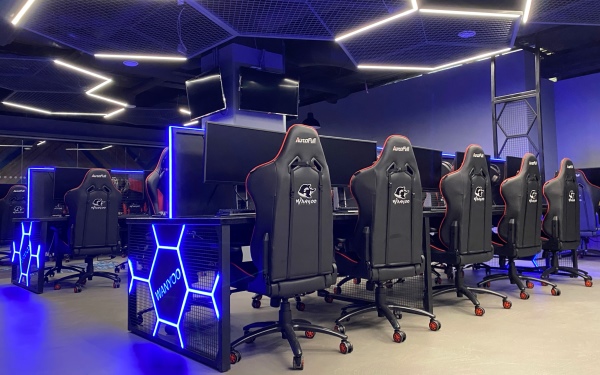 Shops & Services
Let the Fun and Games Begin
Everyman cinema, Electric Shuffle and Wanyoo esports have reopened at Canary Wharf
20 May 2021
Everyman
Those who have been yearning for the sumptuous sink-in sofas and having food and wine delivered to your seat – its 'Spielburgers' are a must-try – need not wait any longer as Everyman Canary Wharf is now open. Reimagining the cinema experience, watch the latest blockbusters at its Crossrail Place location. With long-anticipated releases including American drama Nomadland – a tale of a widow who leaves her Nevadan hometown and travels around America – to Minari, which follows a Korean-American family who move to a tiny Arkansas farm in search of the American Dream, there's plenty to draw you back to the big screen this spring/summer. What's more, with classics such as Willy Wonka and the Chocolate Factory, there's something to entice all the family.
Electric Shuffle
Try something a little bit different this spring by playing a game of Electric Shuffle. This old-time game has been firmly brought into the 21st century with impressive technology that identifies the exact location of the pucks on the table, automatically tallies scores and guides players through three unique games via an interactive screen. Add delicious food such as its sharing pizzas and its frozen cocktails including Blue Electron and Pink Proton into the mix to make for an unforgettable social experience – just what we have all been craving.
Wanyoo
Founded in 1998, Wanyoo has grown to become the largest esports studio chain in Asia, and is quickly expanding its offering across the globe. The Crossrail Place branch is its third in the UK and a gamers' paradise, featuring multi-purpose professional esports equipment, gaming facilities where you can challenge players from across the world in the ESport Room and big screens streaming live tournaments. Get into the competitive spirit by playing one of its many games.
Dine In
After revelling in the excitement of these reopened activities, don't forget to refuel before or after, with plenty more indoor dining options to suit whatever mood you're in…
Best for… street food
Wharf Kitchen is dedicated to world food and there's plenty of outlets to choose from. Biang specialises in cuisine from Xi'an, the ancient capital of Shan'xi in central China, and is famed for its noodle dishes with toppings such as fried egg and tomato, beef, lamb or vegan varieties, as well as its Xi'an-style burger.
Also check out… Ahi Poké, Bird, Rainbo and The Vurger Co.
Best for… date night
With the backdrop of Canary Wharf's skyline, ROKA makes for the perfect first indoor date night this year. Dine from the Robata grill, which serves up an array of dishes packed with flavours and textures, while the menu also features plates from the main kitchen and a selection of sushi and sashimi. Elsewhere Obicà's philosophy is all about food to share, with its pasta dishes, pizzas, salads, paninis and desserts featuring alongside a wide selection of Italian wine labels and original cocktails, made with the best spirits.
Also check out… Boisdale, Franco Manca, Humble Grape, Plateau Restaurant Bar & Grill and Sticks'n'Sushi.
Best for… get-togethers with friends and family
This season The Ivy in the Park is offering up what it calls the 'Summer of Love', with dining options including a weekend brunch, dinner, lunch or afternoon tea where you can discover succulent, seasonal dishes alongside 1960s-styled cocktails and music of the era that help to bring this vibrant decade to life. Meanwhile those craving Spanish cuisine should book Ibérica, which celebrates the food, wine and culture of contemporary Spain with classic dishes such as ham croquettes, along with more experimental dishes like beetroot and red fruit gazpacho.
Also check out… Café Brera, No35 Mackenzie Walk, The Breakfast Club, The Parlour and Wahaca.
Best for… grabbing a quick bite
Whether you're having breakfast on the go or picking up lunch to eat back at the office, Leon is always a crowd-pleaser. With the menu featuring poached egg pots to sourdough muffins, hot boxes to burgers, its food is cooked with fresh seasonal ingredients. What's more, its coffees, cakes, juices and smoothies are served all day while beer and wine is sold from lunchtime. Meanwhile, new to the Estate is Cojean, the perfect pitstop for quick and nutritious food on the go and a changing seasonal menu, with its spring favourites including grilled vegetables and preserved lemon brioche and yogi ready salad.
Also check out… Birleys, Itsu, Paul, Pure and Pret a Manger.
You can also read about Cojean – the ideal lunch spot for healthy snacks in Canary Wharf.