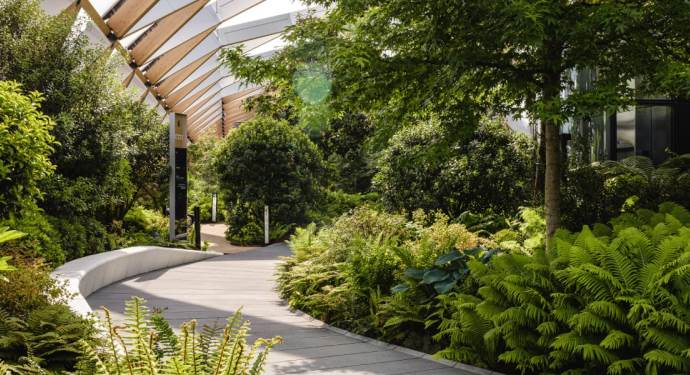 Shops & Services
Everyday Wellbeing
From classes to fitness attire, Canary Wharf's retailers bring you top tips on how to look after your mind, body and soul this season
4 February 2021
MIND
Let's start with the mind: after all, there's never a better time like the present to start looking after your mental health. First of all, let's highlight the benefits of being out in the great outdoors; not only does it help top up those Vitamin D levels, but also being surrounded by green natural landscapes works wonders for our mental health. And for those who are looking for inspiration for their daily exercise, why not take a walk around Canary Wharf's Estate's 20 acres of landscaped parks, gardens and squares? We guarantee you will discover your very own little pocket of calm, whether it's surrounded by the exotic verdant plants in Crossrail Place Roof Garden or the tree-filled open space of Jubilee Park; you are sure to find a few moments of peace.
Indeed, whether it's going for a walk or doing more strenuous activity such as cardio – which is usually associated with fitness and endurance – it all helps with mental wellness. Upping the heart rate gets the endorphins flowing, which in turn elevates your overall mood and wellbeing. Further positive mental effects of exercise include improving self-confidence, alleviating anxiety and boosting brainpower. So, what could be a better incentive?
In terms of setting weekly schedules and aspirations, it's important to be kind to yourself, this is something that Head of Fitness at Awakn James Dawkins shares: "First of all, establish what it is you want to achieve from training at home: is it to relieve some stress from home schooling kids, or from work pressures? Whatever your goal is, find the right style of training to suit your needs.
"Then look at your weekly routine and where you can fit in your training sessions and be sure to put them in your diary. This helps to set the intention to commit to the session, even when you may not be in the mood to do it. Also, a little help from our friends goes a long way. So, if you live with a partner or a friend, talk to them about your routine and create some accountability."
Other activities that can help the mind include meditation – take a look at lululemon's guided meditation videos for inspiration aplenty, meanwhile journaling, staying connected with others and ensuring that you get a good night's sleep all aid mental wellness.
BODY
Next up is the body, and although health clubs and gyms are shut, it doesn't mean that your exercise regime needs to slip or it is a reason to put off starting a new routine: there is so much you can do at home and online; be it a 15-minute home workout video from Sweaty Betty or a virtual stretch class from Flexology, it makes all the difference to your body. We've done the leg work for you with these ideas…
Barry's brings the Red Room to your abode with its HIIT workouts and has various packages on offer, meaning that you can easily schedule one of its classes into your weekly routine and burn up to 1,000 calories per session. Elsewhere member-only Third Space app brings the class concepts from the club and back into your home with its follow-along classes from yoga to cycling, strength to body weight sessions. Meanwhile, Peloton is all about at-home workouts and those looking to sign up can participate in both live and on-demand that are streamed from the company's fitness studio. Finally, Coach Yaz Garcia of high-end boxing gym Sweat by BXR says it's important to "choose a variety of workouts. Try not to overdo it with the HIIT routines… ensure there's a good balance between the high impact and the lower impact workouts, as well as getting some good strengthening sessions in."
And to help you stay on track with your new fitness schedule, Tom Williams, Strength and Conditioning Coach at Pure Sports Medicine says: "Give yourself the best chances of achieving your fitness goals by being realistic and persistent, and using a training programme designed specifically for your aims and ambitions."
To complement your fitness goals, pay attention to the wellness of your body. After a workout, why not hydrate and get vitamins into your body quickly with an at-home call-out service anywhere inside the M25 from Get A Drip? Meanwhile, Holland & Barrett's buy one get one hallf price sale is back if you need to stock up on health and wellness products. And remember it's important to continue to attend health and dental care appointments, so for routine checks or any other concerns, visit Bupa Health and Dental Centre.
SOUL
Feeling fit and healthy is so much more than putting your trainers on; it is just as important to think about how you can connect with your soul. It will thank you for savouring the simple pleasures in life such as sipping a leisurely hot cup of coffee on a weekend morning or baking your favourite recipe and feeling grateful for the day ahead.
During the week, after a long day of working from home, top up your soul goodness by treating yourself to a soak in an Epsom salts bath – which is also particularly good after exercise – in the knowledge that not only is it relaxing but that the magnesium is absorbed through the skin into your body; click and collect Westlab's or Dr Teal's brands from Boots. And for an extra treat, why not purchase an aromatherapy candle by picking one up from Waitrose & Partners' click and collect service?
Bookworms will not be surprised that losing yourself in a good novel will transport you elsewhere; order online from Waterstones. For further soul-enhancing activities, do not underestimate the power of breath and listening and dancing to music.
Finally, you can literally feed your soul with a variety of food from Canary Wharf's restaurant outlets. Farmer J puts what it calls the 'vegetable foot forward' and specialises in using locally-sourced quality ingredients and creates dishes such as Lime Leaf Tofu Curry, Broccoli Mac 'n' Cheese and Whole Roasted Cauliflower. Other healthy options include bowls of goodness from Ahi Poké, ramen from Ippudo or noodles from Biang. For sushi, order online for deliveries from Wasabi or get a takeaway from Sticks'n'Sushi. Wash this down with traditional fruit tea from YiFang made from only natural ingredients or one of Joe and the Juice's vegan shakes or juices.
Put the effort into doing some of these suggestions and your mind, body and soul will thank you in spades.
Click here to read about Wildlife Photography Competition 2020 Winners in Canary Wharf.
Click here to head about Community Champion Awards 2020 in Canary Wharf.