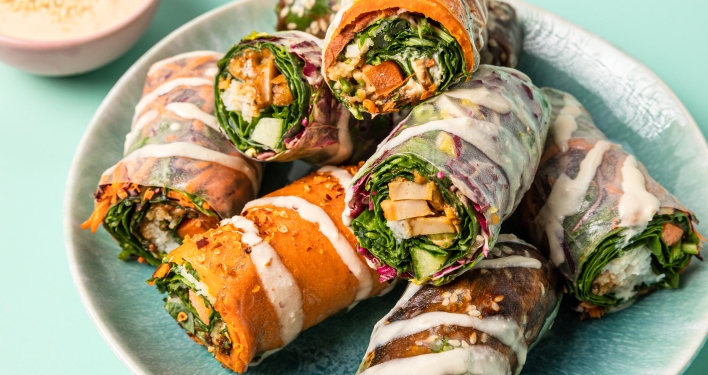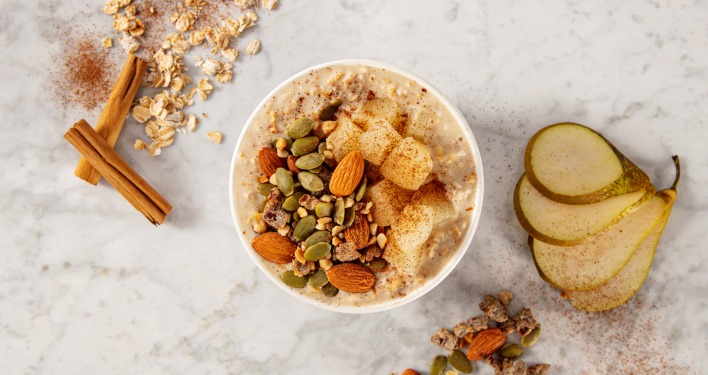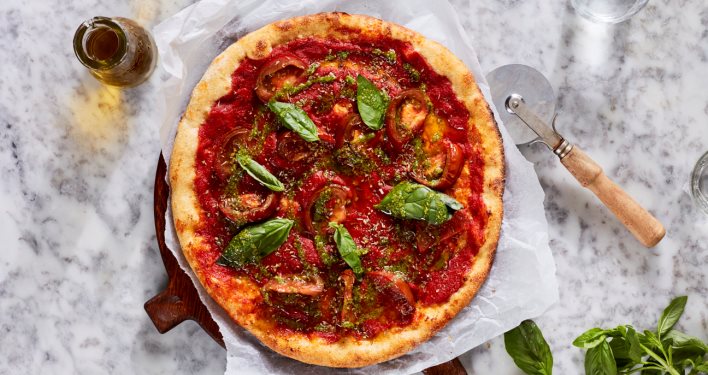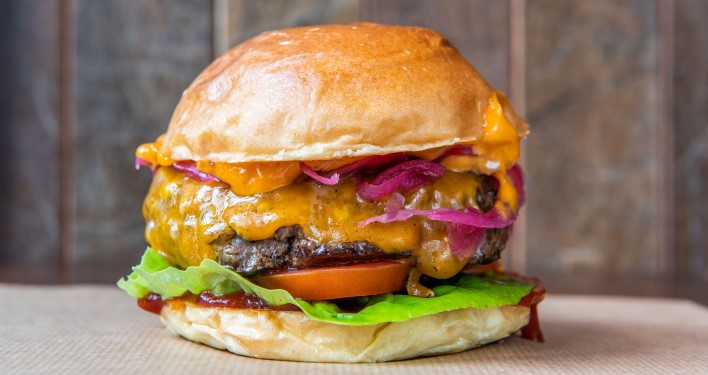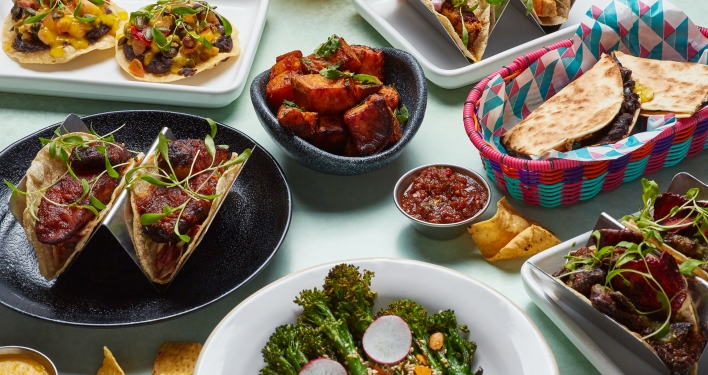 Eating & Drinking
How to do Veganuary in Canary Wharf
The best places for vegan-friendly food and drink in Canary Wharf
4 January 2023
We all know that getting our five (or is it seven?) a day is good for our wellbeing, and the merits of a plant-based diet are widely reported. Whether you're making a long-term habit of veganism or are simply taking up the now annual 31-day challenge that is Veganuary, here are the best places for vegan-friendly food and drink in Canary Wharf.
The best places for a vegan breakfast
Setting yourself up for the day? Whether it's a pre-gym boost or a weekend brunch you're looking for, the city has a wealth of vegan options. 
Salads, smoothies and breakfasts all prepared fresh and on-site – Pure, as the name suggests, offers lots of healthy ingredients. We love it for starting the day as we mean to go on, with a 'Pearfection' porridge brimming with pear, cinnamon and Energy Crunch.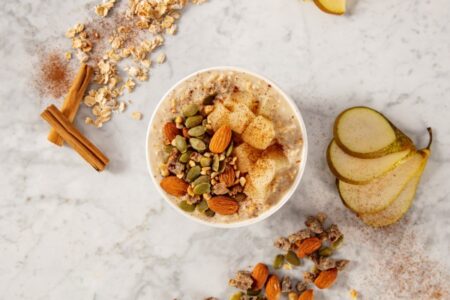 Canary Wharf's own Ivy location continues the brand's theme of Art Deco elegance meets friendly and welcoming sophistication. Their menu is wide reaching, from British classics to Asian-inspired cuisine, at breakfast, brunch, dinner or lunch. It's a great spot for any time of the day but as particular fans of a good brunch, we fancy crushed avocado and roasted tomatoes on dark caraway toast.
The best places for a vegan lunch
Whether it's a working lunch, dashing out for a quick break or a leisurely weekend bite to eat, here are some of our favourite go-to destinations for a midday vegan feast.
Now this is a place that's known for its chicken, but don't let that fool you. Assenheims 56 at Westferry Circus has a range of vegan options to tantalise the taste buds. Now, do you fancy the Vegan Chicken Box, Vegan Patacones or Vegan Supreme?
A sustainable sourcing devotee, atis is all about food that's good for mind, body, soul and the planet. In the chilly January months, we are particular fans of their super healthy warm bowls – hand us a Miso Hungry, we're famished.
Is there anything that Caravan can't do? From dawn 'till dusk, this haven of international fare is helping us access nutritional superpowers with grains, legumes and international flair. Look for their 'PB' (plant based) icon on the menus and take your pick. We're in the mood for a sourdough pizza with grilled portobello mushroom, braised greens, plant-based stracciatella, and gremolata.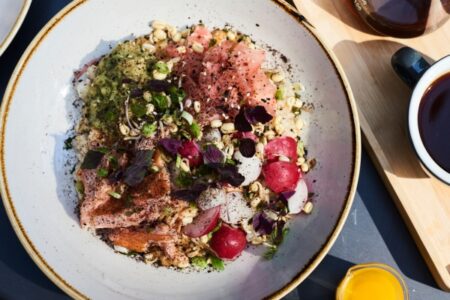 In Reuters Plaza, Garbanzos is all about fresh, healthy, tasty Mediterranean food on the go. The falafel and hummus bar is a pick 'n' mix of your favourite fillings. All dishes are vegan and then you can choose to add vegan or non-vegan toppings at your leisure. 
The clue is in the name with Island Poké, bringing Hawai'i's trendiest foodie export to the city. Fresh, healthy sunshine-inspired ingredients make up your poké bowl, whether you choose one of their house favourites or build your own.
The go-to destination for takeaway sushi, Itsu always has our back when we're looking for a healthy lunch. Check out their vegan options next time you're in, including their 'no meat Mondays' salad with beechwood smoked organic tofu and a teriyaki glaze.
Kaleido is reinventing the salad and wrapping it up in rice paper for salad rolls inspired by Vietnamese cuisine. We'll take a sweet potato and tahini wrap to go.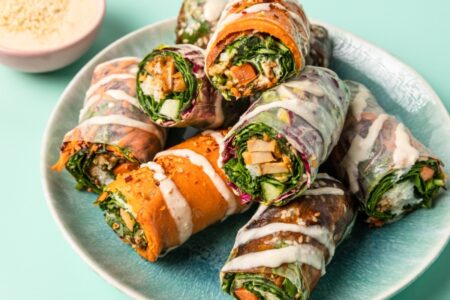 100% plant-based restaurants in the heart of London's borough market and canary wharf, brought to you from the team behind mildreds. we serve seasonal, sustainable food, inspired by cuisines from all over the world. Our aim is minimal waste wherever possible, with ingredients sourced from small businesses, including those right on our doorstep in London.
In Cabot Place, Marugame Udon was named 'Best Value Restaurant Group' in 2022, serving up warming udon broths that are healthy feel-good-factor all the way. Their Kake bowl is comfort food the Japanese way.
Don't let the name fool you, this retro-style restaurant is championed by ambassador Lewis Hamilton and is a vegan and planet friendly take on an American classic.
Crispy falafel for the win at Pilpel – dedicated to health, labour and fresh ingredients. Containing 100% chickpeas, fresh vegetables and spices, you can build your own pitta or opt for one of their classics. 
Lunch on the go never looked so healthy. Urban Greens has turned the concept of a humble salad and elevated it to new heights. They are environmentally friendly, and they love their food – they even massage the lettuce. Pick a bowl and enjoy – we'll be tucking into a Jakarta for its cajun spiced tempeh and those ginger pickled carrots. 
Bringing Mexican joy to the chilly winter months, Wahaca at The Park Pavilion brings you tacos and taquitos for days. Perfect for sharing, and made with the planet in mind, you just wait until you try their Vegan Nachos.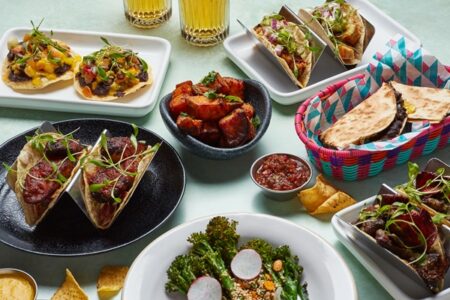 Cabot Place has its own take on the grab-and-go lunch, at Yolk, known for its serious sandwiches and quality ingredients. Think fine fast food and speciality coffee.
The best places for a vegan dinner
After work drinks and something to eat? Date night? Or a get-together with friends. If you're looking for vegan options for dinner, let us give you some inspiration.
Ardent advocates of the craft beer revolution, BrewDog is all about seriously satisfying food. They do a mean burger, and we particularly love their Plant Stack, complete with onion rings, buffalo cauliflower, spicy cleaver smashed cucumbers, fries, sweet potato fries, carolina mustard bbq and vegan mayo.
Serving up a feast of modern Indian soul food as well as impressive cocktails, Chai Ki sets out to impress. For evenings out or lunches designed to wow, head to Crossrail Place. We have a hankering for the Dakshini Platter special complete with jackfruit pepper fry, aubergine and spiced lentils.
Inspired by the old Irani cafés of Bombay, Dishoom serves food that's about a convivial experience. Their Canary Wharf location is stylish and welcoming, offering old-school glamour and food and drink throughout the day. While they're well known for seafood, they have a dedicated vegan menu available from dawn 'til dusk. Check out the vegan raan with all the trimmings and make sure you have some okra fries on the side. 
It's child's play at Gallio, where they offer a one-hour immersive pizza making experience that's a joy for everyone. Children go for £10, adults for £20, making it a great way to have fun with friends, colleagues or the family.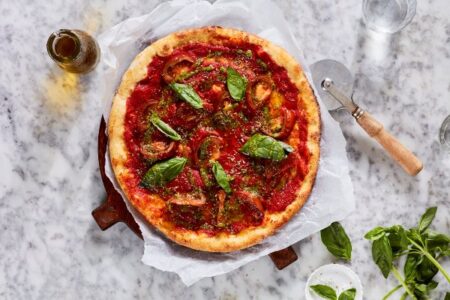 Head to Mackenzie Walk for sunset dates to after work drinks at this waterfront wine bar. In addition to popular wine tastings, they have a menu of small plates, nibbles and main courses including a feast of vegan fare to pair with your preferred poison.
Scratch cooked, sustainable plates that are made to be shared, cold pressed juices in the morning and DJs on Thursday and Friday evenings, No.35 Mackenzie Walk is convivial and welcoming all day long.   
What these guys can't do with a burger isn't worth knowing. For those who think veganism is all about salads – you have another thing coming. For example, try their 'Ari Gold' Cheeseburger with a plant-based patty, smokey mayo and plenty of pickled onions.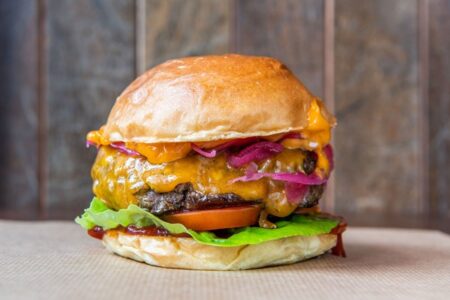 A little piece of Cornwall in the city, Pedler is light, welcoming and all about produce fresh from shore and field. They've got a selection of inventive vegan options in their 'Field' menu that you have to try.
A modern classic – who doesn't love Wagamama? At the end of a long working day, the ease and speed of soul bowl food is always tempting. Yes please to the yasai gyoza. udon noodles and roasted bok choi.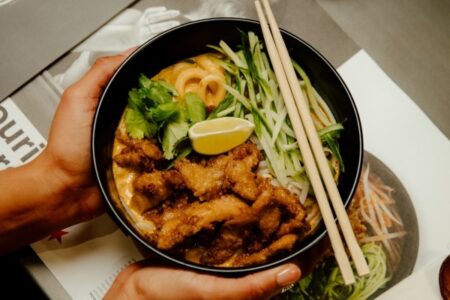 New to Cabot Place, Zizzi has brought its well-known brand to Canary Wharf, serving Italian food with a twist. Easy going, welcoming and with plenty of options, they're known for their pizza and pasta, and have also turned their talents to plant-based favourites. For example, their meatless 'meatballs' in a slow-roasted tomato sauce with vegan MozzaRisella, is a hit.