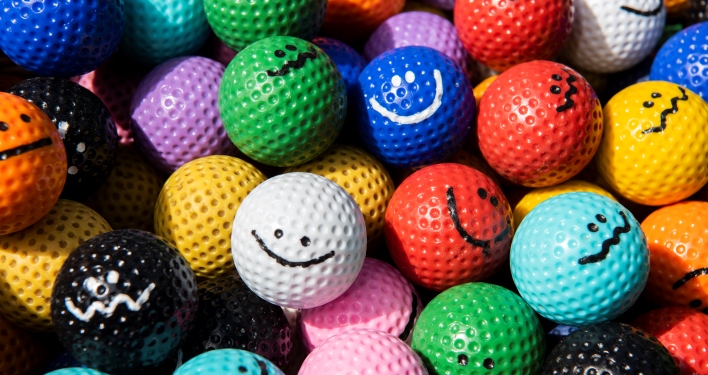 What's On
Top Things to Do in London this Half Term
The half term break is from 28 May until 5 June, which means it's time to enjoy a few activities that will get you into that early summer spirit. Take a look at awesome things to do in half term in Canary Wharf
19 May 2022
Artful Activities: Minigolf, Ping Pong and Basketball
Canary Wharf's minigolf course has had a style overhaul thanks to artists Craig & Karl who are known for their fun, bold and colourful designs. The new look in Montgomery Square also features a brand-new course with specially made novelty features. Pre- or post-round, head to the equally bold and bright ping pong tables that were designed by Art of Ping Pong, also in Montgomery Square. You can bring your own bats and balls, or if you visit between 12noon and 6pm just ask one of our friendly event stewards and they'll provide you with some.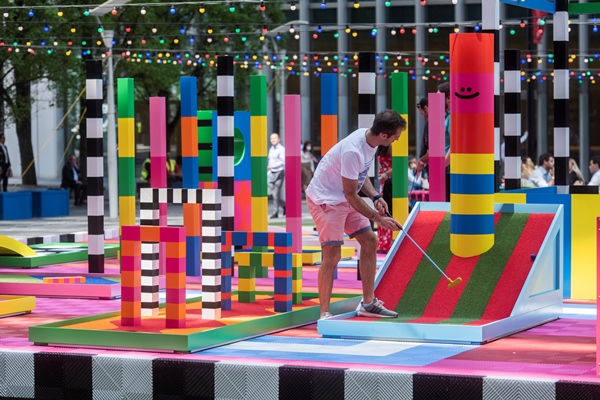 Free minigolf by Craig & Karl at Montgomery Square, Canary Wharf
Then finally, how about a game of basketball? The eye-catching 3×3 court has been designed by British and Nigerian heritage artist Yinka Ilori and the surrounding park walls aim to encourage and inspire people to 'Be The Best You Can Be'.
So, take your kids, friends or colleagues and enjoy some healthy competition – and don't forget to capture it on camera – after all, the colourful sporty backdrops are picture perfect, especially for your Insta feed.
All activities are free. Minigolf & Ping Pong, 12noon-6pm daily in Montgomery Square. Basketball, 12noon-9pm daily in Bank Street Park
Let's Do Lunch: Enjoy delicious eats from Canary Wharf's Lunch Market
Nothing quite beats the buzz of Canary Wharf's Lunch Market and luckily, it's returned in time for May half term. Open every Thursday (except Bank Holiday on Thursday 2 June) in Montgomery Square, there are plenty of options to refuel after a few rounds of minigolf and ping pong without having to venture far.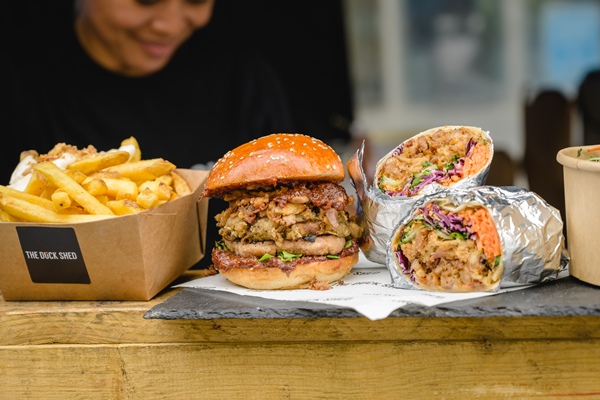 The Duck Shed at The Lunch Market
Smell and taste flavours from across the globe with an abundance of street food dishes on offer! Canary Wharf has also been working in collaboration with Karnival, bringing an array of traders each week that serve up the freshest and most flavoursome of ingredients. With some firm favourites staying all summer and a rotating mix of specials, there will always be something new to try.
Every Thursday, 12noon-3pm (except Bank Holiday on Thursday 2 June) in Montgomery Square.
Get the Cameras at the Ready: Canary Wharf in Focus
Looking for things to do with kids this half term? Why not keep them occupied by using their creative skills and give them a goal to work towards with the Canary Wharf in Focus photography competition. Budding photographers can capture plant species, birds, fish, insects and small mammals which have made Canary Wharf their home, or could focus on art, architecture or active travel, the only stipulation is that all photos must be taken on the Canary Wharf estate.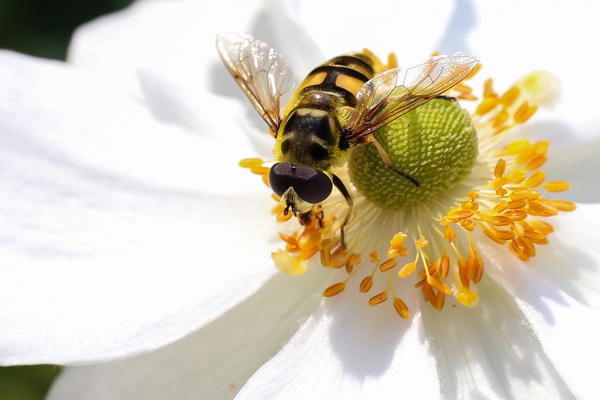 Danna Karayeva, Urban Pollen Delivery
Entrants will be divided by age (5-11 and 12-17) and the winner of each will recieve a £250 Canary Wharf Gift Card and a camera plus prizes for shortlisted entries. There are also adult categories.
Making An Entrance: Admire the Art in One Canada Square Lobby
You can't help but be in awe when you enter the newly refurbished lobby of One Canada Square. The space has been filled with carefully placed arrangements of dynamic sculptures which challenge the viewer to find their inner child.
The installation, entitled Cornucopia, is the work of sculptor, ceramicist and painter, Patricia Volk and features more than 40 sculptures which span three decades of the artist's work, including a selection of sculptures that have never previously been exhibited.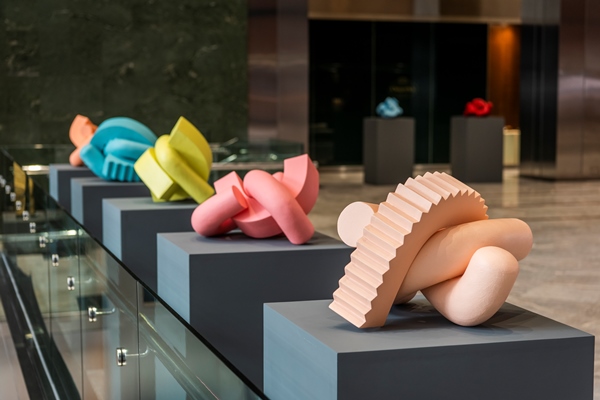 Cornucopia by Patricia Volk
There's also a selection of sculptures to find in Harbour Quay Gardens, so head on down to explore the green park and boardwalk. Whilst you're there, why not follow the Children's Art Trail, starting at the iconic Minotaur and Hare on Bench sculpture.
Free in the Lobby of One Canada Square & Harbour Quay Gardens.
Food, Glorious Food: Family Dining Suggestions
Having recently opened its doors in Wood Wharf, the waterside setting and trattoria-esque ambience of Emilia's Crafted Pasta – along with a menu of comforting, wholesome dishes featuring freshly-made pasta – will make you feel like you're on a mini family holiday in the heart of the city. Alternatively, head to the ground floor of One Canada Square to savour fresh Cornish produce cooked Californian-style at Shutters, where a grown-up offering that features ceviche, lobster tacos and burgers is now served alongside its new children's menu; it's a recipe that's guaranteed to keep all ages happy.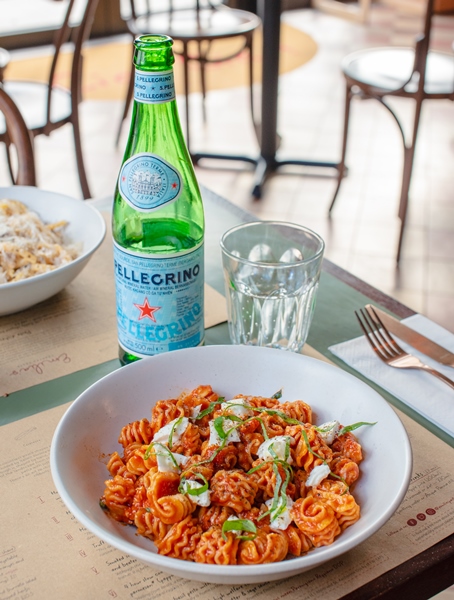 Emilia's Crafted Pasta at Wood Wharf
Elsewhere, you can indulge in food from across the globe at Wharf Kitchen – a mix of cuisines that have been brought together in a vibrant market hall. Try authentic street food from the ancient capital of China – Xi'an at Biang, Caribbean inspired street food made with a secret Jerk recipe at Mama's Jerk, colourful poke bowls at Poke House, Greek food at Smashing Plates and healthy plant-based fast food at The Vurger Co., while there's also Rainbo and Bird to choose from.
Atrium Kitchen is also a new foodie destination not to miss, with Gallio featuring Mediterranean all-day dining options, Marugame Udon serving Japan's favourite handmade udon, while you also can't beat a delicious meal at Nando's.
Finally, German Doner Kebab and Neat Burger are always sure-fire hits.
And that's a wrap! There's plenty of things to do in London during the half term, from fun activities for kids to new foodie spots to discover, with a selection of great ideas to try in Canary Wharf to keep the whole family entertained.
Click here to read about Wildlife Photography Competition 2020 Winners in Canary Wharf.