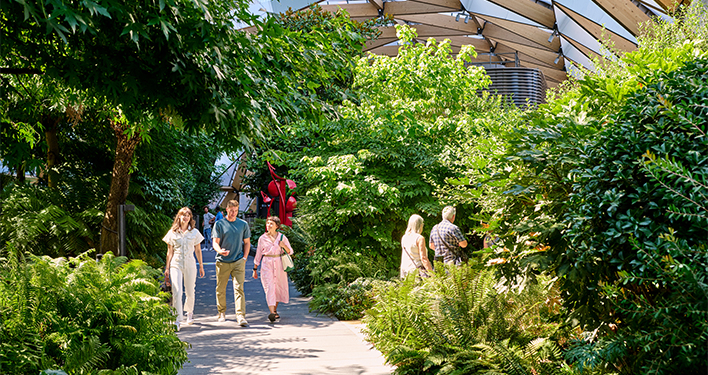 Living
Best places to visit in Canary Wharf
Canary Wharf is perhaps best known as a great place to work in London, but where it really shines is in its restaurants, bars, and social scene.
26 June 2023
Not only a huge attraction for tourists and weekend visitors, but also locals who enjoy top dining venues in Canary Wharf. Thanks to its location by the water, Canary Wharf is a picturesque part of London, while state-of-the-art architecture makes it a visual feast. In addition, easy transport links via the Jubilee line, Elizabeth line and DLR make it a stress-free destination with much to see, enjoy and explore from arts and entertainment to famous landmarks, great retail therapy and plenty of places to eat. Here are some of the best places to visit in Canary Wharf.
Museums and art galleries near Canary Wharf
You might be surprised to know that Canary Wharf is home to London's largest collection of outdoor public art. With more than 100 stand-alone sculptures and integrated architectural works, why not download the art map and discover the full collection, free of charge. In addition, Canary Wharf is an events partner of leading cultural institutions including the Royal Opera House, Royal Shakespeare Company. So, alongside the permanent collection of artworks, there's a roster of events showcasing exceptional talent to tap into whenever you visit the Estate.
Where to go in Canary Wharf: Museum of London Docklands
The area in and around Canary Wharf has its own interesting history and a great place to visit near Canary Wharf is the Museum of London Docklands. Currently showing a free display exploring the underrepresented history of Indian indenture in the British Caribbean, it's a great place to delve into fascinating stories of Londoners, from turning the original London Bridge into knives and forks (yes, really), to their interactive family gallery.
Location: No.1 Warehouse, West India Quay, London, E14 4AL
Best for: a family day out and curious minds
Where to eat: Atrium Kitchen, Cabot Place – Stroll to the Atrium Kitchen for fun-filled food and an easy going atmosphere in a buzzy environment serving a mix of dishes from across the globe.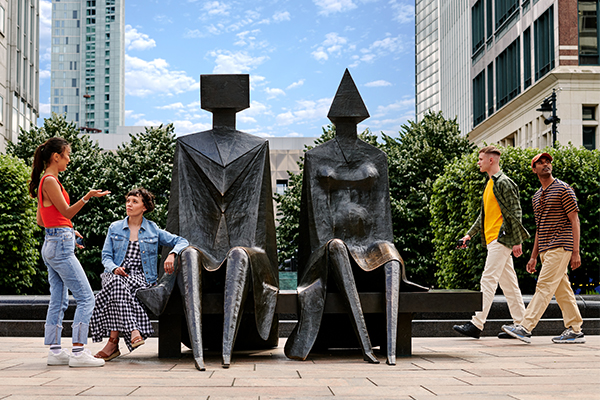 Where to go in Canary Wharf: Parks and outside spaces in Canary Wharf
Canary Wharf is one of the greenest parts of London, with 16.5 acres of landscaped parks, gardens and open spaces. Depending on how you want to spend your time, there's a place for every occasion. Sit and watch the world go by in Harbord Square Park, explore exotic plants and three hidden paths at Crossrail Place Roof Garden, watch cascading water features in Jubilee Park, or wander along the waterside boardwalk at Harbour Quay.
Crossrail Place Roof Garden
A completely unique experience in London, Crossrail Place Roof Garden is open to the public everyday until 9pm or sunset in the summer and is amongst the best places to visit in Canary Wharf. It's a haven of carefully curated exotic plants, peppered with branches, a hidden pathway and an 80-seater amphitheatre where there are regularly featured theatrical performances. There's always something new and different to see, so you can visit as many times as you like and always be inspired.
Location: Crossrail Place
Best for: Going on a date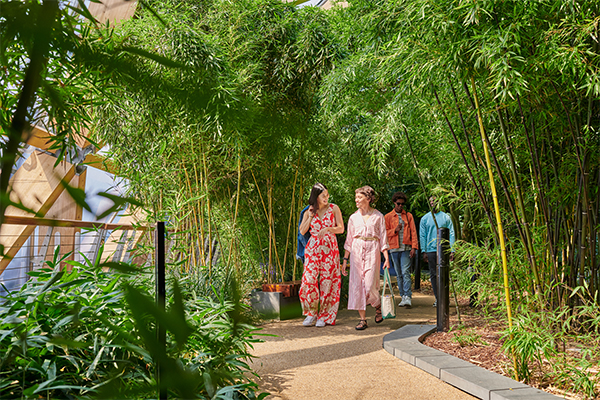 Where to eat: Pergola On The Wharf – After all that sky high inspiration, why stop there? Head to Pergola On The Wharf through the roof garden itself, and discover a botanical escape with floor to ceiling windows and a menu of cocktails and inspired dishes. There's even a roster of DJs and live music to enjoy.
Discover more parks and outside spaces in Canary Wharf
Best places to visit in Canary Wharf: London landmarks
The Isle of Dogs is brimming with living history, and thanks to great transport links at Canary Wharf, a visit here also makes you well placed for wandering along the Thames to other nearby historic sites and attractions. In Canary Wharf itself, you find evidence of more recent landmarks, most notably, One Canada Square which takes its claim as the third tallest building in the United Kingdom at 770 feet. Close by, you will also find All Hallows-by-the-Tower (famous for a number of reasons including the time Samuel Pepys climbed it to watch the Great Fire of London rage). Wander towards the City and you will find the famous Billingsgate Market, or an hour's stroll will take you to the Tower of London. Head in the other direction and you can hop over to Greenwich Royal Observatory, home of Greenwich Mean Time (GMT), the Prime Meridian of the world, and London's Planetarium.
One Canada Square
Within Canary Wharf itself, One Canada Square is an architectural icon, having achieved the title of tallest skyscraper in the UK in August 1991. It held that record until The Shard was completed in 2012, but still cuts an impressive figure on the landscape – definitely one of the best places to visit in Canary Wharf.
Location: Canada Square
Best for: Including on a city stroll
Where to eat: Birleys Salt Beef Bar – Refuel during your leisurely weekend walk around Canary Wharf with a stop at Birleys Salt Beef Bar. Masters of the perfect sandwich, their imaginative menu has seen the brand satisfying hungry customers for more than 30 years.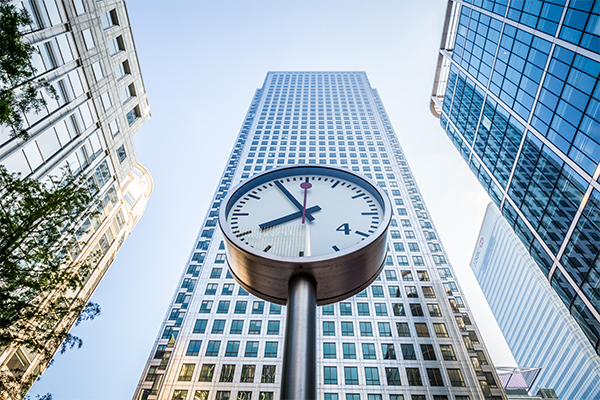 Fun things to do in Canary Wharf: Shopping
Some weekends call for retail therapy, and isn't it a wonderful thing when all your favourite brands can be found in one place? From lifestyle to beauty, designer labels to high street fashion, there are more than 120 stores across five malls in Canary Wharf… best to wear comfortable shoes then!
Some of the malls are more for services like hair dressing and healthcare, others are perfect for a weekend shopping spree – here's our recommendations.
Jubilee Place
Made up mostly of a below ground mall, Jubilee Place is home to a variety of shops as well as plenty of places to sit and recharge with a cup of coffee. Ranging from Reiss and LK Bennett to L'Occitane, The Body Shop, lululemon, Asics and Sweaty Betty, there's plenty to explore!
Best for: Women's wellness and fashion.
Where to eat: Leon – Leon serves food that's full of flavour and perfect for eating with friends as part of a day of retail therapy. You can even box it up and head outside to sit in one of the open spaces before continuing your shopping spree.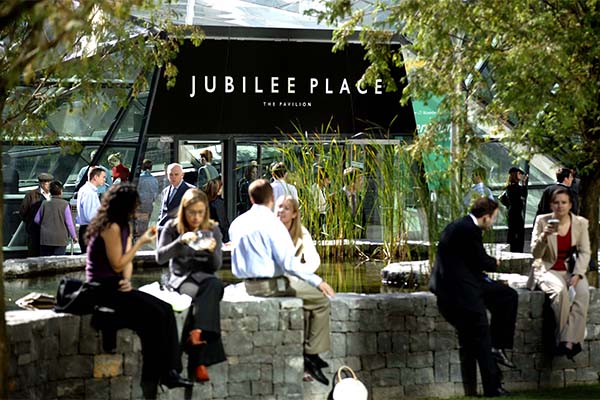 Canada Place
Canada Place is named for the original site developers and is a light, modern space to spend the day. Filled with designer shops and boutiques, it's home to the likes of The Kooples, Levi's and Russell & Bromley, as well as other favourites like Mango and Whittard of Chelsea.
Best for: High-end high street and designer clothing
Where to eat: Pret a Manger – No time to waste while you're here, keep it moving with reliably healthy options at Pret a Manger.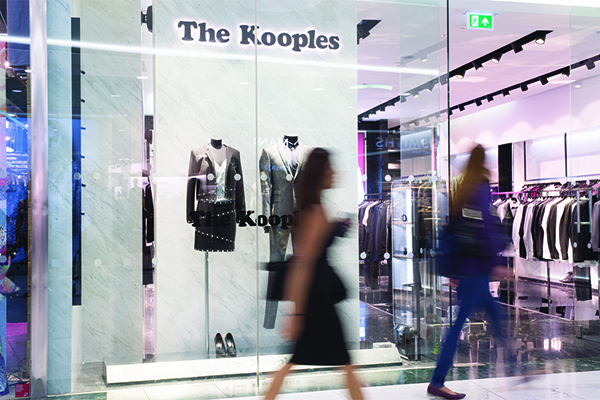 Cabot Place
By Cabot Square, which is known to be one of the most beautiful squares in Canary Wharf, complete with an impressive fountain, Cabot Place is very much the place to go for beauty, make-up and skincare. You will find the likes of Space NK, Bobbi Brown, Penhaligon's, Jo Malone and Aesop all in situ. It doesn't stop there though, there are also designer brands including BOSS, Coach and Polo Ralph Lauren.
Best for: Make-up, skincare and scent
Where to eat: Wasabi
Stay stylish with sushi at Wasabi, and tuck into their favourites including sashimi, salads, soup and snacks.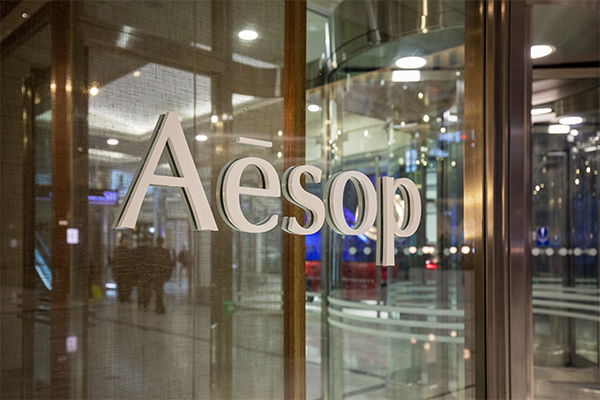 Want to explore what's on in and around Canary Wharf? Find out more