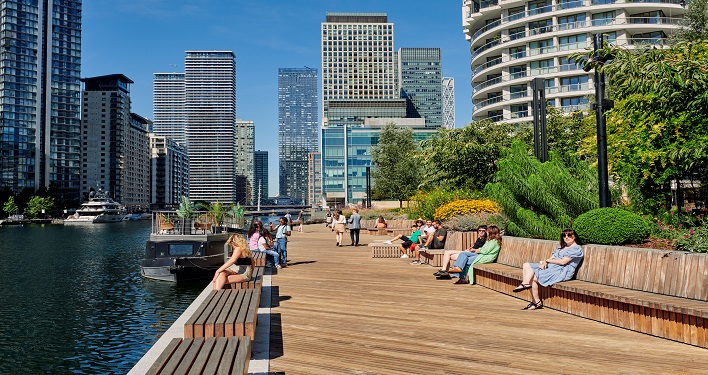 What's On
Spring in Canary Wharf: Green Spaces and Parks
With spring in London fast approaching, explore the abundance of parks and green spaces on offer in Canary Wharf. Enjoy a picnic or a yoga class! Find out more
10 May 2023
London has been widely recognised as one of the greenest cities in the world. In 2022, one study looked at Europe's 30 most populated cities and London came out on top with 3,000 parks and green spaces. Alongside the oligarchs of old, like Hyde Park and Regent's Park, Canary Wharf has been making steady gains to add to the capital's horticultural allure, with a total of 20 acres of landscaped parks, gardens and verdant squares complete with 1000 trees, 4000 shrubs and 70,000 seasonal plants added each year. As spring in London gets into full swing, here are the parks and green spaces to explore and enjoy.
Green spaces and parks in Canary Wharf
As one of the greenest places in the city, Canary Wharf's parks and plazas are not only a beautiful sight to behold, they also add to the sense of health and wellbeing in the area. Whether you fancy taking some solo time and do yoga in the park or simply want to take a moment to breathe on an afternoon stroll, these are some of the best green spaces in London:
Bank Street Park for group exercise
Overlooked by some of the most contemporary properties in the west of Canary Wharf, Bank Street Park is located at Middle Dock and is the popular location for pop-up events and activities, including basketball and soon to open padel courts. Why not grab some friends who live nearby and get moving!
Cabot Square for art-spotting
One of the more central squares on the estate, Cabot Square in Canary Wharf is home to an impressive fountain (a refreshing site as the weather gets warmer), as well as multiple works of art – see which ones you recognise as you sip on your morning coffee.
Canada Square Park for live events
Much loved, not only for its verdant beauty, but for its regular programme of cultural events, ranging from music to open-air film screenings, Canada Square Park in Canary Wharf is filled with mature trees and surrounded by bars and restaurants. These events are the perfect place to meet friends and enjoy the beautiful spring days and evenings.
Columbus Courtyard for impressive sculptures
On the west end of the estate, Columbus Courtyard in Canary Wharf is another place that's great for art lovers. Sculptures by the likes of Igor Mitoraj sit unassumingly in the shade of the trees alongside shops, bars and restaurants. It's urban life in harmony.
Crossrail Place Roof Garden for a tropical touch
Arguably one of the most impressive green spaces in Canary Wharf, Crossrail Place Roof Garden sits almost exactly on the Meridian line. Open daily, it's filled with exotic plants and hidden paths, as well as an amphitheatre with regular shows.
Harbour Quay for waterside wandering
Whether you want to bring a picnic and sit in the sunshine or stroll along the boardwalk, in the summer months you could be forgiven for thinking Harbour Quay in Canary Wharf had transported you to an overseas city. Featuring al fresco dining, this is the perfect place to enjoy the outdoors. Listen to the water lap the shore and enjoy a moment of carefully curated calm.
Jubilee Park for instant Zen
Jubilee Park in Canary Wharf is a tree-filled open space that's been designed with tranquillity in mind. Helping city dwellers to find peace, it's all lawns and leafy greens peppered with organic forms such as Helaine Blumenfeld's Fortuna sculpture.
Montgomery Square for outdoor socialising
Montgomery Square in Canary Wharf is a buzzy outdoor spot that's made for socialising. With a regular roster of events from street food markets to miniature golf, there's always something happening in this convivial open space.
Westferry Circus for escaping the city
Turning what was once a mere road interchange into a rejuvenating place to spend time, in Canary Wharf, Westferry Circus is a circular open space fringed with trees and filled with flowers and shrubs. Once again, there are sculptures peppered throughout the space to add intrigue and creativity.
Harbord Square Park for watching the world go by
One of the newest additions to the estate, Harbord Square Park in Canary Wharf is inspired by the London tradition of garden squares. It's a calm oasis complete with space to wander, sit and watch the world go by while children enjoy the playground.
Outdoor activities and amenities in Canary Wharf
It's not just that there are so many Canary Wharf parks to choose from, it's the activities and entertainment opportunities that they offer as well, which make them so appealing. For some, it might simply be the chance to stroll amongst the trees and flowering borders, sipping a coffee or soaking up the sunshine. For others, it's the pop-up events, fitness opportunities and art trails that make it a feast for the senses and elevate their work/life balance in London.
For fitness fans, Canary Wharf is a fantastic place to spend time, whether it's making the most of your mornings or finding that extra bit of movement motivation at the weekend. There are spaces to workout, but there are also regular pop-up events and activities to look out for. For example, this spring Montgomery Square is hosting a vibrant miniature golf course designed by Artists Craig Redman & Karl Maier, and suitable for all ages. Alternatively, there's pop-up ping pong at Union Square with colourful tables designed by Art of Ping Pong, open water swimming season (which was hosted at Middle Dock last year and is set to return again this summer), or playing basketball at Bank Street Basketball.
Walking and jogging trails
The beauty of green spaces is that they can simply be a joy to spend time in, especially if you're an avid walker or runner. The boardwalk at Harbour Quay is a particular favourite for those who fancy running along the water's edge – you might even stop to use some of the outdoor fitness equipment that awaits as well. Alternatively, take a jog along the Thames Path in a five-mile loop around the perimeter of the Docklands.
Public art is one of Canary Wharf's finest features – free to see whether it's on your way to work or on a purposeful trip to explore the outdoor sculptures and experiences. There's also a free to use digital guide on the Bloomberg Connects App, which includes interactive maps, audio descriptions from the artists and themed trails, so you can make the most of it. In addition, there are regular installations, such as printmaker and visual artist Katrina Adams' Coming Together functional art installation of sculptural benches.
London is well known as a city of culture, and in Canary Wharf it's celebrated and nurtured, woven into the architecture. This is enhanced by events and permanent features peppered around the estate. For example, check out the short story stations Canada Place, Crossrail Place Roof Garden and Jubilee Place, featuring stories of one-, three- or five-minutes long from classic and new writers, which you can read on the go on eco-friendly paper.
Outdoor dining has to be one of the highlights of the finer weather. Alongside Canary Wharf's outdoor spaces there are plenty of cafes and restaurants enjoying views of the greenery or opening their doors with alfresco experiences. In particular, Canada Square Park and Columbus Courtyard are foodie hotspots. In addition, there are lots of pop-up events as the weather improves. For example, The Lunch Market is returning to Montgomery Square for the summer months, serving up a kaleidoscope of fresh and flavoursome foods each week. Furthermore, the green spaces and parks in Canary Wharf are very much designed for life in London. Therefore, helpful amenities and facilities are on hand including benches and places to sit, accessible parking and toilets close to most of the outside spaces. In particular, the accessible toilets in Canada Place and Churchill Place both have hoist facilities.
Outdoor events and festivities in Canary Wharf
The beauty of spring in London is that Canary Wharf is your oyster. Anything can happen, especially in these flexible outdoor spaces, and the community really makes the most of the opportunity, bringing a vibrant feast of entertainment and opportunity to the estate. For example…
We have already mentioned some of the sportier pop-up events that Canary Wharf hosts, but it doesn't stop there. Fancy a movie with a difference? Canada Square Park is especially well known as the place for open-air screenings when the weather allows throughout July and August. The pristine lawn is perfect for laying down a picnic blanket and settling in for the afternoon or evening. Sometimes they will feature iconic events like the Wimbledon Championships, other times it's a roster of favourite films with previous inclusions ranging from Encanto to The Adventures of Priscilla, Queen of the Desert.
It's the year of King Charles's Coronation – as if you needed an excuse to party. Canary Wharf's parks, plazas, and open spaces are perfect for hosting festivals, and they do so with great enthusiasm. For example, this summer will see the return of Festival14! in July, featuring a vast programme of music, theatre, dance, comedy and children's activities. Headline acts include Soul II Soul, Craig Charles, Norman Jay, Ronnie Scott's Jazz Orchestra, Wayne Snow and Nubiyan Twist.
New experiences for spring in Canary Wharf
There's really no limit to the events and activities that these spaces can host, and there's always more being added to the diary – so the message here is 'watch this space'. Past events have ranged from a pop-up art studio where enthusiastic painters of all abilities could learn, interact and get stuck into painting their own canvases, to a lawn bowls festival and outdoor theatre performances at Westferry Circus including Macbeth, Romeo & Juliet, Pride & Prejudice. The fun doesn't stop when spring and summer end either, because each year Canary Wharf hosts an ice skating rink for 18 magical weeks.
A unique outdoor destination in London
Sound like a lot to take in? It doesn't matter how many times you visit Canary Wharf there's always something new to see, explore, do or discover thanks to its parks and outdoor spaces. Whether you want a moment of calm or somewhere inspiring to boost your fitness, you're looking for a first date activity or a way to entertain the kids at the weekend. In Canary Wharf you can get moving and enjoy the fresh air, by the water or surrounded by the trees, with plenty of unique green spaces to explore.