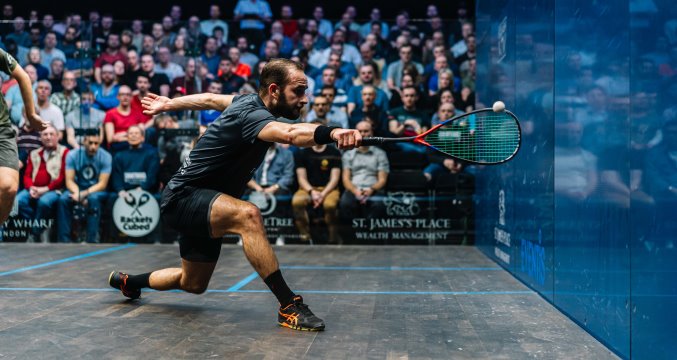 What's On
What's On at Canary Wharf: Squash Classic 2020
Sunday 8 March – Friday 13 March. Doors open at 5pm (1pm on Sunday 8). Match times vary. East Wintergarden.
7 February 2020
The 17th edition of this PSA World Tour Gold event takes place in the heart of Canary Wharf at the fabulous East Wintergarden this March. The beautiful glass atrium of the East Wintergarden will set the scene for the world's greatest squash players to test their talent and skill against each other and compete for the title of Canary Wharf Classic champion.
Paul Coll became the first New Zealander to win the title in March 2019, beating Egypt's Tarek Momen in the final, and the world's leading stars are once again lined up to provide some explosive action in this PSA World Tour Gold event. This year the event will have brand new title partner in the form of St. James's Place Wealth Management. A relatively new tenant to Canary Wharf, their office at 40 Bank Street is less than a squash ball hit from the East Wintergarden and their involvement highlights their desire to add value to the Canary Wharf community.
Tim Garner, founder of Eventis Sports Marketing, explains what makes the event so exciting for the estate.
For those who aren't familiar, can you tell us exactly what this event is about?
The Canary Wharf Squash Classic is a PSA Gold Level professional squash event featuring players ranked in the top 40 in the world. It takes place on a portable all glass court that takes approximately two days to build and enables fans to view from 360 degrees around the court.
What's the highlight of the event?
The event has always sought to be more than just a squash event, so that squash fans can introduce newcomers to the sport and have an enjoyable evening watching world class athletes. There is a mix of attendees from people who work at Canary Wharf to groups from squash clubs who make an annual pilgrimage to the event. It's renowned for being sold out all week and having an enthusiastic but knowledgeable crowd, that the players really appreciate playing in front of. The main bulk of tickets sold out in just six days, but there will be a small amount released in early February and available via the website, www.canarywharfsquash.com.
What makes Canary Wharf the perfect venue?
The glass structure means spectators have a great view and they're so close to the action – it makes for a fantastic atmosphere.
How will it affect commuters and locals?
Although the event attracts around 600 fans per day, most travel via public transport and in the opposite direction to the commuter flow so the event doesn't tend to impact locals daily lives.
Tickets available at www.ticketmaster.co.uk.
Ticket hotline: 0844 8472419.
To join the waiting list for returns, email cw@eventis-sports.com.
Find more info at www.canarywharfsquash.com.
* Text courtesy of Canary Wharf Magazine 
* Text as originally appeared in Canary Wharf Magazine