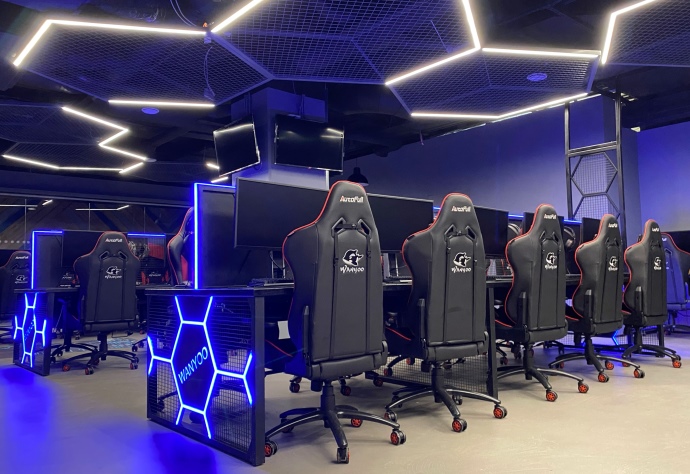 Shops & Services
Wanyoo in Canary Wharf: E-Entertainment at its Best
Find out what to expect from your gaming experience in Crossrail Place, brought to you by Wanyoo, the largest esports chain in Asia.
24 September 2020
Whether you're a pro or completely new to the world of esports, Wanyoo is set up to welcome gamers of all abilities. Here in the UK, one in two of us enjoy gaming so Wanyoo in Canary Wharf is ideally located for those who live and work in the area, as well as gaming fans looking for esports places to visit in London. You'll find the entrance to Wanyoo in the Quayside level of Crossrail Place, as great a destination for this kind of entertainment as it is for fitness, wellness, dining, drinking and shopping.
Wanyoo, which now has more than 10 million members worldwide, was founded in 1998 and the company still has the same aim now, explains Elenore Li from Wanyoo, championing "a healthy, joyful e-entertainment environment, taking gaming venues in a positive direction". Wanyoo's Canary Wharf store is smart, bright, well-designed and comfortable and, since launching in the UK, Elenore says, the Wanyoo aesthetic has appealed to gamers of all ages and genders. "They feel comfortable and welcome in our stores, with plenty of personal gaming space and high tech facilities".
Gamers who expect the best equipment will be delighted; the Canary Wharf Wanyoo is even higher spec than its stores in Charing Cross and Coventry. There are 67 PCs across the Crossrail Place store, and in the public area, you'll find 27 inch monitors, priced at £5 per hour for members (£6 for guest players); it's quick and easy to sign up for membership at the front desk. Duo Rooms are £6/hour per person and, if you're in a small group, Private Rooms, with five seats available per room, are ideal (£8/hour per person). The Battle Rooms (with six seats, at £10/hour per person) are kitted out with RTX 2080 Super – one of the most powerful gaming graphics cards on the market. There's a game watching area too.
"It doesn't matter if you come on your own, in a couple, in a team or to watch gaming live with bunch of friends" says Elenore. "You will always feel part of something bigger." Tournaments are one of the main ways to bring gamers together, and Wanyoo in China has been running its League of Legends Championship Cup for eight years, with 500,000 participants and an audience of 2 million. Inspired by this, Elenore explains, Wanyoo UK is organising a range of tournaments for its members here: "Our ambition is to connect all gaming communities and organisations, ultimately expanding the UK esports realm".
Whether you're playing competitively or not, all the concentration will make you hungry; refuel with black pepper beef, braised pork, or bacon butter chicken, all served with rice, and a soft drink. In terms of reassurance for gamers, hygiene is taken very seriously. Wanyoo checks each customer's temperature on arrival, ensures that hands are sanitised and that social distancing is in place, as well as providing masks for all customers.
Wanyoo promises "endless entertainment"; when you visit, you'll find this out yourself.
Find Wanyoo in Crossrail Place, Canary Wharf
Current opening hours: Wednesday to Sunday 12noon – 8pm
You can also read about Canary Wharf's new tea Pamban branch here.