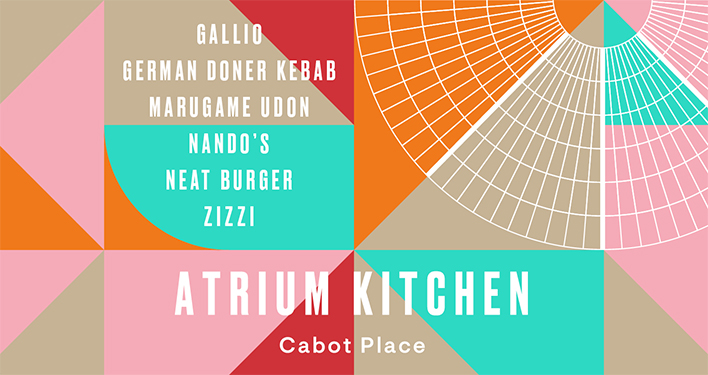 Eating & Drinking
The Sky's the Limit at Atrium Kitchen
Situated in a full-height atrium capped with a domed skylight
12 January 2022
Watch as the clouds pass above in Atrium Kitchen, a new foodie destination where healthy, nourishing and sustainable food meet under one roof. Here's a taste of what to expect from the restaurants.
Gallio
Go on a journey across the Mediterranean at Gallio, which celebrates the fresh flavours of the region and evokes the feel-good atmosphere of friends and family coming together to enjoy good food. Think mezze-style small plates, seasonal salads, vibrant bowls and fully loaded flatbreads – it's not hard to see why the Med is a paradise for food lovers.
At the heart of the menu is its artisanal pizzas, which you can watch being created from scratch by its specially trained pizza chefs. Known for its signature thin and crispy base that is crafted daily from grains, yeast, extra virgin oil, sea salt and filtered water, customers can select mouthwatering toppings that include hero ingredients such as marinated artichoke hearts, roasted aubergine, prosciutto ham and wild mushroom.
While savouring the food, admire the interior design that will transport you to warmer climes without leaving UK soil thanks to its fired terracotta and hand-cut glazed tiles, hanging baskets and even an olive tree.
German Doner Kebab
You may not necessarily put 'gourmet' and 'doner kebab' together but at German Doner Kebab things are done differently. Made using premium, lean meats – think succulent beef and pure chicken fillets imported from Germany – served in handmade toasted breads packed with fresh salad and signature sauces, the company is elevating what in the past has been known as 'fast food' to a higher level.
Watch the team as they create healthy and nutritionally balanced kebabs, served in artistic packaging – and don't miss out on the tasty dips too. It's clear to see why the brand that first opened its Berlin store in 1989 and spent a decade perfecting its recipe, is a kebab game-changer.
Marugame Udon
Marugame Udon is encouraging everyone to find beauty in the everyday. And what better place to start than with the food we eat? Bringing Japanese comfort food to Canary Wharf, its food is filled with goodness and you can personalise the fresh udon noodles with healthy and nutritious ingredients that include spring onion, grated ginger and fresh chillies. Simply grab a tray and walk through the stations and add some crunch at the vegetable tempura station.
Nando's
Famed for its flame-grilled peri-peri style chicken, nothing quite beats a 'cheeky Nando's'. Afro-Portuguese inspired and South African born, its chicken is legendary and is cooked to order with a choice of spicy bastes ranging from the mild lemon and herb to the fiery extra hot; there's something to suit all tastes. And with a range of healthy side options including rainbow slaw, long stem broccoli and spiced grains with butternut squash, it can be devoured guilt-free too. Its bottomless drinks are sure-fire hits for the kids and the sharing platters mean that everyone can get stuck in, whether it's for a quick lunch, a family party or an evening out with friends.
Neat Burger
Plant-based restaurant group Neat Burger is growing and its new restaurant is in Cabot Place. Backed by ambassador Lewis Hamilton, customers who crave American-style food can rest in the knowledge that not only is the food vegan, but it's better for the planet as it is ethical and sustainable. It also works in association with the Eden Reforestation Projects and for every product sold, a tree is planted. Now that's feel-good food.
Find out more about Atrium Kitchen
Click here to head about  Wildlife Photography Competition 2020 Winners in Canary Wharf.