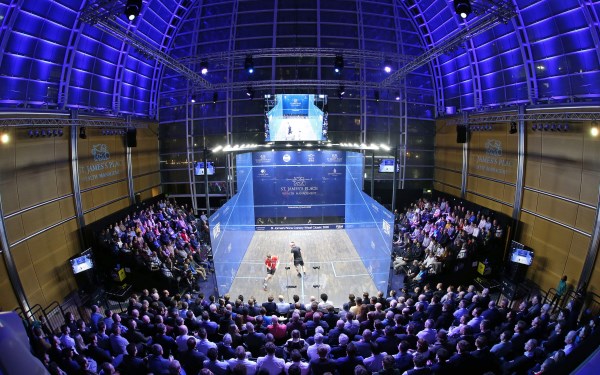 East Wintergarden
Save the date: The Canary Wharf Squash Classic is back!
Ahead of the professional sporting event, we caught up with Tournament Director Tim Garner to find out what fans can expect
18 May 2021
One of the greatest live sporting events is set to return to East Wintergarden this year.
We're talking about the epic Canary Wharf Squash Classic.
Set across six days, from November 14th to November 19th, we'll be opening our doors and welcoming avid fans to take a seat to watch eight of the world's leading squash players battle it out.
About the Canary Wharf Squash Classic
The prestigious and professional squash tournament has been held in our London venue for the past 17 years. Last year's tournament was the final men's  Professional Squash Association (PSA) World Tour event to take place, before the global Covid-19 pandemic took hold.
Although this year's Canary Wharf Squash Classic has been postponed from its regular March dates, Tournament Director Tim Garner is delighted to bring back this year's event in just six months' time.
We caught up with Tim to find out what attendees can expect, what he's most looking forward to and what makes this 'exuberant' event unmissable.
How would you describe the Canary Wharf Squash Classic?
It's one of the top 10 events on the PSA World Tour and one of the most enjoyed by players and fans. It's intimate, electric and exuberant.
What makes it so epic to watch?
East Wintergarden lends itself really well to a squash event. That's because it's a stunning glass building that's perfect to host an all-glass squash court. The actual size of the venue means the crowd are up close and personal to the action too. East Wintergarden's staff are also very professional and used to delivering high profile events – it makes our life easy.
What goes into planning such an event?
The very first year, planning for the Canary Wharf Squash Classic started around 15 months out. Now things kick off with the tickets going on sale six months before – though it will be a little later this year as we will wait on Government restrictions. Usually, this is the point the various suppliers for the seating, court and staging are engaged.
Do we know who will be playing yet?
The player entries usually close four to six weeks prior to the event and from that point on it is full speed ahead with the logistics and marketing at the event.
How about building the glass-walled court?
The build starts three days prior to the event, and it takes around 24 hours to de-rig everything. During the event I am usually at the venue from 8am to 11pm every day.
What is the highlight of the event?
My favourite day is the semi-final night with two cracking matches on offer.
What are you most looking forward to about 2021's tournament? 
The first ball being hit in anger on People's Sunday in front of a crowd on 14th November!
Save the date – the Canary Wharf Squash Classic returns to East Wintergarden from November 14th to 19th. Keep your eyes peeled for further updates and ticketing information.