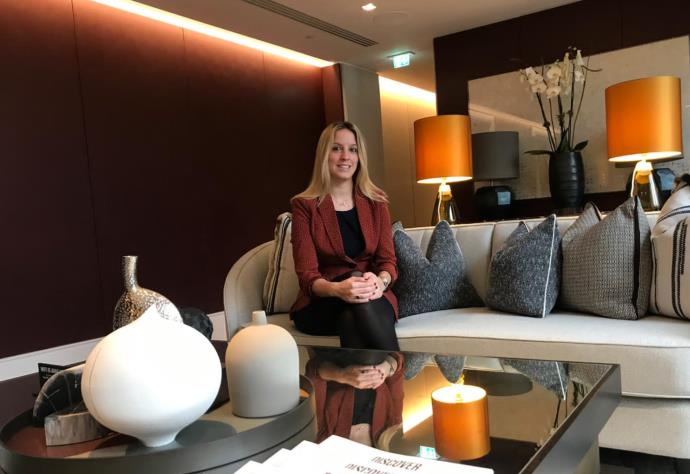 Living
Q&A with Becky Hickmott, Head of Customer Services, Residential
19 November 2020
Tell us a little bit about yourself and your role at Canary Wharf Group?
"I joined Canary Wharf Group Residential three years ago, initially as a Customer Service Manager and I am now the Head of Customer Services. I've been working in customer services for close to a decade now and I jumped at the chance to come on board and help to set up the residential customer service team across the Canary Wharf estate and at Southbank Place. 
"Now my day-to-day role involves managing two teams, one at 10 Park Drive in Wood Wharf and another at One and Thirty Casson Square at Southbank Place. Each day is different, and we are always on hand to help residents, which can involve anything from arranging site visits, to helping with mortgages. Being involved in the completion of people's home is really rewarding and it is always a pleasure to see the excitement our residents have when they receive the keys to their new homes.
"In my spare time I'm an avid baker, I find it relaxing and love to experiment with different recipes."
What got you into customer services and what path did you take to get to your current role?
"After graduating with a BA in International Tourism Management, I worked on a help desk for a small developer, answering customer questions. From there, I went on to work at Mount Anvil for 5 years, starting in a relatively new role for the company as an after sales consultant. As the role was quite new, I had a lot of freedom to progress and I worked out the best processes for property handovers, snagging and aftercare. This included figuring out what  to give customers on their handovers as a welcome present and the best cleaning companies to use. The role really gave me a good insight into what life in the customer services industry is like.
"Thereafter, I worked at St George, part of the Berkeley Group. This role was much more process driven, and my role involved learning how to manage the trade side of the job, as well site instructions and defects. Brian De'ath, Director of Residential Sales at Canary Wharf Group, then brought me on board at Canary Wharf to essentially set up the Customer Services department and the processes for new residential developments. I started the role as a Customer Services Manager and within 18 months became head of the department. I really enjoy the great balance of the family feel and corporate practices at Canary Wharf Group."
What does a workday for you entail?
"Every day for me is a little bit different. I split my time across both 10 Park Drive and Southbank Place, overseeing completions and getting them over the line. This means I can spend a lot of my time liaising with solicitors and sales teams. Often, I oversee the more complicated completions and I really love to work on these, as there's such a human element to working through the reasons behind the challenges."
What parts of your job do you enjoy the most and which parts do you find most challenging?
"The part of my job I enjoy the most is the problem-solving aspect. It is really satisfying breaking down the request of customers and figuring out the best way to resolve them, whilst also meeting their expectations and fulfilling my role at Canary Wharf Group. It is all a balancing act that works so well when it comes together.
"The most challenging part of the role has to be managing expectations on the snagging side of things. The Customer Services team are what I would call the 'shock absorbers' between customers and contractors. We want customers to have the best experience possible, and in our front of house role, it is important to stay calm and not let things get to you. I always try to check in with team members to make sure they're doing ok if they've dealt with a challenging issue."
What is the most interesting request you have received from a customer at a new development?
"Now I know lots of people are very into their dogs and providing the best care possible for them, but I once worked on a development where a customer asked if we could install a shower for their dog in the kitchen. That really was a first for me!"
What is the most common request you receive from customers purchasing at new developments and how do you resolve it?
"Buying a home is one of the biggest decisions that people make in their lives, so understandably we get a lot of requests for updates about completion and when their properties are going to be ready to hand over the keys. This is where having good communication skills comes in handy, as it's so important to keep customers updated throughout the process."
What is your most proud / positive achievement over the past difficult six months?
"It may sound quite sentimental, but I have been so proud of my two teams over the past six months. It has not been an easy year for any sector, the property market included, which completely shut down for several weeks, but the teams have really strived to be the best they can in a difficult year.
"The team at 10 Park Drive started work during the middle of the pandemic, in May, but they really started strong and with a good attitude meaning that the completions started coming through in June.
"At Southbank Place, the team very much excelled. As the whole of the work force was told to work from home during lockdown, the team had to work incredibly hard to keep in touch with customers. I'm so proud of all of them!"
What skills would you suggest those looking for a career in customer services or those who are at the start of their career develop to be successful in their roles?
"For those just starting out in the customer service industry I'd say having patience and a can-do attitude will really get your far. As no two days are the same on the job, it is so important to be prepared for the unexpected and have the desire to problem solve when you're faced with an issue. It will also help to have great organisational skills and be able to communicate well."
Have you been inspired by anyone along the way in your career?
"Women can often be a minority within the property industry, so a property manager I worked with in my first position out of university, Tara Ryan, has always been very inspirational to me as a role model. She was always really organised, positive and efficient and this is something I have tried to emanate throughout my career.
"I would also have to say my dad is a real inspiration to me in my day-to-day role. He's always been a bit of an awkward customer when we visit restaurants and things like that, so if I'm working on a challenging issue, I will always think 'what would my dad's response be?' and that always seems to help."