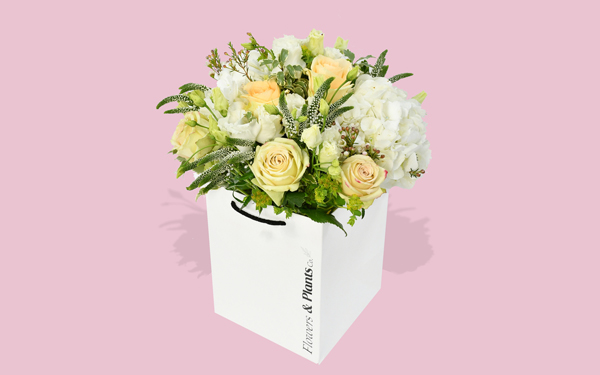 Shops & Services
Neighbourhood florist Flowers & Plants Co. opens in Canada Place
From beautiful bouquets and housewarming plants to flower subscriptions, Flowers & Plants Co. has something for every occasion
4 June 2021
You're likely to smell the fragrant scents drifting out before you even step inside. Flowers & Plants Co., where Mother Nature's finest bounty takes centre stage, is new to Canada Place and is your one-stop-shop for flowers, ferns, fauna and much more. Customers in London also benefit from same-day delivery seven days a week, a Click and Collect option, and a three-hour delivery service too. Nationwide next day delivery for your nearest and dearest operates Monday to Sunday.
We have all come to appreciate bringing the outside inside over the past year or so and Flowers & Plants Co. can vouch for the fact that not only did we buy more plants for our homes but we also sent more flowers, to loved ones we couldn't see and to mark events that didn't happen. And as Yulia, from the knowledgeable Flowers & Plants Co. team, points out, plants are as good for our own mental and physical wellbeing as they are for our home environment; flowers are an equally wonderful way of brightening our day, or that of whoever is lucky enough to receive them.
Yulia shares her expert suggestions for the following special occasions:
NEW BABY OR CHRISTENING
Gypsophila – small, long-lasting white flowers known as 'Baby's Breath' 
Roses – a much-loved option, and a beautiful bloom that comes in many colours
Alstroemeria – a hardy perennial known for its vivid colours, including red, orange, purple, pink and yellow, as well as softer shades of pink and white
NEW HOUSE
Orchid – opt for a double stemmed or cascading plant for extra impact: a great house-warming gift
Calathea – known as the prayer plant, because its leaves fold together at night, like praying hands
Monstera Leichtlinii – an easy-care plant with perforated deep green leaves: looks best trailing from a shelf or hanging pot
MILESTONE BIRTHDAY
For any birthday celebration Yulia would send a large bouquet of flowers, recommending "pinks, pastels and white colours for younger people, and red, oranges and whites for the rest".
FOR THE GREEN-FINGERED
For those who are already passionate about plants, Yulia suggests choosing those that require more hands-on care, such as bonsai trees or ferns; Flowers & Plants Co. has a range of fern options, from Boston and Asparagus to Bird's Nest and Maidenhair.
FOR A FLORAL NOVICE
It's all about easy care plants, such as cacti (with great names like Bunny Ear and Prickly Pear) and peace lilies, for the novices. Yulia also suggests dry flowers, requiring no care at all: "They last longer, and you can reuse them".
How best to look after your new flowers or plants:
Remove packaging from flowers as soon as they arrive, or you get home
Wash the vase to avoid contamination
Add flower food to the water to keep the flowers alive for up to 60% longer
Cut stems at a 45-degree angle, 1-2cm from the bottom, so they can better absorb water
Remove any leaves or thorns that would be below water level
Keep all stems submerged below water