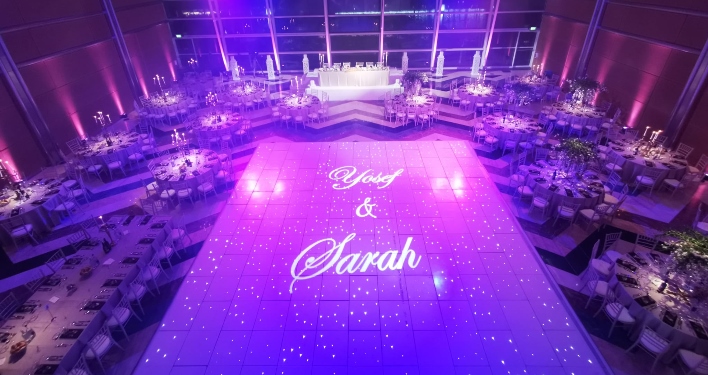 East Wintergarden
Mother of the Bride shares the love this Mother's Day
This Mother's Day, we're sharing the love and shining a light on one wedding which saw the Mother of the Bride expertly organise pretty much most of the Big Day.
27 March 2022
Weddings are always one of the most magical moments here at East Wintergarden. Why? Because wedding receptions and ceremonies involve a whole day dedicated to celebrating love. And what could be more special than that?
So, with March 27th marking Mother's Day, we wanted to share the love and shine a light on one wedding which saw the Mother of the Bride expertly organise the Big Day.
This was the wedding of Sara and Yosef. Here, Sara's mum Zelda shares some words…
What made you fall in love with the venue?
"East Wintergarden is a stunning, fresh, spacious, airy and modern venue that enhanced our daughter's wedding significantly," Zelda tells us. "The high glass roof opens up the room, making it feel way bigger and grander. The manager was very accommodating, pleasant and understanding and allowed us to make our wedding unique."
What was your favourite part of being the Mother of the Bride?
"Watching the joy of the bride and groom is what every parent wants to witness," Zelda explains. "And seeing everything fall into place after all the organising is a great feeling."
What was your favourite part of the day and why?
"The Chuppah – the Jewish marriage ceremony – was surreal," Zelda said. "And unbelievable in this magnificent venue.   The size of the venue allowed for a long aisle, which was beautiful.  The addition of fire sparklers was stunning and the formation of the chairs with the beautiful flooring added to the uniqueness."
How did you feel helping organise the wedding?
Zelda explains: "It was quite stressful being the main organiser. There had to be lots of communication with the many people involved and you have to be flexible to meet everyone's needs and desires.
"There are so many individuals involved that influence decisions and each one needs consulting.  It was, however, nice to be able to make the final decisions on details that would enhance the wedding and then seeing it all come together."
Hosting a wedding ceremony and wedding reception at East Wintergarden
Whether you're hosting a wedding ceremony, wedding reception, religious ceremony or unique wedding – our modern and spacious Canary Wharf venue can be tailored to your every need.
Get in touch with the events team to attend a venue showcase or discover our 2022 and 2023 availability.