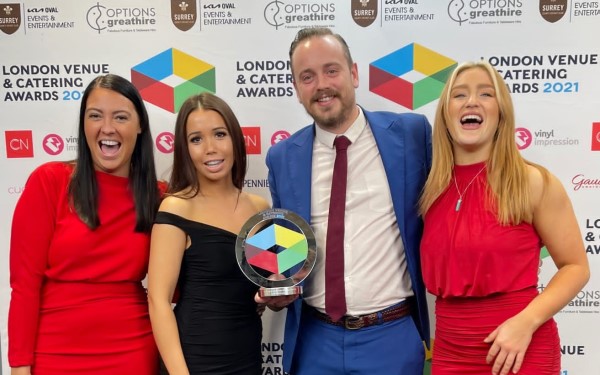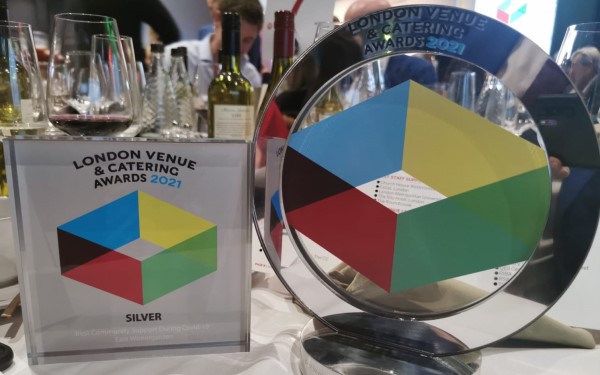 East Wintergarden
London Venue Awards 2021: East Wintergarden wins two trophies
Our Canary Wharf venue was crowned the winner of two awards, whilst being shortlisted for another
23 November 2021
East Wintergarden has been crowned the winner of two London Venue Awards. 
This includes winning the award for Best Venue Leadership During Covid-19 and we took home silver for the Best Community Support During Covid-19. We were also shortlisted for the Best Events Venue Over 750 Attendees. 
Celebrating the success, Natalie Marcus, Head of East Wintergarden said: "It's been one of the toughest years in living memory for everyone – and especially in the events and hospitality industry.
"So to walk away with two new awards and be shortlisted for another is a testament to the team's ongoing hard work, adaptability and resilience during a time like never before. A big congratulations to those nominated and to those who took home a trophy."
The prestigious award ceremony took place on 19 November at The Kia Oval and recognised and rewarded achievement and adaptability in London-based venues and catering companies. 
Best Venue Leadership During Covid-19
Our Canary Wharf venue is headed up by Natalie Marcus who works alongside Events Executive, Helena Poland and Deputy Technical Manager, Andrew Hurley.
The team ensures all events run seamlessly, whether it's an intimate gathering, an elaborate dinner, a private wedding or a tech-heavy hybrid conference during a global pandemic. 
At the award's ceremony, the team won the accolade for Best Venue Leadership During Covid-19 for running a proactive account management programme and doing so remotely for the past 15 months. During the height of the pandemic, East Wintergarden managed to retain all its clients plus gain more after adopting a flexible cancellation policy.
The team also rallied together with other venues within the local community and encouraged cross referrals with commission offered for confirmed bookings. 
It was forward-thinking initiatives like these that resulted in additional revenue streams for the venue such as filming, sample sales, pop-ups, live music events, comedy nights and community events. 
East Wintergarden wins silver
During the awards ceremony, we also scooped silver for the Best Community Support During Covid-19. 
The venue opened its doors to host a number of exciting local initiatives, including:
A University of East London Virtual Careers Fair
A Forget Me Not memory cafe
A virtual employment session 
Live streaming of World Book Day
Live streaming of a Carol concert
But there's more! Whilst we might not have been able to host live events during the three UK lockdowns, we were able to let out our venue to the NHS, so Blood Donation sessions could continue to be held.
Throughout the height of the pandemic more than 150 people per day were donating plasma at our Canary Wharf venue. Then throughout August this year, we held a pop-up vaccine centre, with around 500 people per day visiting to have their Covid-19 vaccination. 
If you're looking to host an event at an award-winning venue, get in touch with the events team.
You can also read about Canary Wharf's award-winning light show Let There Be Light here.