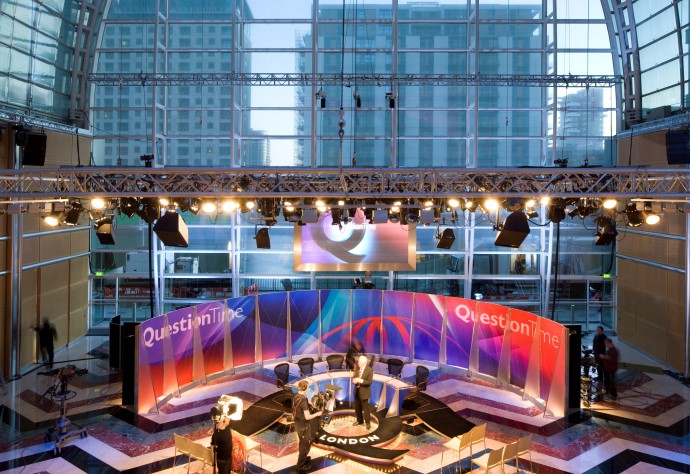 East Wintergarden
Live stream events, conferences and exhibitions at East Wintergarden
Connect people from all around the world and create a unified experience across multiple locations with our new live streaming service.
24 September 2020
The spread of COVID-19 has changed the world as we know it.
Back in March this year, when the UK first went into lockdown, large events were cancelled, parties were postponed, and gatherings were put on hold for the foreseeable future.
But thankfully, there's one thing the pandemic can't cancel and that's live streaming events from our Canary Wharf-based venue, East Wintergarden.
Live Streaming at East Wintergarden
Thanks to the rapid evolution of technology and our new Covid-secure policy, we are now able to offer a Live Streaming Package from our East London location.
From corporate conferences to parties, and exhibitions to weddings, live streaming has the ability to connect people from all around the world and create a unified experience across multiple locations whilst looking highly professional and sleek.
Video has been part of the event tech landscape for more than a decade. It can broaden your reach from beyond a room, whilst creating an intimate experience for each and every viewer.
Plus, the facts don't lie! According to Simpli-Fi, 30% of people who watch a livestream of an event will attend the same event in person the following year.
So, before you consider cancelling your upcoming event, conference or exhibition, why not try live streaming it?
Our Live Streaming Package
Our Live Streaming Package starts from £2,500 + VAT and includes:
Exclusive hire of East Wintergarden from 8am until 5pm
Maximum of 25 attendees on site
Streaming to up to 100 attendees
Standard furniture to include chairs
COVID-19 officer
Event staff to include a duty manager, event steward and cleaning operative
Pret lunch to include sandwiches, crisps and fruit
LED screen
Stage and lectern
Sound and lighting
Stream laptop and back-up system
Stream technician
Camera operative and 1 camera
Zoom Q&A
Whether you are looking to host a conference, exhibition, award ceremony or wedding choose the East Wintergarden as your backdrop.
Get in touch
We have a range of rooms and spaces for all different requirements including: our impressive Main Hall which has panoramic views of London's skyline, thanks to its glass exterior, our Gallery room which is suspended at mezzanine level and overlooks Jubilee Park, and our smallest ground floor space, our Promenade Room.
If you're feeling inspired to live stream your next event, contact the events team with any questions of queries. East Wintergarden is also offering Covid-secure safe site visits.