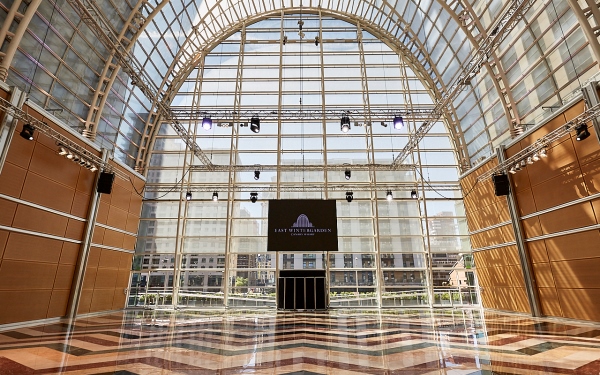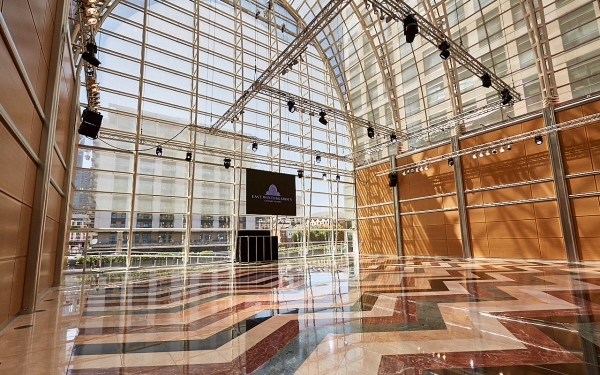 East Wintergarden
Lights, camera, action! Everything to know about filming at East Wintergarden
Call off the search ­– the perfect London filming venue has been found. Whether it's a TV programme, full-length feature film, short clip, advertisement, or photoshoot, East Wintergarden is the perfect filming venue.
21 July 2021
Here at our Canary Wharf-based venue, the East Wintergarden is not only for weddings, birthdays and corporate events, it also makes the perfect backdrop for location filming.
Whether it's a full-length feature film, television programme or series, short clip, advertisement, or photoshoot, East Wintergarden provides the ideal filming space and location. 
'The production space we all dream about'
But don't just take our word for it. Since we opened our doors in 2003, we have worked with a variety of creative clients from directors, producers and photographers to advertising agencies and luxury brands.
Here's what a handful of our recent clients had to say about filming in our space this year:
Bryn Musselwhite, Executive Producer, Outrun Films, said: "The team at East Wintergarden gave us the production space we all dream about. We had reserved parking right outside, the venue is right in the middle of Canary Wharf and it had huge amounts of flexible space with room for everything we needed.
At the time, we had Covid 19 to contend with and so the increased flexibility of having extra room was invaluable. We also had dedicated toilets and break-out areas that really helped with talent and clients too.
Having the retail spaces within a 90 second walk meant any sort of food, clothing or other need was very easy to fulfil. I would 110% recommend you look at using the East Wintergarden as a production base, you won't find anything to rival it in Canary Wharf."
'Technical support was great'
Ian Yarwood, Content Director, This Is Purpose said: "Filming with the team at the East Wintergarden was fantastic. Even though we had a very small production, the team were extremely helpful and were very accommodating to our needs.
Technical support was great, microphones were set up for me on arrival and we worked together to make sure lighting rigs were in the right place.  
Access to The Gallery was great, considering I had a lot of equipment to move.
I would highly recommend East Wintergarden, it is a unique space for filming which worked perfectly for our production."
"A real pleasure"
Luke Stevenson, Location Manager, E&E Industries (UK) said: "Shooting in Canary Wharf was made a real pleasure and a logistical success by utilising the flexibility of East Wintergarden.
The site management team are adept at anticipating every request."
Filming on location at East Wintergarden
Our London venue is set right in the heart of Canary Wharf accessible by car, tube or bus. While on site, clients have access to reserved loading bays situated directly outside of the venue making dropping off crew and kit a production team's dream. Additional underground parking spaces are located just a stone's throw away at Jubilee Place Car Park.
Inside, our venue is fitted with 27m-high ceilings, first-class lighting and tech in addition to jaw-dropping views of the surrounding Canary Wharf skyline. With more than 100 windows, the venue comes with all the natural daylight you could need.
Our flexible venue has three different spaces to film in.
The Main Hall
Our Main Hall is our biggest space and features 682m² of uninterrupted Italian marble floorspace.  The tough marble flooring means it can withhold even the heaviest of loading capacities, like cars, vans, tractors and even boats. It's also kitted out for the use of podiums, catwalks and stages too dependent on client needs. This room is light, bright and can effortlessly host up to 500 people seated or 1,000 people standing. 
The Promenade Room
Our Promenade Room is our smallest ground floor space and is tucked away from the hustle and bustle.  It's adjacent to our Main Hall and is best used as a break-out space for talent dressing room, speaker green room or organiser's office. 
The Gallery
Suspended above The Main Hall on a mezzanine level, the Gallery overlooks our biggest room and has unforgettable views of Jubilee Park, our Waterside and Canary Wharf skyline.
Most crews use this versatile area to film pieces to camera, cutaways, close-up shots and extreme wide angles of our venue and the surrounding area.
That's because it's immersed in striking architecture, has an impressive backdrop, and comes with all the 'wow factor' to fulfil production needs.
Want to film at East Wintergarden?
To hire our Canary Wharf filming venue for your large or small-scale production, package prices start from £500 + VAT. This price includes:
Exclusive hire of East Wintergarden
Standard furniture to include chairs
Event staff to include a duty manager and cleaning operative
LED screen
House lighting
Our package can be tailored to your production must-haves. Get in touch with our talented Events Team today to talk through your film location brief and discuss how our versatile space can meet your needs.