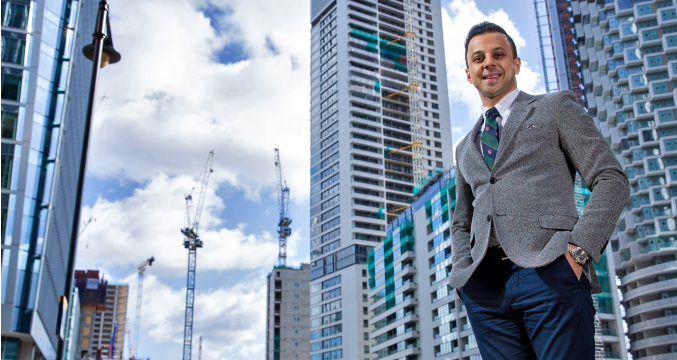 Living
Investing in the Dream Commute
Canary Wharf Purchaser Swaps Lengthy Commute for Ultimate Work-Life Balance
15 March 2019
With ever-rising rail fares, daily disruption on public transport and congestion on the roads worse than ever, savvy buyers are gravitating towards the workplace in a bid to achieve a better work-life balance. Sanjay Chopra, an Investment Banking Consultant for J.P.Morgan in Canary Wharf, is trading in his daily 2hr30 commute from Surrey for a five minute walk from his new apartment at 10 Park Drive. Designed by the internationally renowned Stanton Williams Architects, 10 Park Drive is the very first residential offering in Canary Wharf's new district, Wood Wharf.
One of the world's largest business hubs, Canary Wharf has a daily working population of over 120,000, across a diverse range of start-ups and corporates, entrepreneurs, financial institutions, retail, technology, media and soon to be residential.
Having long commuted from the home he shares with wife Sonam in West Byfleet, Surrey, Sanjay decided the time was right for a lifestyle change. Having worked in Canary Wharf for a number of years, Sanjay has seen the district's transformation first-hand – emerging from a predominantly financial centre into a vibrant cultural destination, home to some of the finest restaurants, retail and events that London has to offer.
Sanjay comments; "I spend a lot of my time in the office, plus over 12 hours each week commuting; so I don't have a whole lot of free time. Hence, when it came to finding a property, proximity to the office was a high on my wish list. One of the things I'm most looking forward to about living at 10 Park Drive is the complete change in lifestyle that it will give me. Being able to walk to the office in a matter of minutes means I'll have all those hours I currently spend commuting free for the gym, socialising and enjoying the view from my new apartment."
"I'm a gym enthusiast so I'm looking forward to having more time to enjoy the residents'
Third Space Wood Wharf gym, as well as the health and wellness facilities within the development. The club and sky terrace on the 13th floor of 10 Park Drive will also be a lovely spot for unwinding in the evenings."
Sanjay has purchased a 456 sq.ft. studio apartment on the first floor of 10 Park Drive. Interiors have been designed by Make Architects to maximise the light and stunning vistas of the surroundings, and Sanjay will be able to enjoy the views over Canary Wharf from his private balcony.
Canary Wharf's Arts & Events programme delivers over 200 diverse events each year, designed to offer something for all tastes, from music concerts, comedy nights, family and community shows to food markets, sporting events, dance and theatre, many of which are free to attend.
Sanjay continues; "There is a real buzz in Canary Wharf now compared to a few years ago, and it isn't just during the week. Before I purchased my apartment, I came along on the weekend to see what it was like, and it was just as vibrant, with lots of families and visitors enjoying the shops and restaurants. Canary Wharf has some of the best spots to soak up festival atmosphere of the London marathon, summer sporting events and films on outdoor screens. These are all activities I am very much looking forward to when I move in."
"The Estate is clean, safe and well-maintained and the developers are investing in the full development of the area by developing a two-form primary school, GP surgery and beautiful green spaces. There is everything you could want from a neighbourhood
Sanjay appreciated the opportunity to invest in Canary Wharf's very first residential offering, even queuing overnight in order to secure his dream property when the development launched in 2015. He continues; "Over the years, I've seen Canary Wharf blossom into one of the most desirable, secure and well-connected private estates in Europe. As soon as it was announced homes were going to be built on the Estate, it was like a lightbulb moment for me. It was such a monumental opportunity and I knew I wanted to be part of this next chapter."
Sanjay has attended a number of Canary Wharf Group purchasers' events since securing his property and has consequently met many of his neighbours in the process. Sanjay continues; "The marketing suite on level 31 of One Canada Square is like a second home to me; I go up to the restaurant for lunch and to meet with clients on a regular basis. It's fantastic that Canary Wharf Group make such an effort to nurture the relationship with purchasers long after the initial contact. It feels like you are part of the family and it is also brilliant to have made so many friends and neighbours too."
10 Park Drive will comprise 74 studios, 115 one-bedroom apartments, 141 two-bedroom apartments and 15 three-bedroom apartments, and residents will have access to a private sky terrace on the 13th floor, with bookable facilities and free use of shared spaces. The development sits adjacent to South Dock and is linked to the water by exquisitely landscaped gardens and parks. Purchasers will also have access to a state-of-the-art new health and fitness club with a swimming pool, jacuzzi, sauna, steam room and fitness studio.
10 Park Drive is due for completion at the end of 2019. For more information, contact Canary Wharf Group on residential.sales@canarywharf.com or visit www.canarywharf.com/residential