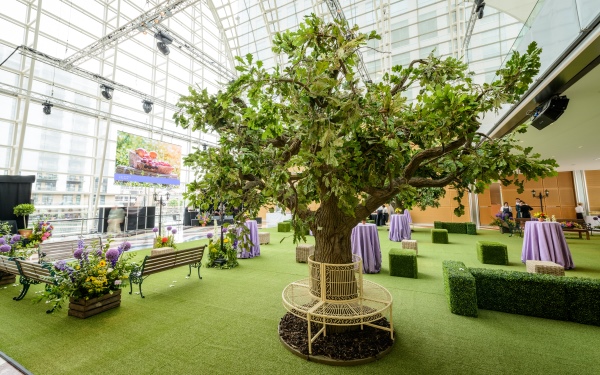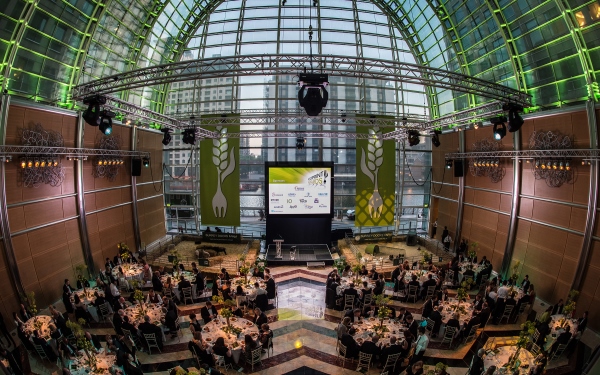 East Wintergarden
Hosting Sustainable Events at East Wintergarden
From our no-plastic pledge to cutting our carbon footprint, sustainability is at the heart of everything we do.
21 June 2021
The need for eco-friendly and sustainable event spaces has never been greater. "We are very much committed to ensuring East Wintergarden is a sustainable events space," Venue Manager Natalie Marcus says. "Not only do we have a long list of eco-friendly practices already in place, but the building itself has been crafted with conservation in mind. This means you can enjoy amazing events at East Wintergarden without it quite literally costing the earth."
Here are some ways in which we're making sustainability real at East Wintergarden:
No plastic allowed
Did you know it's estimated eight million tonnes of plastic enters our oceans every year, with much of it coming from cities through rivers?
Since 2012, we've removed or recycled 3,576,293 pieces (and counting) of single-use plastic from the Canary Wharf estate in total.
And there's more. Since 2018, an award-winning initiative has been in place across the estate called Breaking The Plastic Habit. The programme was designed to change behaviours and move away from our throwaway culture. Which means you'll find no plastic at our events space. Whether it's a wedding, award ceremony or Christmas party, we encourage the use of more sustainable and recyclable materials.
We use 100% renewable electricity
Here's another sustainability fact for you. East Wintergarden – and the whole of the Canary Wharf estate – is run on 100% renewable electricity and has been since 2012.
We've also been ISO 50001 Energy Management-certified since 2015. This is an
international standard that recognises when an organisation has enhanced its energy performance by implementing an energy management system based on a model of continual improvement.
We've swapped to LED lighting
Speaking of electricity, in 2019 we replaced our production lighting with the more efficient implementation of LEDs. As confirmed by the Department of Energy, LEDs use at least 75% less energy and last 25 times longer than their incandescent counterparts.
But this swap doesn't come at the expense of creating an amazing atmosphere. LEDs are just as powerful in helping to set the mood or tone of your event. They are also super versatile without having to negatively impact the environment.
Cutting guests' carbon footprint
The phrase 'a stone's throw away' would best describe just how close we are to a range of public transport links. East Wintergarden is easily accessible from Canary Wharf tube station via the Jubilee Line or Heron Quays station on the Docklands Light Railway. Our venue is also located less than 100m from the nearest bus stop.
So, not only can you reach our events venue really easily, but the use of these public transport measures will help to cut your guests' carbon footprint.
We work with responsible caterers
Food is always a talking point when it comes to events. To help make it an event to remember, we partner with a diverse collection of innovative caterers all of whom have sustainable practices in place. Whether it's using seasonal ingredients, sourcing produce locally or buying British.
Sustainability is at the heart of everything we do here at East Wintergarden. If you've got an event in mind, don't hesitate to get in touch. Our team is on hand to make sure your event ticks all of the sustainability boxes.