Eating & Drinking
Frosty Days and Sizzling Dishes
Warm up this winter with Canary Wharf's European culinary comforts
7 November 2023
From the romance of Paris to the merriment of Germany's markets and the festive cheer of London, Christmas in Europe is a winter wonderland of experiences. Now, you can travel here, there and everywhere without leaving Canary Wharf. Work up an appetite on the ice rink at Canada Square Park before treating those taste buds at some of the most popular places for European food in London.
Milanese magic at Café Brera
With locations at both Jubilee Place and Cabot Place, Café Brera is a little piece of Milan in London. The convivial café environment invites you to tuck into Italian coffees, tortes, ciabattas and more, embracing the ambiance and an Italian twist on seasonal flavours.
All-day destination at Caravan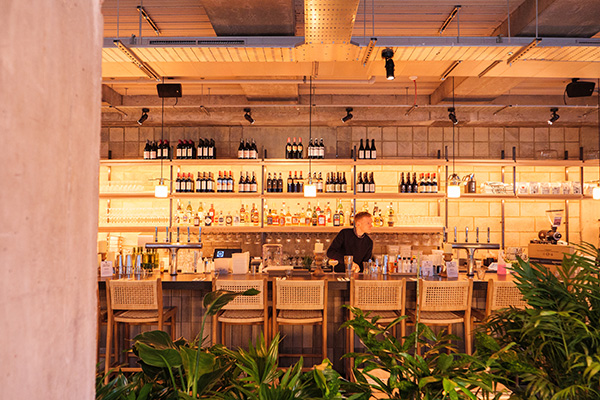 An eternal favourite amongst Canary Wharfers, Caravan at Reuters Plaza is a concoction of well-travelled cuisine. From from brunch to lunch, cocktails to smoothies, sourdough pizza to balanced bowls of grains and goodness, it's always the place to go for all-day dining from around the world.
Italian excellence at Emilia's Crafted Pasta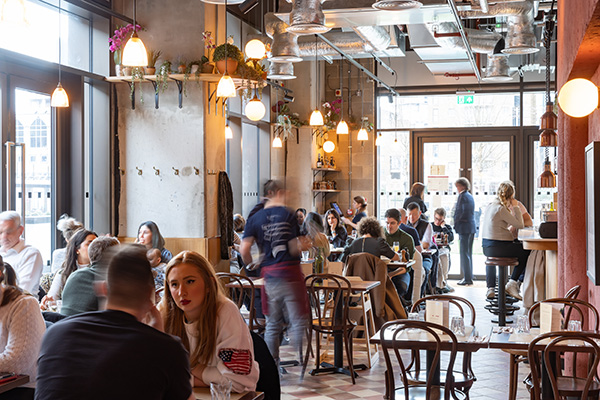 Known for its soulful comfort food, Emilia's Crafted Pasta at Wood Wharf, brings the best of authentic food to Canary Wharf in a contemporary waterside space. Watch the theatrics as drinks and dishes are prepared with flair, and tuck into warming bowls of pasta and flavourful antipasti.
Feel-good-factor at Gallio
Vibrant Mediterranean flavours are the order of the day at Gallio, conveniently located in the Atrium Kitchen above the shops of Cabot Place. For grab-and-go lunches to keep you fully fuelled as you go about your Christmas shopping, tuck into stuffed pitas and sensational pizzas, or if you're taking a bit more time, why not try their bottomless brunch and master the art of pizza-making.
Sparkling celebrations at Humble Grape
Ensuring sparkling celebrations this season, Humble Grape at Mackenzie Walk is known for its viticulture knowledge, 450 wines from around the world and sommelier recommendations. To celebrate in style, pop a cork on their range of Champagnes, Proseccos and sparkling wines, let the team regale you with tales straight from the vineyards, and soak it all up with a menu of indulgent delicacies, from small plates (merlot glazed carrots with almond ricotta are a must), to sumptuous mains (try the miso marinated mushroom 'steak' with polenta fries).
Spanish celebrations at Ibérica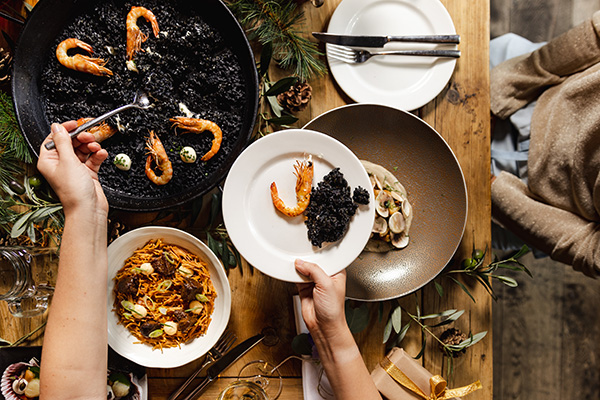 Head to Iberica in Cabot Square for some of the best Spanish food in London, complete with authentic tapas and a delicatessen so you can take some of your favourite items home with you. Amongst classic fare (including three types of Jamón Ibérico), there are also experimental dishes. Over the holidays they are also bringing Spanish seasonality to Canary Wharf with their Navidad en flor celebrations. Paying homage to the purple vines and pink flowers that come into abundance at this time of year in Spain, the restaurant will be literally blooming with festive cheer, complete with a Christmas feast menu that's made to be shared – make sure you leave room for the churros with chocolate. It doesn't stop there either – alongside the restaurant experience, you can purchase gift hampers filled with Mediterranean delights, gift vouchers, or pre-order their famous Roscón de Reyes holiday dessert to be the most popular guest on Christmas Day.
Made to be shared at mallow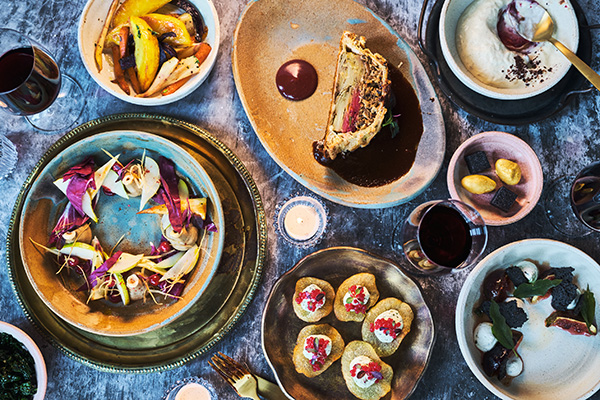 Thanks to their 100% plant-based menu, minimal waste policies and ingredients sourced from small businesses, dining at mallow has added feel good factor. Bringing style and sustainability together, tuck into a collection of small plates such as chorizo croquettes, preserved lemon aioli, guajillo pepper ketchup and wild mushroom tortellini, miso butter, yuzu citrus cream, tamari enoki. They also have delicious larger dishes such as pimento sosis, persian lime cauliflower potato brasato, winter greens, apricot harissa and saffron borani. The Park Drive favourite has now introduced their new five-course Christmas market menu (£60pp, or £80pp with wine pairing) inspired by winter scenes. Each course is enchantingly named, from the Christmas lights starter of game chip, herb cream cheese and cranberry chilli caviar, to finishing up with Gold & Coal – crystallised ginger yuzu nuggets and cassis anise pâte de fruit. Feeling inspired? Discover their recipes HERE to cook up a storm at home.
Italian inspiration at Obicà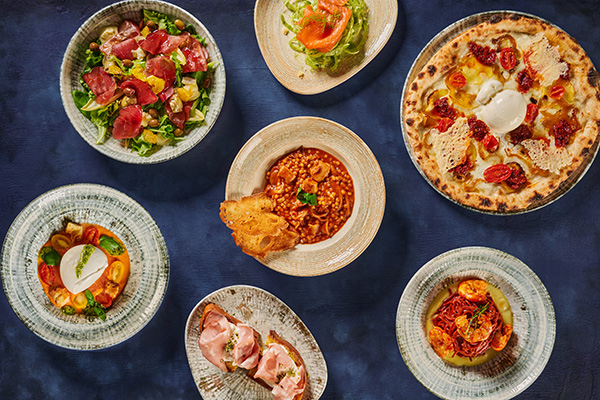 If cheese is a fundamental part of festive dining for you, then Obicà is the place to go. The world's first mozzarella bar puts a new spin on modern Italian casual dining having been born in Rome in 2004 and made a name for itself in West Wintergarden. Delivering the freshest Mozzarella di Bufala Campana DOP paired with other authentic products from Italy's rich regional heritage, it's a chance to enjoy pizza, pasta, salads, paninis and desserts, washed down with Italian wines and original cocktails such as a Sicilian Mule or a classic Negroni Sbagliato.
Seafood sensation at Oysteria
The clue's in the name at Oysteria on Bank Street. This master of Italian seafood is led by the Topkaya family and their award-winning head chef, showcasing a collection of classic and contemporary dishes all inspired by Italy's coastline. A buzzy atmosphere meets a sense of occasion, as you dine on oysters (three, six, nine or twelve with the option of gratin or caviar), followed by options including octopus carpaccio (marinated in gin) and sautéed mussels to start, gamberoni con patate, black risotto, grigliata di pesce, lobster linguine and more for your main course, and affogato or pistachio tiramisu for dessert.
Famously popular at Zizzi
Famous for its rustic pizzas, Zizzi is laid back and lots of fun, whether you're popping in with family, friends or colleagues. The casual atmosphere and feel-good-factor food at their Cabot Place location means it's always a good choice. Or, you can opt for a takeaway to enjoy their food in the comfort of your own home. New seasonal favourites include smoky tomato pasta crisps for the table, garlic bread with mozzarella and caramelised balsamic onions, plant-based meatless 'meatballs', classic calamari, and a king prawn spiedini with seafood sauce.