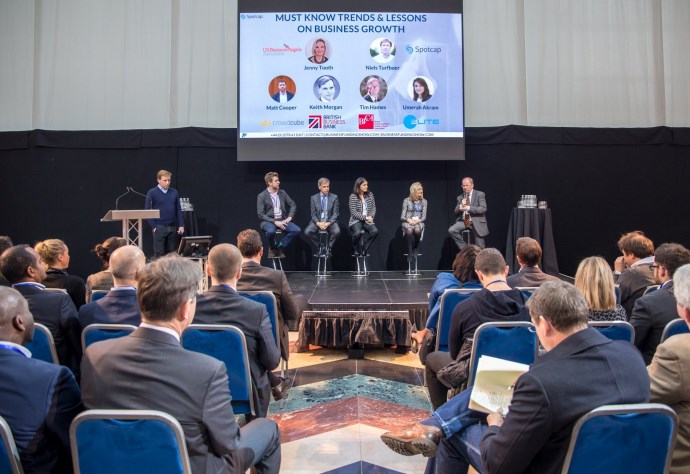 East Wintergarden
From the event archives: The Business Funding Show 2020
13 August 2020
One of the last corporate events we held here at East Wintergarden before the virus lockdown was the Business Funding Show 2020.
The networking event is one of a kind, as it's the only funding exhibition for business leaders and entrepreneurs in the UK and EU and, since 2017 we've been lucky enough to host the prestigious business event at our unique Canary Wharf-based venue.
The Event
On February 20th, we welcomed business moguls, innovative entrepreneurs and all-important investors through our doors to take part in one-to-one investment clinics, pre and post-show networking receptions, as well as enjoying a number of conference talks.
In a bid to connect guests to exhibitors – and help with the flow of the event – we used all three of our modern spaces. The Main Hall which comes with a whole lot of 'wow' factor thanks to its 27-metre high glass dome ceiling and an abundance of natural daylight, the Gallery – which is suspended at mezzanine level and overlooks the Main Hall, in addition to the use of our beautifully fitted Promenade Room.
The Main Hall, our largest space with its 1,000-person capacity, second-to-none acoustics and blank-canvas design, made it the perfect flexible setting for investors, guests and exhibitors to talk business.
We set up 48 exhibitor stands, a lounge style café, complete with a networking area, as well as a central hub hosting back-to-back seminars and panel discussions throughout the day.
The fact that all attendees had panoramic views of London's skyline, thanks to our Insta-worthy glass façade made it all the more inspiring!
The Gallery was used for an investment clinic. The one-to-one clinics allowed entrepreneurs to meet with investors to go over their business plan, strategy, pitch deck, and receive tailored advice.
Lastly, the ground floor Promenade Room, adjacent to the Main Hall, was used as an organiser's office fully equipped with Wi-Fi, plasma display and a dockside view.
The Outcome
The show was such a success, due to popular demand, that it will be returning to East Wintergarden this year, subject to Government guidelines.
But don't just take our word for it. Here's what Arina Osiannaya, Director of the Business Funding Show had to say: "I had seen many venues and was looking for the best fit, capacity-wise, price point and most importantly a space that enabled flexibility.
"What really stood out for East Wintergarden was the ability to do everything within the event brief in-house with in-house technical services, equipment, a specialised and skilled team including venue crew, technical staffing and event management.
"So many other venues you have to reach out and source these services additionally which takes time and money. The team are open, knowledgeable, have a wealth of experience, are flexible and adaptable in their approach and work with you. They are dedicated to ensuring seamless planning and on the day success.
"This compared to other venues I have worked with, where teams and skilled staff are outsourced, and it is a headache to be constantly liaising with different staff brought in across the planning stages. With East Wintergarden it is the same team that will be with you from initial planning stages through to on the day management and this is invaluable.
Arina continued: "The venue is flexible and takes a human approach. Catering options are flexible with an approved list accommodating varying budgets. This is important to us to ensure our guests are not overpriced for coffee and refreshments with our target audience being start-up small businesses.
"All staff are engaged, involved, supportive and helpful. They understand what is required not needing a script. The team is very professional, and they see and understand the bigger picture. You have the feeling they take personal responsibility that the event runs smoothly."
"Another bonus is the location – the East Wintergarden has convenient transport links and importantly for our exhibitors parking and unloading are very easily facilitated. The space is very flexible and can accommodate multiple set up requirements and possibilities. If we are looking to create additional rooms, add on equipment and change the layout from exhibition to dinner, this is all available to us. The venue is very bright, the natural daylight helps keep our exhibitors and guests engaged."
Click here to find out more about the East Wintergarden and, if you're interested in planning an event in a truly unique venue, don't hesitate to get in touch.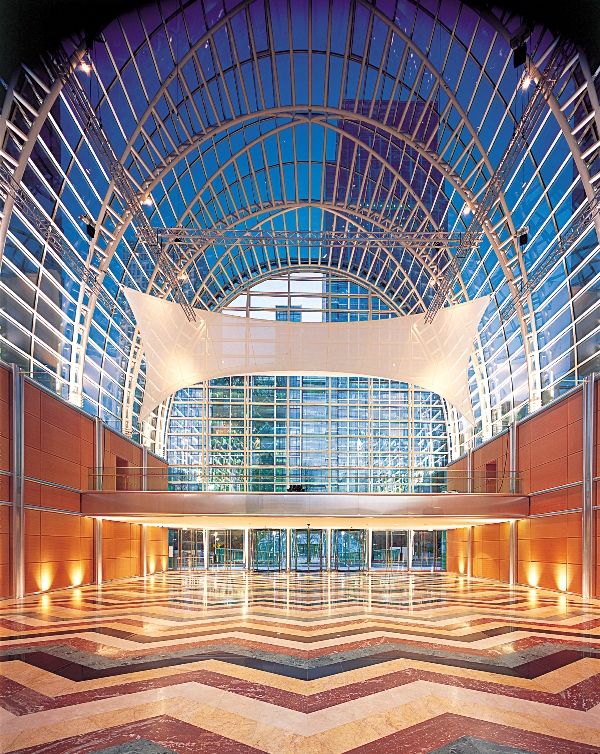 You can also read about Squash Classic 2020 here.
Click here to read about Kate Spade New York Now Open at Canary Wharf.