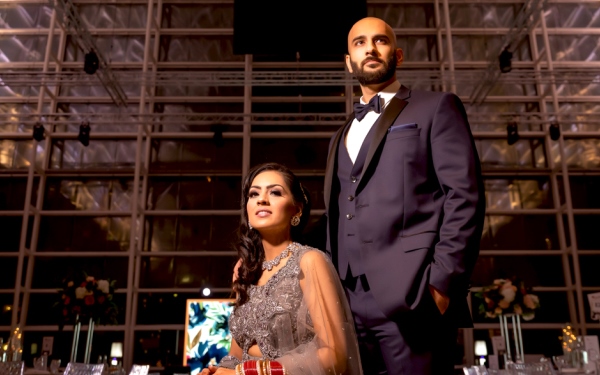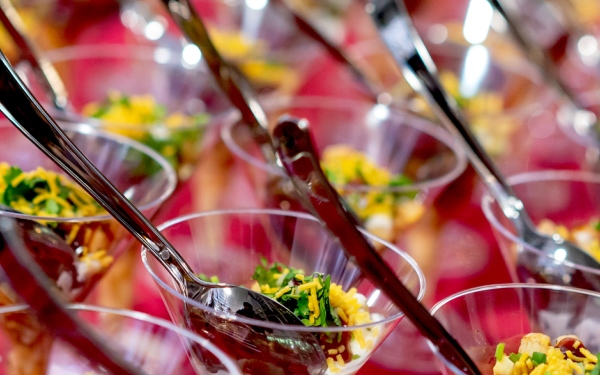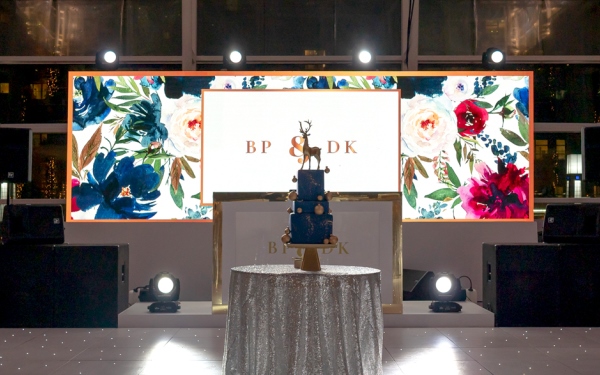 East Wintergarden
Falling in Love with Weddings at East Wintergarden
We caught up with one our brides who held her wedding reception at our unique event space
23 February 2021
Love is in the air! February might look a bit different this year, but that won't stop us from reminiscing about all the weddings we have held at East Wintergarden.
From civil ceremonies and wedding breakfasts to religious ceremonies and wedding receptions, our events venue in Canary Wharf has been a hub for celebrations.
So, if you're into nostalgia, take a seat. We caught up with our bride, Baljit Panesar, who held her wedding reception with her groom at our Canary Wharf event space on 29th December 2019.
Falling in love with a 'unique venue'
Baljit says: "We certainly didn't have a dream wedding planned out beforehand. But there were a few things we were sure about.
"We needed great food and drink, great music and of course, a great venue. Oh, and it had to accessible via public transport and car. Parking would also be a huge bonus.
"Being an architect by background, I was always looking for a unique venue to host our wedding reception. I wanted a venue that had that 'show-stopping' impact, whilst also being absolutely unforgettable.
"When visiting East Wintergarden for the first time, the space evoked all the right feeling and vibes and for me it was an instant 'yes!'."
Special spaces for special moments
On the day, the couple welcomed their guests through our doors. They had access to the  grand Main Hall to really give off that 'wow-factor' in addition to the Gallery which has a 360-degree view of Canary Wharf.
Baljit continued: "The overhead Gallery which overlooks the grand open space of the Main Hall ticked all the right boxes. This allowed us to keep all our guests within one space – there was no hidden corners or awkward areas, thus allowing all the reception functions to happen all in the main space."
Signed, sealed and delivered
But what made our venue stand out from all the rest, was our 27m high arched glass dome. According to Baljit, it was the icing on rhe cake.
She said: "The most striking feature of the venue? The impressive glazed arched roof. It allowed us to use the architecture of the building to our advantage, by using the venue lighting to showcase the space."
The couple wanted to keep the décor simple and modern. East Wintergarden might have 682m² of uninterrupted Italian marble floorspace and 100-plus windows, but the adaptable space is a blank canvas and can be transformed for any taste.
Baljit added: "Our guests loved the space. There were so many compliments on the choice of venue. It certainly was unforgettable and unique!"
'Delicious wild-cards' on the menu
We all know food is a key component to any event – especially a wedding reception. Which is why the couple hired London-based catering service, Signature Banqueting to provide the finest authentic cuisine.
Baljit said: "The team at Signature Banqueting was always there on hand to deal with the admin, assist with sourcing from other suppliers and ensuring that all the items are covered. They had a comprehensive checklist of their own to prompt, guide and help us.
"During the planning stages, we had a food tasting event. This was a really useful part of the process as we came with a few suggestions of what we wanted on the menu. But Signature Banqueting offered up a few surprisingly delicious 'wild-cards'."
Falling in love with the food
Baljit added: "Of course, after the tasting session we absolutely wanted everything on menu!
"Overall, we received grand compliments from all our guests about how good the food and service was. The venue, suppliers and caterers took care of everything on the day.
"It meant we could enjoy the day itself and allow everyone else to handle the rest."
If you're in the stages of planning a wedding or newly engaged, why not take a look around East Wintergarden? Take our virtual 360 tour or get in touch with the events team