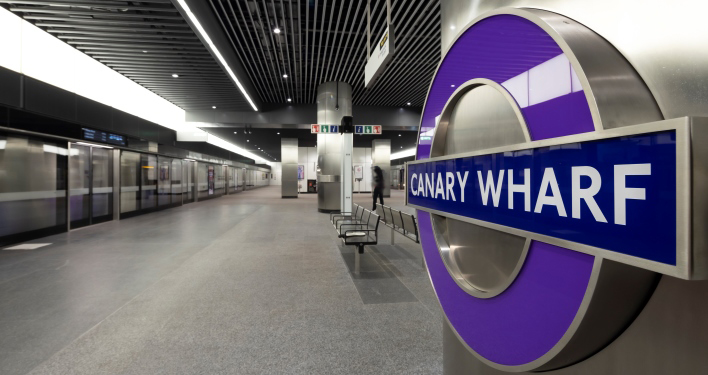 East Wintergarden
Elizabeth line opening improves access to East Wintergarden
The Elizabeth line is here. But what does this mean for our Canary Wharf event space, East Wintergarden? Find out everything you need to know.
15 May 2022
East Wintergarden in Canary Wharf is now even easier to reach thanks to the opening of the Elizabeth line.
From today, Tuesday 24 May, our award-winning events venue can be accessed by the super speedy form of public transport, which was formerly known as Crossrail.
The much-anticipated Elizabeth line will provide crucial links to Heathrow Airport, the City, West End and the Thames Gateway – and it will do so quicker than ever before.
About the Elizabeth line
The new TfL line connects Canary Wharf tube station (which is just a hop, skip and a jump away from our venue) to Liverpool Street in 6 minutes, Paddington in 16 minutes and Heathrow Airport in just 39 minutes.
Along with adding capacity for up to 342,000 more passengers every day, the introduction of the Elizabeth line also means you can travel from Farringdon to East Wintergarden in 10 minutes – compared to the 24 minutes and three tube trains it would previously have taken.
So what does this mean? Essentially, there will be shorter journey times between popular destinations like Canary Wharf with spacious trains, 10 new stations and 31 newly refurbished stations to help you travel comfortably. 
And better yet, the new Elizabeth line stations at Farringdon, Tottenham Court Road, Woolwich, Canary Wharf, Paddington, Whitechapel, Custom House, Bond Street and Liverpool Street, all have Wi-Fi.
So, whether you're travelling from the City (or from further afield) to our Canary Wharf events venue, you and your guests will be able to access our space easily and in record time.
How to access East Wintergarden
The new railway was built by Crossrail Ltd. It adds to the already long-list of ways you can access East Wintergarden via public transport. This includes:
Via the Canary Wharf Jubilee Line
Docklands Light Railway
Six different bus routes that pass through Canary Wharf, with a bus stop located less than 100m from East Wintergarden
River Bus at Canary Wharf Pier
The three different Elizabeth line phases
The Elizabeth line doesn't just cover central London, it is a 73-mile railway line in south-east England which runs from Essex in the east to Berkshire in the west, passing through London's underground.
The first phase of the project is the opening of the Paddington and Abbey Wood Elizabeth line stations on Tuesday 24 May. At that time, services will start with 12 trains an hour – meaning there's a train every 5 minutes, running between Paddington, passing through Canary Wharf and onto Abbey Wood from 6.30am to 11pm, Monday to Saturday.
The second phase is expected to be in autumn 2022, when services from Reading and Heathrow will operate through central London and access the new Elizabeth line central section stations to Abbey Wood.
The final milestone will be no later than May 2023, when the final timetable will be in place. At the time, TfL says there will be 24 trains an hour which will run at the busiest times between Paddington and Whitechapel.
Are you ready to book your next event at the easily accessible East Wintergarden?
Whether it's an award ceremony, conference or big birthday party, get in touch with the events team to find out availability.
Click here to visit Coral Eurobet – one of the leading betting and gaming operators in the UK in Canary Wharf.