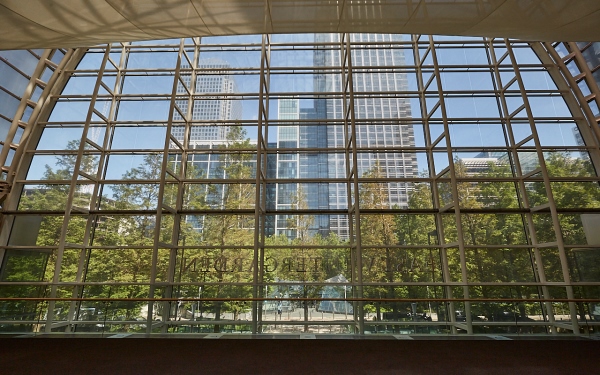 East Wintergarden
Eco-friendly events: Easy tips to make your conference sustainable
From e-invites to sustainable caterers, here are a few tips to give your next conference a 'green' glow up
14 January 2022
In-person conferences and corporate events are back. But if you're wondering how to make your next event eco-friendly, we've got some suggestions.
Here at East Wintergarden we've been exploring the ways in which we can make a more sustainable impact on the industry and environment around us.
From renewable lighting to banning single-use plastic – here's a few eco-friendly tips we've picked up along the way.
Send e-invites
Start your event as you mean to go on – and cut down on the amount of paper you are using by sending electronic invitations. E-invites put a stop to hundreds of sheets worth of paper you would be sending.
They also put a stop to the fuel usage that would be used to deliver these physical invitations. According to one report, the UK events industry emits 1.2bn kg of CO2e every year and so any way we can limit our impact – the better.
Avoid single use plastic
Throw out the plastic straws, say 'no' to plastic bags and 'see you later' to plastic bottles. Single use plastic might seem convenient, but it comes with a steep environmental price – one that has devastating impacts on our health, wildlife and oceans.
That's why, in June 2018, Canary Wharf Group launched its Breaking The Plastic Habit campaign. This campaign didn't just remove all plastics from across the estate, it changed the systems that produced them, and we managed to achieve a plastic free status in Canary Wharf within 12 months. We can help your conference go plastic-free too.  
Choose a green venue
Brilliant public transport links? Tick. Recycling facilities? Tick. Run on renewable electricity? Tick. East Wintergarden is a venue that comes with a conscience.
We have excellent public transport links thanks to Canary Wharf tube station being within walking distance. This gives guests and speakers access to our venue via the Jubilee Line and the Docklands Light Railway.
We've also been IS0 50001 Energy Management-certified since 2015, which is an international standard that recognises that we've enhanced our energy performance.
But there's more. The whole Canary Wharf estate is committed to achieving Net Zero by 2030, with none of our waste having gone to landfill since 2009.
Add a hybrid element
Hybrid events combine a mix of live and virtual components and have grown in popularity over the past 18 months. That's because the power of technology has enabled us all to come together virtually while keeping everyone safe.
According to the latest stats, 80% of event organisers have been able to reach a wider audience thanks to the virtual element hybrid events have. But as well as reach, they have enabled the event sector to make huge savings on emissions by removing the need to travel.
With our high-tech equipment, you can dial speakers in from anywhere, stream live to more than 100 attendees and still benefit from face-to-face elements. It's a win-win.
Go digital
You've already ditched physical paper invites – so why not go one step further? Instead of printing paper and materials for brochures, programmes, or floor maps, take your conference to new heights and go digital.
Give your event a 'green' boost by promoting your conference via an app, creating a website jam-packed full of information or just opt for emails. It's far more cost-effective and better for the environment. 
Use sustainable caterers
Did you know: by incorporating seasonal, local and organic food you can have a positive impact on the environment? You can further cut down on carbon omissions by opting for a meatless or vegan menu. That's because, according to the UN meat and dairy accounts for 14.5% of all manmade greenhouse gas emissions. 
But don't worry – we can still make the food at your conferences just as delicious. We work with a range of top-notch caterers all of whom have sustainable practices in place.
Eco-friendly conferences at East Wintergarden
Sustainability is on the top of our agenda here at East Wintergarden. When you book an event at our Canary Wharf venue, you'll benefit from an estate that's built by the largest sustainable developer in the UK.
Whether it's a corporate meeting or awards ceremony, contact the events team to help bring your eco-friendly event to life.