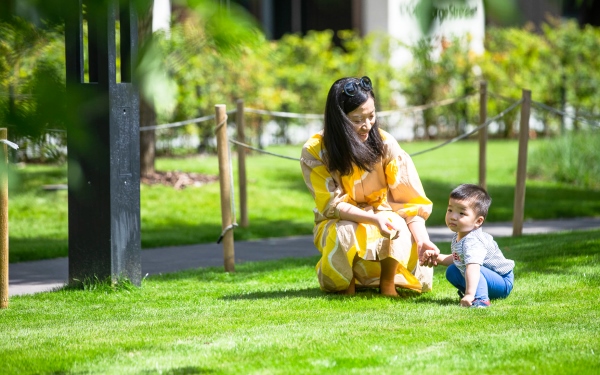 Sustainability
Doing Their Part – Our Retailers Creating a More Sustainable Future
How Canary Wharf retailers are creating a more sustainable future
2 June 2021
Taking one small step after another to make your lifestyle greener is not something you'll regret; across the Estate are many retailers making eco-conscious food, fashion, interiors and beauty easier.
Fashion
BOSS
As well as creating garments with an increased use of materials that care for the environment such as sustainable cotton, traceable wool and recycled materials, BOSS is striking new ground with its innovative materials such as pineapple leaf fibres in its fashion ranges. This season discover its Responsible Fashion collection, which is stocked in the Cabot Place store.
Calvin Klein Underwear
Not ready to get out of your loungewear just yet? Fret not as Calvin Klein Underwear has launched a Reconsidered range made from recycled materials and features everything you need for relaxing at home, from joggers to sweatshirts, dresses to shorts and T-shirts. What's more, to help reduce the carbon footprint further, you can pick it up in-store from its Cabot Place branch.
Claudie Pierlot
Claudie Pierlot has launched Claudie Cares – a four-point scheme for committed actions undertaken in order to improve its impact on the planet. Fifty-one per cent of its new collection is eco-friendly, and the brand is aiming to increase this to 80 per cent by 2025. Shop this range in-store in Jubilee Place.
COS
So far this year 86 per cent of COS's materials in its entire collection have been sustainably sourced and its goal is to create a climate-positive brand, with 100 per cent sustainably sourced or recycled materials. Check out its ranges – such as the plant-based Hemp by COS – at its Jubilee Place shop.
Dune London
As well as creating innovative new shoe boxes to repurpose unwanted or unsold products, last year Dune launched its ECO trainer which is made from a mixture of recycled and responsibly-sourced materials – ideal for pounding those pavements. Shop at its Cabot Square store.
GANT
Gant and sustainability go hand-in-hand and its focus is on four main drivers: water, product, people and planet. Its aim is to reduce its carbon footprint and as well as introducing its own sustainability initiative to educate consumers about garment care in order to extend the lifespan of clothing, it also upcycles and recycles factory materials from previous seasons to create new designs, as seen in its Heavy Rugger shirts. Purchase from its Canada Place store.
Hobbs
As part of its commitment to becoming more sustainable, Hobbs has switched its fabrics to responsibly sourced alternatives without having to compromise on the premium finish. Discover its Hobbs Sustain collection at its Canada Place boutique.
John Lewis & Partners
John Lewis features fashion collections that are ethically made with materials from sustainable sources; shop in-store to see the diverse ranges. What's more, you can now recycle any unwanted hangers at its Canada Place shop.
Levi's
Levi's are made to last, the very fact of which means it helps to reduce waste sent to landfill. What's more, the brand has created sustainable options and made its original styles such as 501s with Water<Less™ technology – using 96 per cent less water than standard finishing techniques – and has also partnered with the Better Cotton Initiative to improve cotton farming globally. Find out more at its Canada Place store.
lululemon
lululemon is working on innovating more sustainable materials and by 2025, it is planning on offering customers the chance to resell, repair, and/or recycle products to help extend their life. Shop at its Jubilee Place boutique.
Maje
Using recycled materials in its collections and denim washed using a more environmentally friendly technique, Maje in Jubilee Place also offers customers who purchase its new bottle bag – part of its new Ibiza capsule – or spend more than £600 in-store, a complimentary reusable stainless steel water bottle.
Mango
Mango has pledged to increase the proportion of sustainable fibres in its collections, working towards a goal of using 100 per cent sustainably sourced cotton in its garments by 2025. Its Committed range are products that have been produced using sustainable fibres or processes, reducing their environmental impact. Shop in-store at its Canada Place outlet.
Massimo Dutti
The Spanish brand has been creating its most sustainable designs under the Join Life label, with the goal of ensuring that all of its products are sustainable throughout their entire life cycle. It has also promised that 100 per cent of its clothes will be made from more sustainable materials by 2025. Discover more about this at its Cabot Place store.
Monica Vinader
Monica Vinader is at the forefront of sustainability and has recently been awarded with a Butterfly Mark from Positive Luxury, a certification that recognises brands which uphold the highest standards of sustainability. The company also exclusively uses 100 per cent recycled gold vermeil and sterling silver which in turn means that by the end of 2021, more than 1,100 tonnes of CO2 emissions will have been avoided. Shop at its Jubilee Place boutique.
Monsoon
Monsoon's sustainable clothing collection – S.E.W – has been created using sustainable fabric alternatives, including responsibly sourced organic cotton and Lenzing Ecovero, a planet-friendly alternative to viscose. Discover denim with a reduced environmental impact in jackets and jeans, as well as trend-led midi dresses and tops in all-natural cotton at is Canada Place store.
Moss Bros.
Moss Bros. has introduced the eco suit that is cut from recycled polyester-blend cloth with canvas and trims that have been consciously chosen for their low impact on the environment. Discover more at its Canada Place store.
Oliver Bonas
Those who purchase from Oliver Bonas's Jubilee Place shop will carry their purchases home in a paper bag that has been sustainably sourced from well-managed forests and is made from 70 per cent recycled materials and printed with eco-friendly inks. Furthermore, the bags are fully recyclable and also help to contribute to the company's charity partnership donations.
Orlebar Brown
Dedicated to a long-term model of 'Measure, Reduce, Rebalance' Orlebar Brown has taken steps towards being carbon-negative. Its sustainability efforts are continuing this year with a trio of Blue Carbon projects centered around establishing mangrove and sea kelp forests to offset carbon emissions and are led by partnering with SeaTrees, the brand's ocean-focused carbon rebalancing partner. Find out more at its Jubilee Place store.
Paul Smith
Paul Smith is committed to sustainability and uses 100 per cent organic cotton and recycled plastic bottles throughout its clothing to ensure a minimum of 50 per cent of each product has been crafted from sustainable materials. Its Sun Logo Edit, which includes organic cotton T-shirts, natural rubber shoes and recycled polyester jackets, is a symbol that it has been made using a minimum of 50 per cent low environmental impact materials. Shop at its Cabot Place East shop.
Polo Ralph Lauren
Introducing the Earth Polo, made entirely from recycled plastic bottles, with an average of 12 used per product. It is just one example of how Polo Ralph Lauren is dedicated to sustainability and is a part of its broader commitment to reducing its environmental impact, thus enriching the lives of the communities the brand touches around the world.
Reiss
Reiss is committed to the constant development of its ethical and sustainable standards which start with the choice and traceability of its raw materials through to production and all the way to its customer services. It has also partnered with The Better Cotton Initiative to improve cotton farming globally. Shop its products at its Jubilee Place store.
Sandro Paris
Sandro Paris SS21 collection, which is called Together Again and stocked in its Jubilee Place store, riffs on themes of escapism and friendship. Printed silk dresses, T-shirts made using eco-responsible cotton and denim shorts produced using an EIM wash are made for balmy summer evenings, while knitted twinsets are made from responsibly sourced wool.
Sweaty Betty
As part of its mission to be kinder to the planet, Sweaty Betty is transitioning to more eco-friendly alternatives, from recycled leggings to organic fabrics. Its Super Sculpt Leggings, for example, are made from 17 plastic bottles. Discover its Sustainable Edit at its Jubilee Place shop.
Ted Baker
Ted Baker has been a signatory of the Sustainable Clothing Action Plan (SCAP) since 2012 and is part of an industry-wide initiative to bring about positive change within the sector. Browse its Conscious Shop range at its Canada Place store.
Wolford
This season Wolford has launched its zero-waste collection, Aurora. Spend £150 or more on the range at the Cabot Place store and receive a free pair of Aurora Script Socks, just to add even more incentive.
Zara
Aside from other sustainable initiatives it is putting into practice, Zara has a Clothes Collection service for unwanted garments which customers can drop off at its Cabot Place shop.
Health & Beauty
Bobbi Brown
Bobbi Brown has teamed up with WasteCare to help customers recycle their packaging in order to reduce waste and create a more sustainable future. At the Cabot Place store, simply opt to remove the cartons from your purchase at the till point and pop them in the recycling bin where the team will send them off to be shredded and turned into paper to be used throughout the UK.
Jo Malone London
As well as encouraging the reuse of everything from its candles to its creme pots – the latter of which is especially popular if going away on a weekend break – Jo Malone London also has plans in the pipeline to create refills for its diffusers; watch this space to find out more and when they will be stocked in the Cabot Place shop.
L'Occitane
At L'Occitane's Jubilee Place store, customers can purchase refills, helping to reduce plastic pollution. Meanwhile the bottles in its Eco Travel Bottle Set are made from aluminium and its bags are made from recycled PET plastic. On a wider scale, the brand also encourages beach clean-ups and teams up with organisations such as PUR Projet and Woodland Trust to help plant trees in the community.
Kiehl's, since 1851
Use Kiehl's Recycle & Be Rewarded scheme at its Jubilee Place store, where customers receive a stamp for every bottle returned; ten stamps equal a complimentary travel-sized product. Furthermore, not only is Kiehl's creating more responsible formulas with renewable ingredients and sustainable packaging, but it is improving the materials it uses in its shops though its Future Made Better campaign too.
M·A·C
M∙A∙C is working to reduce the environmental impact of its packaging by helping to lower the amount of plastic sent to landfill through its Back to M·A·C Programme. Customers who return six primary packaging pieces to the Jubilee Place shop will receive a free M·A·C lipstick of their choice.
Rituals…
Rituals… helps its customers to save money and the planet with its Reduce, Reuse and Recycle initiative with refills that are available to purchase at its Jubilee Place boutique. What's more, last year it introduced recycled PET plastic for its body creams, body scrubs, bath foams, shower oils and fragrance sprays and it is now also using fewer materials for its packaging than ever before too.
Space NK
As a hub for a range of beauty brands, Space NK in Cabot Square puts the environment first with the ranges it stocks, from Isle of Paradise tanning refills and REN Clean Skincare – which is packaged using its Infinity Recyling technology – to Charlotte Tilbury bronzing powder refills and Chantecaille, which aligns its products each season with a cause that needs a platform; find our more here.
The Body Shop
Known for its cruelty-free products inspired by nature and ethically made, The Body Shop has been a force for good since 1976 with more than 40 years of campaigning, change-making and smashing beauty industry standards. As well as striving to develop zero waste packaging, its products such as its Avocado Body Butter that is stocked at its Cabot Place shop, is made with 96 per cent ingredients of natural origin, including sustainably sourced Hass avocado oil from South Africa, handcrafted Community Fair Trade shea butter from Ghana and Community Fair Trade Brazil nut oil from Peru.
Waitrose & Partners
A mecca for everything you need, Waitrose & Partners also features sustainable beauty essentials too. Brands such as Faith in Nature, whose products are made from 100 per cent natural origins and suitable for vegans, are stocked at its Canada Square store.
Homeware
John Lewis & Partners
This department store is a one-stop shop for all your home comforts and with its green initiatives, you can be safe in the knowledge that the teams behind the iconic brand really care for the environment too. From eco mattresses to FSC-certified furniture, reusable water bottles to crafting tutorials that encourage upcycling old materials, John Lewis & Partners goes the extra mile when it comes to sustainability. Check out its 7 Steps to More Sustainable Living that include encouraging you to turn your own garden or outdoor space into a haven for nature with one of its nest boxes, bird feeders or bug hotels.
Flying Tiger Copenhagen
Danish retailer Flying Tiger Copenhagen pulls out all of the stops when it comes to sustainability. This is done, among other initiatives, with a three-year collaboration with the renowned NGO, Plastic Change. The collaboration contributes to an increased focus on reducing the plastic in its packaging, as well as encouraging recycling and sustainable designs.
Monsoon Homeware
As well as its clothing, Monsoon has incorporated sustainability methods into its homeware offerings. Committed to seeking an eco-friendly world, some of its throws, for example, are created using sustainable fabric alternatives, including – as mentioned in the fashion section – responsibly sourced organic cotton and Lenzing™ Ecovero™, a planet-friendly alternative to viscose.
Oliver Bonas
Oliver Bonas is keen to help its customers reduce their impact on the environment and is stocking more and more sustainable products such as bamboo toothbrushes, seagrass plant pots, reusable coffee cups and reusable straws. Aside from this, those who are buying a new electrical item from the store can get their old one recycled for free, so long as they are returned to one of its shops within 28 days of purchasing your new product.
The White Company
From furniture to bed linen, dressing gowns to scented candles, The White Company has taken sustainable measures such as embracing the EU Timber regulations, ensuring that all of its wood and wood-based products are sourced from ethical and environmentally responsible sources. Meanwhile its beautiful brochures are printed using PEFC certified paper where available, using paper from sustainably managed forests and controlled sources, and all of its brochures are fully recyclable.
Eating & Drinking
Ahi Poké
With a vibrant menu that champions fresh, natural food, it is no surprise that sustainability is high on the agenda at Ahi Poké in Jubilee Place. All of its seafood is responsibly sourced and sustainably caught; what's more there is plenty of brightly coloured veg to choose from to create vegan-friendly bowls, including its signature Sweetgreen bowl with tofu, kale and sweet potato.
Bird at Wharf Kitchen
Making its offering of chicken and waffles even more enticing, all of Bird's poultry is sourced in the UK from a single family-run farm in Yorkshire, which is now served in plant-based and compostable packaging for both dine-in (when restrictions allow) and takeaway options. Pick up from Wharf Kitchen in Jubilee Place.
Birleys
The deli firm has removed plastic straws from all of its concessions in Canary Wharf and is currently replacing all its cutlery with fully compostable versions, while its salad bowls are made from 100 per cent recyclable PET plastic – meaning the only worry you'll have is which salad or sandwich to pick. As an added bonus, bring in your own reusable cup to get a discount on your coffee order.
BrewDog Canary Wharf
Once seen as the bad boy of the beer world, BrewDog's approach to environmental responsibility is now at the forefront of its operations. According to its 2021 Sustainability Report, it is now a 'carbon negative' business and all its brewing by-products are reused as biofuels and fertilisers, meaning a pint from its extensive draught and can menu at its Churchill Place outlet is that extra bit guilt-free.
Crussh
Its range of freshly pressed juices and blended-to-order smoothies aren't just good for the body, they are good for the environment too. Using all-natural ingredients, all drinks are bottled in recyclable plastic, plus there's an added incentive of a 50p discount for those who bring their own to fill up. What's more, anyone can drop in and top up their water bottle for free at its One Canada Square shop.
Farmer J
Proving that hearty food can benefit the environment as well as the soul, Farmer J's fieldtrays can be filled with a variety of locally-sourced ingredients – including plenty of vegetarian and vegan options – from a menu that regularly changes with the seasons. Discover more at its Canada Place store.
Humble Grape
Get that inner glow from a sense of doing good – as well as from the wine – next time you pick up a bottle at Humble Grape in Mackenzie Walk. Stocking more than 400 handcrafted, sustainable wines sourced from local vineyards around the world, many of which are organic and biodynamic, there's plenty to raise your glass to.
Island Poké
Sustainability is written into the very DNA of Island Poké in Crossrail Place, with founder James Porter overseeing every aspect of the supply chain, from its sustainably caught fish to its new biodegradable poké bowls made from sugar cane pulp. It holds the claim to fame of being the first outfit in Europe to serve a vegan tuna poké and is continuing in this vein with an ever-expanding vegan menu.
Itsu
As one would expect from the nationwide East-Asian fast-food chain, Itsu runs a range of sustainability initiatives covering everything from carefully sourced ingredients to switching to wooden cutlery in all of its outlets. It has even gone as far as changing the colour on its noodle pots to pink, so that they are better detected by the machines at recycling centres.
Joe & The Juice
Hailing from Copenhagen, Joe & The Juice offers a slice of Scandi culture not only through the décor of its establishments but also in its commitment to sustainability. Its goal is to beat its current target of only generating two per cent food waste, while it has also recently introduced bowls and straws made from sugar cane by-products. Its new range of vegan shakes are not to be missed too; pick up from its Churchill Place store.
Krispy Kreme
Doughnut giant Krispy Kreme has an ambitious target to halve its use of plastics globally by 2025, which has been helped by its 2019 initiative to replace all plastic straws with recyclable paper versions. The introduction of its Original Glazed Vegan Dozen has proven a hit too with customers, which is sure to further help its carbon footprint. Enjoy one from its Canada Place shop.
Leon
Leon has environmental awareness fully built into its operations, with a sustainability strategy informed by leading experts that includes some simple mantras such as sourcing responsibly, serving more veg and celebrating local and seasonal produce. The chain even goes as far as to ensure all its restaurants are 100 per cent powered by green energy. Order from its Cabot Place outlet.
Lola's Cupcakes
Food miles are something which are often overlooked when considering sustainability, but it is something that Lola's Cupcakes have delved into the heart of, as the majority of its cakes are produced on the outskirts of London to reduce delivery distance. Additionally, all packaging for its products is fully recyclable and its cake tins can be brought back to the Canada Place store to be refilled at a 10 per cent discount.
M&S Simply Food
M&S Simply Food puts real care into where its fish comes from, whether it's the prawns in its sandwiches or its ready-to-eat fish pies. It has had a strict sustainable sourcing policy in place for more than 20 years and can trace all its fish back to where they are caught or farmed. Shop at its Jubilee Place store.
Nando's
The list of sustainability policies implemented by Nando's makes it clear the peri-peri specialist thinks as much about its carbon footprint as it does its flame-grilled chicken. Each restaurant is designed to minimise energy consumption – they all run on 100 per cent renewable electricity and every light is LED – as well as water usage.
No35 Mackenzie Walk
The group behind No35 Mackenzie Walk, Darwin & Wallace, proudly heralds its coveted 3* rating from the Sustainable Restaurant Association, and rightly so. It actively sources 'wonky' veg to use in its dishes – which would otherwise be discarded – and is actively moving towards using only dehydrated garnishes in its drinks – or none at all – to reduce food waste.
Pret A Manger
'Doing the right thing' has long been a core value of Pret A Manger. Ever since 2012 it has operated a zero-landfill policy for all of its UK sites, while more recent developments include offering free filtered water stations and moving towards making all packaging fully recyclable, reusable or compostable.
Pure
Living up to its name, Pure take its environmental responsibility seriously. Across its sites including Cabot Square, customers are incentivised with a 50p discount to bring a reusable cup for their coffee, half its entire menu is vegan, and it sends zero waste to landfill. For an added bonus, a water refill station offers both still and sparkling varieties for free.
The Vurger Co.
Savour plant-based fast food that's good for the soul and the planet. At The Vurger Co. In Jubilee Place, everything on the menu is 100 per cent vegan and all of its packaging is made from plants, meaning that nothing goes to landfill.
Wagamama
As proud members of the Sustainable Restaurant Association, Wagamama delves into a number of initiatives such as removing the cardboard sleeves from its products and recycling its used oils into biofuels. Check out its eatery at Jubilee Place to see how it is making a difference.
Wahaca
Wahaca has implemented a trio of initiatives to make it more sustainable – it went carbon neutral in 2016, stopped using single-use straws in 2018 and only sources meat from animals in the United Kingdom that are solely fed on a natural diet.
Waitrose & Partners
As well as building long-term relationships with farmers and producers who share its commitment to sustainable and ethical practices and the welfare of workers, Waitrose & Partners also has created Partners Against Waste to pledge a waste-free future, along with The Waitrose Foundation, which helps to give back to the communities that grow, pick and pack its produce. Shop in its Canada Square store.
Yumtea
Yumtea is a new retailer to the Wharf and is an independent Asian teabar and patisserie, offering world-class tea and a unique range of tea-based cakes that are created and produced daily by its highly skilled bakers and pâtissiers. As a small and independent business, it is trying its best to achieve a net zero footprint. Its shop fit-out has been built with sustainability in mind and is as eco-friendly as possible with earth materials used from Cornwall. For example, for the wall and the cover of the counters, clay plaster manufactured from 100 per cent raw material was used.
You can also read about Paul Smith's SS20 collection in Canary Wharf.