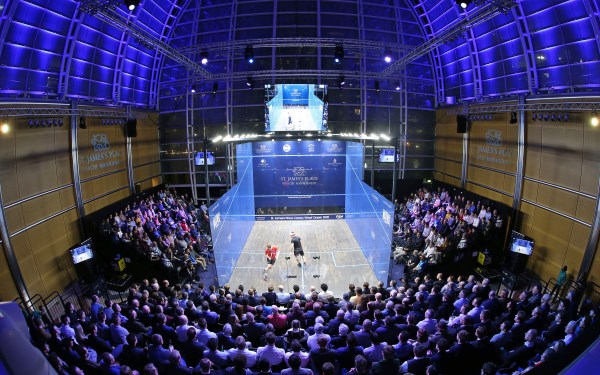 East Wintergarden
Canary Wharf Squash Classic 2021: A look behind the scenes
The countdown to this year's Canary Wharf Squash Classic is on. Ahead of the epic tournament, we take a look behind the scenes to find out how it all comes together.
10 November 2021
More than 3,500 people are set to descend upon East Wintergarden this month to watch the epic Canary Wharf Squash Classic.
The six-day event will be taking place in our Canary Wharf venue from November 14 to November 19, with the world's leading squash players taking centre stage. 
Ahead of the tournament, we caught up with Andy Hurley, our Deputy Technical Manager, who oversees the tech and two-day court set-up, along with the health and safety elements. Here Andy tells us how the unmissable sporting event comes together. 
What's the capacity of the event?
Due to the squash court, for this event East Wintergarden's venue capacity is approximately 575 – with 450 in the bleachers, 40 in hospitality and 85 in the VIP Bar. 
What goes into the set-up of the Canary Wharf Squash Classic?
This is quite a large build with regards to logistics, power, operating sound and lighting control.
I head the tech and power side of the build and operate for the event. Our control area is moved from the Gallery to an area next to the court, so I have to re-cable all sound, lighting and audio-visual (AV) to that position.
I also have to provide power and AV for camera feeds to SQUASH TV who direct, vision mix and air all the live programming to the TV for live games from an OB truck parked on the dockside. 
So from organising with security loading in large vehicles, access for the OB truck to the dockside, power and AV cable runs, it's quite a large scale operation to get show ready in a two-day build.
How long does the court take to build and pack away?
Overall it's four days. It's a two day load-in and build of the squash court, along with the raked seating in the Main Hall and VIP bar on the Gallery, which is suspended above our biggest space. It's the same duration for the get out.
Who sets up the court?
Tim Garner, from Eventis Sports, owns the court and their partner engineers from Belgium build the court. 
For this aspect of the set-up, East Wintergarden acts as an overseer, making sure health and safety guidelines are stuck to, and ensuring there are safe working practices in order. 
How have all previous events gone down? 
Everyone from the client, event duty managers, stewards, janitors, technical operators and the TV team have always worked really well together. This event has been hosted at East Wintergarden for the past 17 years, so we all have a great relationship. 
Everything from, set-up, the event and the get out is now down to a fine art. Everyone works extremely hard to ensure this event goes smoothly and loves working on this one.
What are you most looking forward to about 2021's tournament? 
Obviously live events for a while were completely on hold and especially on this scale. The Canary Wharf Squash Classic was actually the last large-scale event we worked on in 2020 at East Wintergarden before the first lockdown took place. So when we finally do work on this event, I'll be very happy.
For anyone that has not attended an event like this, it is truly an amazing experience. The players are world class and you get to see some incredible games. I work best on busy set-ups and events and working under pressure. 
This ticks all my boxes as to how a larger event should run and I can't wait to work with our Arts + Events department and the team at Eventis Sports.
Hurry, there are only a few tickets left for the Canary Wharf Squash Classic. Click here to grab yours before they're gone.