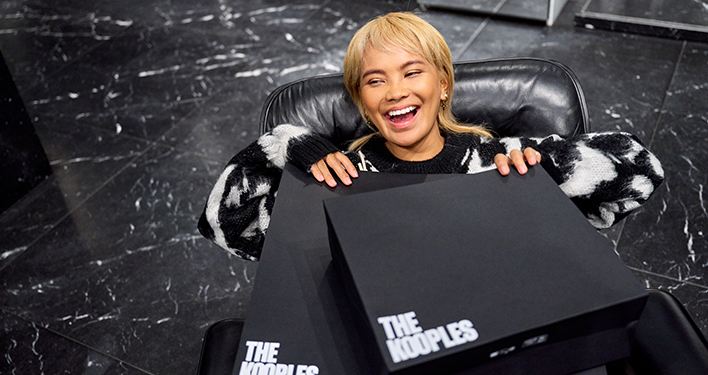 What's On
Bag a bargain this Black Friday in Canary Wharf
Get your Christmas gifts all in one place and treat yourself at the same time, discovering some of the best bargains and festive fun in Canary Wharf this Black Friday.
7 November 2023
For us, it's not just one, but four days of celebration, turning seasonal shopping into an all-singing, all-dancing event. Alongside enviable offers from favourite brands and in-store experiences to try before you buy,  we're also hosting a pop-up Black Friday Shopping Lounge in Jubilee Place. Taking place from Wednesday 22 to Saturday 25 November, it will feature live music, drinks, and lots of prizes to be won.
Make a full day of it with unparalleled shopping, combined with lots to see, do and enjoy. Here's some of our top tips for finding everything you want! Make sure you download the Canary Wharf App to keep up to date with the full list of offers.
How to get to Canary Wharf
While festive shopping can sometimes be a bit fraught, in Canary Wharf it's a breeze thanks to easy transport links. Step out of the Tube (DLR, Elizabeth or Jubilee line), hop off the Thames Clipper by Uber boat or drive and get three hours of free Canary Wharf shopping centre parking for easy and convenient travel. Then, explore five malls-worth of high-street favourites, designer brands and plenty of places to grab a coffee or a bite to eat in between – all within a 15-minute walk.
Where to eat in Canary Wharf?
Start the day with a caffeine fix at one of the many Canary Wharf coffee shops, Grind, 640East, Blank Street or Joe Blake's, to name a few. Get a nutritious lunch at Urban Greens or Ole & Steen, and then treat yourself to dinner and drinks at somewhere special like The Ivy In The Park, Blacklock, Fish Game, Dishoom or mallow. If you've shopped but haven't dropped, you can even test your skills with a little dancing on ice at the Ice Rink Canary Wharf.
What shops are in Canary Wharf?
Across the estate you will find beauty brands, high street and designer clothing, tech gadgets, fitness gifts, foodie inspiration for experiential vouchers and much, much more, ensuring you've got presents for friends, family and colleagues covered over the festive season. Don't forget to grab a little something for yourself as well!
Discover the complete Canary Wharf shopping centre directory
Best-value beauty: self care in Canary Wharf
Whether you're prepping for the Christmas party or have a beauty guru in your midst, find everything from holistic skincare to vouchers for hair appointments and luxury make-up brands in Canary Wharf.
Rituals: best for holistic luxury
A brand designed around creating meaningful moments in daily rituals, this gorgeous skin, body and homeware collection is deliciously scented and enriches mind, body and soul. Used in spas across the UK, it's a little luxury Ayurveda at home. As an added bonus, they will be offering complimentary hand massages on Black Friday – simply pop into the Rituals store in Jubilee Place and enjoy a well-earned moment of relaxation.
Kiehl's: best for meaningful skincare
An old-world apothecary from New York's East Village, Kiehl's now has a global reputation for its gorgeous-to-use and highly effective skincare. A modern take on the historic pharmacy concept, it's got feel-good-factor written all over it.
Bobbi Brown: best for personalised beauty
A brand made famous for its personalised approach to prestige beauty products, Bobbi Brown is all about uncompromising quality and celebrating the wearer, empowering them to step out with even more confidence.
Space NK: best for beauty discovery
A place where you can get advice on what to buy, and choose from a range of products to suit you or your loved one, Space NK is the one-stop-shop for hard-to-find beauty treasures.
Aesop: best for plant-based skincare
Known for their delicious, earthy fragrances, ethical standards and BCorp certification, Aesop is the Australian skincare phenomenon that's now got a home at Cabot Place. Gorgeous products for self and home care, their glass bottles look oh-so chic by the bathroom sink and add something special to every day. As an extra treat, when you visit their Canary Wharf store this Black Friday, you can even book a consultation with one of their trained team members for bespoke skincare advice from some of the best in the business.
Toni&Guy: best for professional hair care
Grab a voucher at world-famous hair care institution Toni&Guy to give your favourite person a professional cut and blow dry or a tailored home hair and scalp routine to help them feel their best from every follicle.
Discover more Canary Wharf shops
Fashion forward: Canary Wharf clothes shops
For loved ones with a flair for sartorial style, discover everything from high street favourites to designer chic on the Estate, exploring the latest trends as well as classic favourites for in-vogue gift inspiration with Canary Wharf fashion.
Levi's: best for dreamy denim
Synonymous with classic cool style, head to Levi's for dreamy denim and effortless, comfy style with everything from shirts to tees and oh-so-perfect puffer jackets.
Hackett: best for country gents
Known for their impeccable tailoring and country chic style, Hackett has three lines to take you from weekday to weekend. From bomber jackets to neatly cut field jackets, classic chinos to cashmere, find the perfect gift for gents with a penchant for rural getaways.
Maje: best for understated glamour
This classic-with-a-twist brand is celebrating its 25th year, and they're doing it in retro style. Putting a twist on staples and introducing adventurous materials, Maje is the perfect fashion gift for someone with a little bit of an edge.
Calvin Klein: best for laid back luxe
From sleepwear to underwear, loungewear to outerwear, Calvin Klein is the leading name in chilled out luxury. Ultra cool, this is the label that exudes everyday athleticism and nonchalance in equal measure.
Paul Smith: best for statement style
Known for their eye-catching colours and signature stripes, Paul Smith is the perfect blend of tradition and modernity at work and at home. From stylish sweaters to smart trainers, and much, much more, it's the go-to for clothing that's always in fashion.
Discover more clothes shops in Canary Wharf
Gorgeous gifts: Canary Wharf gift shops
Bubble bath bliss, eco-friendly jewellery, interior excellence and chocolates that are simply too good to share – sometimes the best gifts are about pure indulgence.
Penhaligon's: best for best of British perfumes
Penhaligon's is the quintessentially British perfumer, famous for its beautifully designed bottles and decadent fragrances. With heritage dating back to 1870, every scent has a story from Savile Row classic, Sartorial, for dapper gents to the bewitching Empressa infused with peach, vanilla and blood orange.
Monica Vinader: best for ethical jewellery
Known for their contemporary jewellery with timeless appeal, Monica Vinader has another string to its bow – environmentalism. Specialising in planetary wellbeing from zero waste to ethically sourced diamonds and 100% recycled silver, their range of handcrafted, wearable, stackable pieces alongside a commitment to circular manufacturing makes it a total joy to buy. For a really personal touch, they even offer in-store bracelet welding at their Canary Wharf Boutique, taking their solid 14k gold chains and fitting them to the exact size of your wrist, where they seamlessly weld them in place – no clasp necessary. You can even add one of their lab-grown diamond charms for an extra touch of sparkle.
John Lewis & Partners: best for something for everyone
The dependability of John Lewis & Partners has spanned the decades, and at their location on Canada Square you can trust you will find something for everyone. From technology to homeware, nursery gifts to fashion and beauty, discover brands ranging from Jo Malone to Mint Velvet, all in one place.
Charbonnel et Walker: best for chocolate
For something truly scrumptious, head to Charbonnel et Walker. The famous chocolatier has truffles for every occasion and taste. Choose from boxes featuring everything from their new caramelised biscuit praline truffles to classic milk chocolate, rose and violet creams to sea salt caramels, all in gift-worthy boxes and hampers.
Discover more shops in Canary Wharf
Smart tech: Canary Wharf electronics stores
For those who love to geek out on the latest gadgets, explore the likes of John Lewis & Partners, Currys and Samsung for tech savvy trinkets to take us into a truly smart new year.
Samsung: best for wearable tech
The truth is you can get just about any kind of tech at Samsung, whether you're looking for a mobile, tablet, laptop or one of many, many accessories. For gifts however, it's all about wearable tech, from the Galaxy Watch6 that helps you develop healthy sleeping habits, to noise cancelling Galaxy Buds and smartwatches with fitness functions. Here you will find the perfect present for tech-savvy souls.
Gourmet gifts: restaurants in Canary Wharf
For the gourmand in your life, give a gift with unquestionably great taste with a choice of vouchers for some of our favourite restaurants and foodie experiences across the Estate.
Boisdale of Canary Wharf: best for Scottish steak
Named after the remote port on the beautiful Isle of South Uist in the Outer Hebrides, Boisdale brings Highland hospitality to the heart of London. For fans of the best Aberdeen steak in town, world-class whiskies and Cuban cigars – look no further. Give the gift of fine food, wine, cocktails, cigars, whisky and live music with a £100 gift voucher, valid for 12 months.
Electric Shuffle: best for game playing
Turning the game of shuffleboard into a modern phenomenon, Electric Shuffle brings together entertainment, food and drink with Gatsby-esque vibes. For loved ones with a competitive edge and a bit of a party spirit, give them a social experience they'll never forget, complete with a foodie twist. Choose £10, £20, £50 or £100.
Ibérica Canary Wharf: best for authentic tapas
A Spanish jewel in Cabot Square, Ibérica Canary Wharf is a joy for eating out and taking delicious delicacies home. Buy a voucher for a future date or explore their delicatessen to take home hampers filled with Mediterranean goodies. Don't forget to pick up one of their famous Roscón de Reyes holiday desserts for yourself at the same time!
mallow: plant-based presents
A 100% plant-based and sustainable foodie favourite, mallow in Wood Wharf is a beautiful place to eat and drink at all times of the day. Their charred courgette tapenade flatbread with feta and tantalising plum tomato mushroom bhaat are mouth wateringly good. To give friends and loved ones a taste, vouchers are available in £10 increments up to £100.
Discover more restaurants in Canary Wharf
Explore more Canary Wharf offers