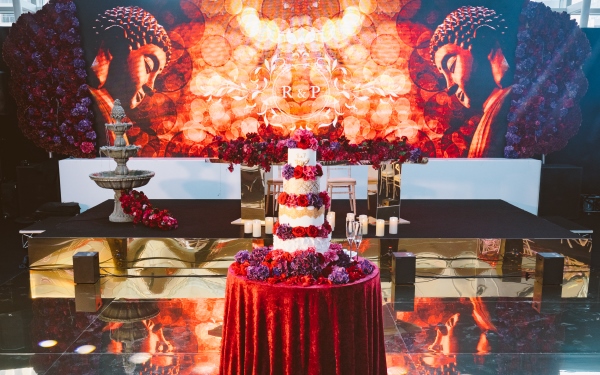 East Wintergarden
Asian Weddings: 6 Top Tips for Finding the Right Venue
Whether you're planning a 15 or 500-guest reception, wedding and events pro, Rohita Pabla, has pulled together a list of top tips on where to start
21 March 2021
Planning a traditional Asian wedding? Then you'll no doubt be looking for a spacious wedding venue with first-class catering options, as well as an impressive setting to help celebrate in style. 
Rohita Pabla, from Rohita Pabla Wedding & Events, one of our recommended Wedding Planners has organised weddings and receptions at East Wintergarden. She told us: "Asian weddings are known for their elaborate planning process and the organisation of multiple events. But one of the main differences is the traditions which take place at each event – and these vary across different cultures."
Generally speaking, Asian weddings can span across two weeks. At present, larger scale weddings have been put on hold. But there is hope that these magnificent celebrations will once again return as the government prepares to lift the social distancing restrictions.
So, whether you are planning a 15 or 500-guest reception, Rohita has pulled together a list of her top tips on where to start, what to look out for and how to find the best venue for Asian weddings. 
Set a budget
Rohita told us: "As with any wedding, the most important thing to do is set a budget. Nearly every factor of your Asian wedding depends on your budget. The average Asian wedding cost in the UK for a one-day event is £40,000. 
"We completely understand that you may not have planned a wedding before however, having an open conversation about your budget will save you time and even money throughout your whole planning process."
Know your requirements 
"Before contacting any venue, you should be aware of your guest numbers, your space requirements and the amount of events you wish to take place," Rohita says. 
At East Wintergarden we have a 1,000 person capacity – but of course if you require space for a Mandap, and guest seating, we can comfortably fit 500 guests in our Main Hall, plus 100 more in our Gallery. 
Location, location, location 
"When contacting a venue, make sure you are aware of where it is," Rohita says. "Many brides are guilty of Googling 'Asian wedding venues' and firing off emails. But you need to know where the venue is located. Can you get there easily from your home? Or will you require overnight accommodation? All of these factors will impact your overall budget and the running order of your events."
Located in the heart of Canary Wharf, East Wintergarden has parking just opposite in Jubilee Park. It's also easily accessible from Canary Wharf's tube station or Heron Quays station on the Docklands Light Railway. 
Discuss the Pre Events 
Rohita says: "Some of the most important parts of an Asian wedding are the traditional events that take part before the actual wedding day itself. Depending on what religious beliefs are followed, these could consist of an engagement ceremony (Sagai), a musical evening (Sangeet) and a henna party (Mehndi).
"These are known as the wedding's 'Pre Events' and have traditionally taken place in the bride or groom's paternal homes. However, with increased guest numbers and the Pre Events taking the same importance as the main wedding day itself, brides and grooms are opting to host these pre events in venue spaces."
At East Wintergarden we have held numerous Pre Events since we first opened our doors in 2003. We're talking Mehndi's, engagement ceremonies and Sangeets. Thanks to our unique wedding venue we have three different spaces to utilise, including: our Main Hall, Gallery and Promenade Room. The latter is perfect for more intimate celebrations. Whilst our Main Hall is ideal for the religious ceremony, as it has space for a stage and Mandap – if required. As part of religious ceremonies, we also permit a small fire. 
Mood board your décor
"The most fun of planning any Asian wedding is the whole planning process," Rohita says. "I would suggest creating a mood board. There are some great apps like Pinterest or even PowerPoint, which you could split into different sections per event, to help bring your ideas to life for whatever venue you choose" Rohita added.
Are you in the process of planning your wedding? Get in touch with East Wintergarden to find out more about the different packages we offer. Or take a virtual tour of our spaces now.