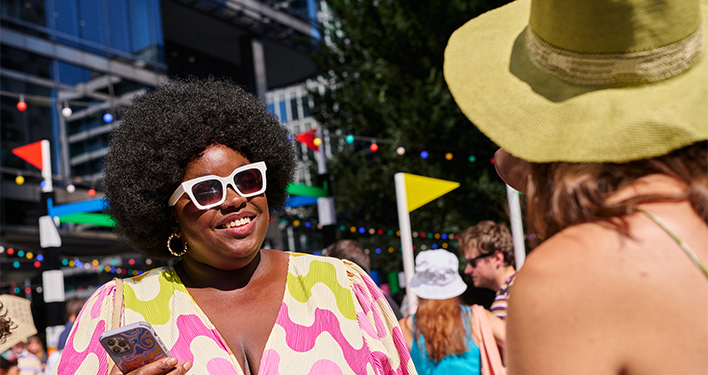 See & Do
Things to See & Do
When it comes to fun things to do in Canary Wharf, among the lush greenery, waterside walkways and remarkable outdoor artworks, you're spoilt for choice, from sport – watching, participating or both – to games, art, culture, overnight stays and more.
17 July 2023
Time To Play: Summer Sports & Games in Canary Wharf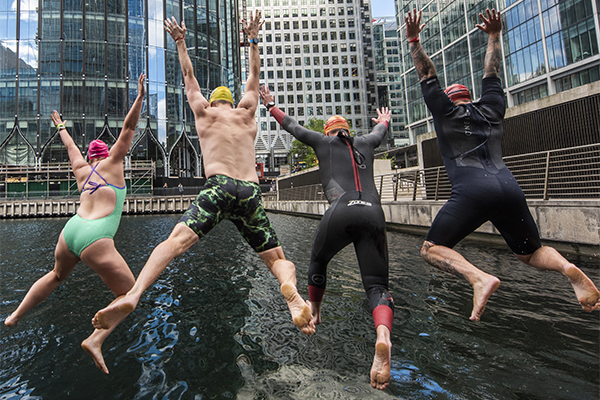 Where to start? On the fastest indoor track in the UK? With a refreshing cold-water swim, a friendly ping-pong game or perhaps some high-energy volleyball or dodgeball at In2Sports? Whatever you're into, we've got it covered.
For an adrenaline rush on four wheels, book a session at Capital Karts Canary Wharf. It's the UK's fastest indoor go karting track and anyone aged 10 or above can have a go at zooming around the 800m-plus course in its karts. At Padium, Canary Wharf's new purpose-built padel venue in Bank Street Park, you'll burn off even more energy playing the racquet sport on one of its state-of-the-art courts. Afterwards? Freshen up in the locker rooms and grab a smoothie to revitalise. Padium is opening later this year so sign up to our newsletter to make sure you're one of the first to play there.
For old-school fairground games, with a modern twist, it has to be Fairgame in Fisherman's Walk; enjoy delicious street food and drinks while you play. Or you could discover shuffleboard thanks to Electric Shuffle Canary Wharf in Cabot Square; combine cocktails, small plates or sharing platters with a 21st century shuffleboard experience. For an entirely relaxing couple of hours and some big screen immersion, you won't find anywhere more comfortable than Everyman Cinema in Crossrail Place. Kick back in one of its plush armchairs or sofas to watch a current blockbuster or one of Everyman's regular 'Throwback' movie screenings.
Many of the outdoor fun activities in Canary Wharf are made possible thanks to our riverside location. For starters, open water swimming: if you're a devotee, you'll know this already but for those yet to try it, we've partnered with Love Open Water so residents, visitors and workers can take a dip in Middle Dock (we warn you, it's addictive once you start!) Our water is regularly tested and meets the high levels of cleanliness required by EU Bathing Standards, so it's very safe to swim in, plus all sessions are overseen by a lifeguard. If you're a competent swimmer over the age of 10, simply purchase a NOWCA membership (£15 a year, giving access to all 40 NOWCA UK locations), book your session on the ACTiO app, get changed in a hut by the water and enjoy your swim. Visit www.loveopenwater.co.uk for more information.
If you prefer to stay dry but love being on the water, GoBoat is the activity for you – have you noticed its eight-seater, self-drive vessels meandering around our waterways? Pack a picnic, choose your crew for your two- or three-hour excursion and off you go.
Public Art & Pride in Canary Wharf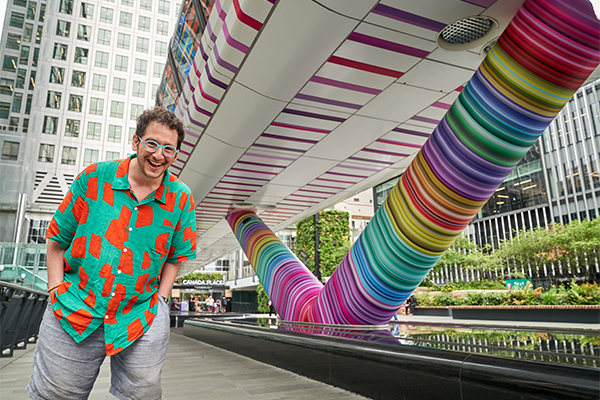 Ahead of Pride in London on Saturday 1 July, Canary Wharf planned a number of talks and a brand-new art installation in celebration of LGBTQ+ culture and international Pride month. We've teamed up once again with charity akt to help raise funds for LGBTQ+ young people who are facing or experiencing homelessness or living in a hostile environment.
To celebrate Pride month in June, Canary Wharf Group, in partnership with Brookfield, hosted a series of talks in Crossrail Place Roof Garden exploring the importance of queer spaces and the significance of allyship within them. The final talk featured architect and artist Adam Nathaniel Furman in conversation with akt about the importance of queer spaces.
Adam is also the creative mind behind the newest permanent addition to Canary Wharf's outdoor public art collection (at more than 100, it's the largest in London). Having launched on 29 June and subsequently remaining in Adams Plaza, Click Your Heels Together Three Times "is a reference to Judy Garland's ruby shoes in The Wizard of Oz," explains Adam, "Judy being a huge gay icon, and the movie being an important work in the queer filmic canon, with this installation being the architectural scale equivalent of her shoes in the film". A queer outfit that kaleidoscopically reinvents a piece of infrastructure used by tens of thousands a day, it also adds a bright and proud note of colour to the square in which it sits. Adam is sharing the context of the artwork's development through poetry, available via our Short Story Stations in Crossrail Place Roof Garden, Canada Place and Jubilee Place until Sunday 16 July.
Where To Stay: TRIBE hotel in Canary Wharf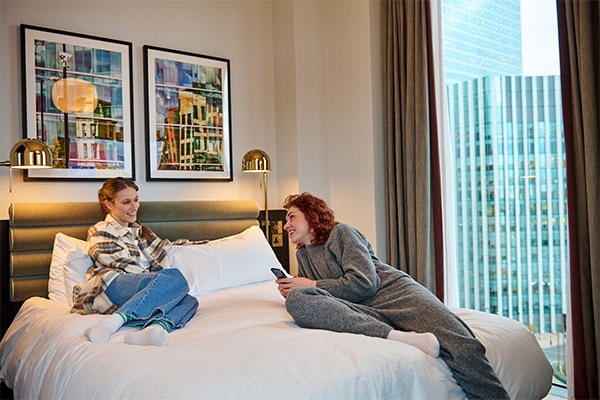 If you make a long enough list of things to do in Canary Wharf and you're not a local resident, you'll need somewhere to stay overnight to make the most of your visit. Luckily TRIBE Canary Wharf is the ideal place to rest your weary feet, promising to deliver 'everything you need and nothing you don't'. What we need definitely does include cool, comfortable curved seating, eclectic prints hanging asymmetrically on lofty walls, plenty of greenery and a very appealing bar. Count us in.
Sleep easy in one of the stylish room categories – Comfort, Comfort Atrium and Comfort XL – and enjoy a leisurely breakfast in the California-inspired in-house eatery, Feels Like June. The lounge area is open 24/7, as is the Grab&Go counter, which is stocked with barista coffee, ready-to-eat meals and a selection of snacks and drinks. Cheers!
A Place For Nature and People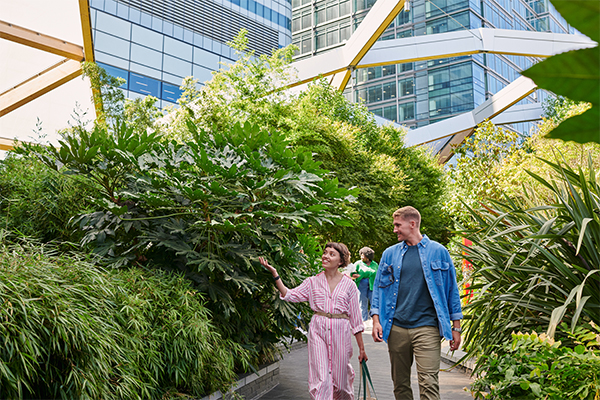 Enjoy the sunshine in one of Canary Wharf's open-air, landscaped spaces; we have 16.5 acres of beautiful parks and gardens. Make the most of them with a picnic: either head to one of our retail outlets to create your own al fresco feast, or visit one of our many food tenants for a delicious takeaway – try Wharf Kitchen, one of the stalls in Reuters Plaza or the The Lunch Market on a Thursday. The Harbour Quay boardwalk offers riverside views in one direction and verdant grass in the other – the perfect picnic spot (or you can use the outdoor gym if you are so inclined). Jubilee Park is home to calming water features, remarkable art and trees that provide a canopy of shade, while the Crossrail Place Roof Garden is a space like no other, with exotic plants, a performance space and a unique, innovative lattice roof. When it comes to our green aspirations, they are embodied within our unique partnership with the Eden Project; we are working with this educational charity and social enterprise to make Canary Wharf a greener place that's rich in biodiversity and better for our wellbeing.
For more information about all of the above and so much more, including special offers and competitions for app users, click here to download the Canary Wharf App