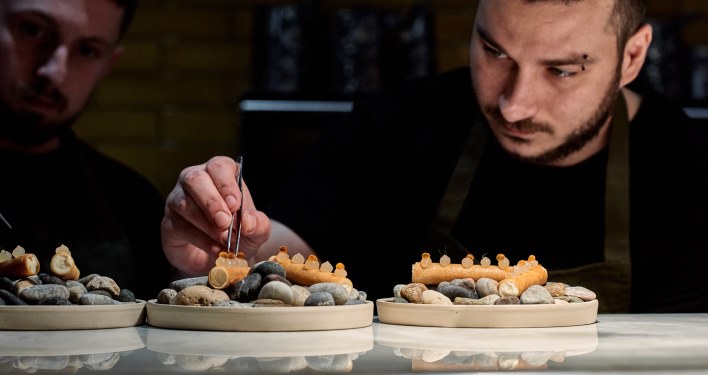 Eating & Drinking
The Best Restaurants in Canary Wharf
Whether you want breakfast, brunch, lunch, or dinner (or even an afternoon cream tea), you'll find some of the best restaurants near Canary Wharf.
18 August 2022
With a surprising variety of cuisines ranging from British pub favourites to fine dining, and from modern Argentinian dishes to continental European classics with a contemporary twist, there's always something to tantalise your taste buds and satisfy your hunger. Keep reading and discover:
The best steak restaurants in Canary Wharf
The best restaurants in Canary Wharf with a view
Restaurants for date night in Canary Wharf
Restaurants in Canary Wharf with live music
Best Steak Restaurants in Canary Wharf
There are a couple of good reasons to head to Gaucho's Canary Wharf branch. The first is the menu, which offers the amazing steaks and modern Argentinian flavours with a cosmopolitan twist for which the brand is renowned. The second is the gorgeous al fresco dining area overlooking the river. Go on. You know you want to.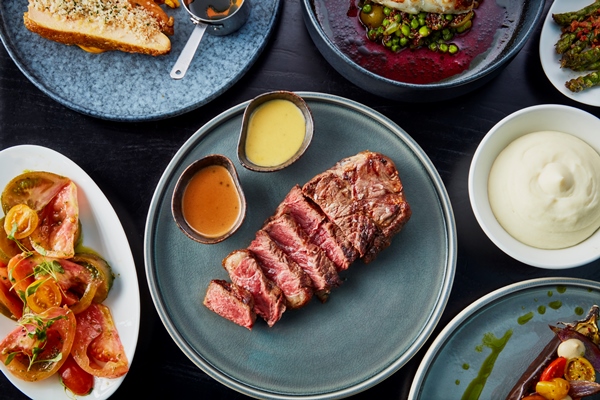 Gaucho Canary Wharf, Canary Riverside

Of all the best restaurants at Canary Wharf, Hawksmoor Wood Wharf has one of the finest locations. The restaurant is in an eco-friendly floating pavilion – just perfect for a menu that highlights some of Britain's best produce. You'll find sustainable south coast seafood, grass-fed dry-aged ethically reared beef, and some of the most popular items from the restaurant's New York branch menu.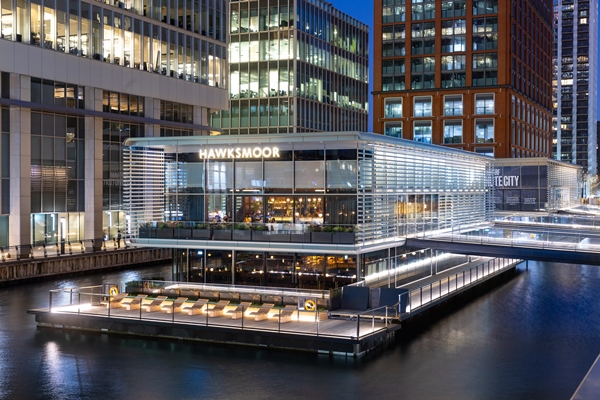 Hawksmoor Wood Wharf, Water Street

If American steakhouse-style grub lights your fire, make your way to Manhattan Bar & Grill for some of the best food in Canary Wharf. You can enjoy Aberdeen Angus beef cuts such as fillet, rib-eye, and New York Strip, along with a variety of other steakhouse favourites and vegetarian options in an awesome atmosphere. If you're not in the mood for steak, try the king prawns with chilli, garlic, and tomato, the baby back ribs, or the salt-baked beetroot.
Overlooking the banks of the river Thames, this luxury grill is known for its focus on using Provincial ingredients that are ethically sourced and produce zero waste. They have won awards for their unique 'Carbon Neutral' beef and wagyu selection, which they age in their specialty Himalayan salt chamber. While also serving a vast array of wines and cocktails, M Canary Wharf offers a brand of ethical hedonism you can't get anywhere else.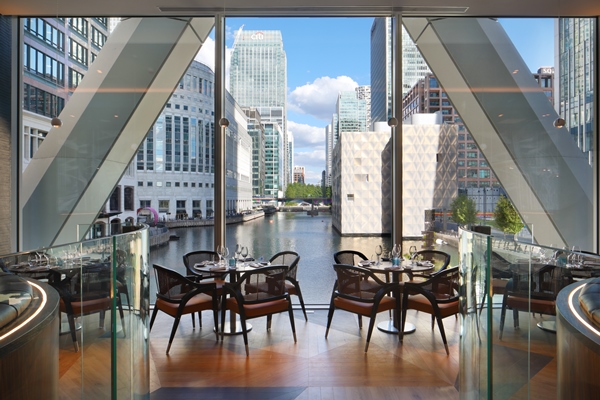 M Restaurants, Newfoundland

Best Restaurants in Canary Wharf with a View  
A rooftop restaurant with fabulous views of the north dock, Pergola On the Wharf is in the garden on the top floor of Crossrail Place. Indulge in an array of fine dishes, such as béarnaise burgers and truffle arancini, surrounded by ferns and other live plants in the restaurant. Alternatively, soak up the sun while enjoying your meal on the terrace.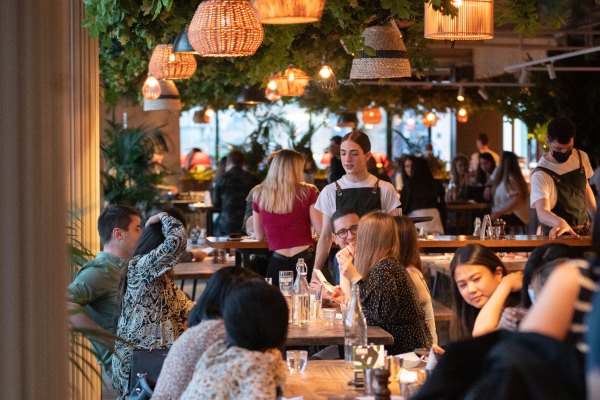 Pergola On The Wharf, Crossrail Place

One of the best restaurants in Canary Wharf with a view, Plateau includes an elegant restaurant, cocktail bar, and heated, covered terrace, and a grill with a relaxed atmosphere. The menus present you with a selection of classic French and European dishes, as well as modern, brasserie-style fare.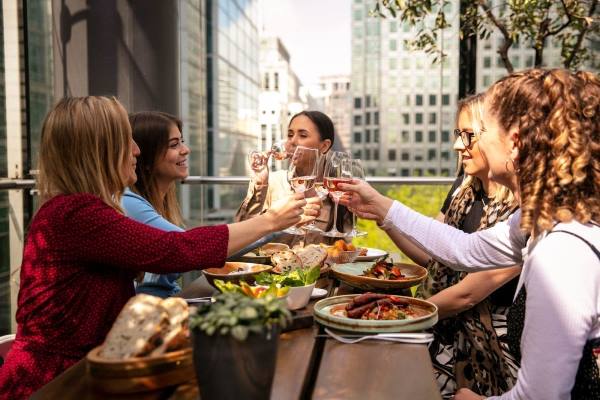 Plateau Restaurant, Bar & Grill, 16-19 Canada Place

Emilia's Crafted Pasta has an excellent reputation as far as its spectacular views go, but it's also one of the best places to eat around Canary Wharf. If you can tear yourself away from the stunning views over Harbour Quay Gardens and the water for long enough to peruse the menu, you'll find an unbeatable selection of fresh pastas, salads, and antipasti.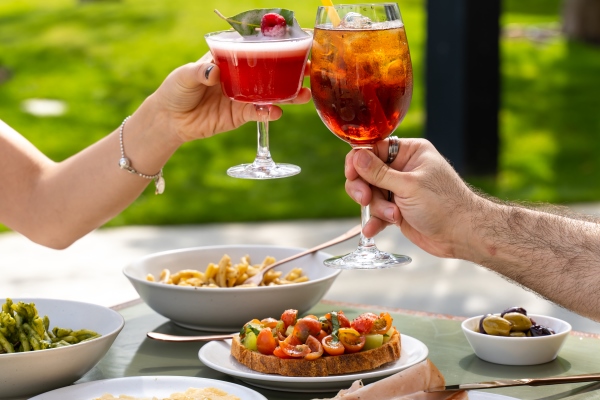 Emilia's Crafted Pasta, 12 George Street

Everybody looking for good dim sum in London will find themselves heading to the Royal China. Here, dim sum & Hong Kong Chinese dishes are served in a modern dining room, decked out in elegant décor, where golden hues contrast with reserved red and black features. These qualities twinned with the enchanting views that look out over the River Thames and The City make Royal China one of the best places to eat in Canary Wharf.
Date Night in Canary Wharf
Date night (or day) calls for something special, and you'll find that at the Ivy in the Park. Sophisticated yet friendly, the restaurant is in one of Canary Wharf's most sustainable buildings. There's a main dining area and bar, and two outdoor terraces. You'll find modern British classics, Asian-inspired cuisine, vegetarian and vegan dishes, cream teas, and Ivy classics on the menu.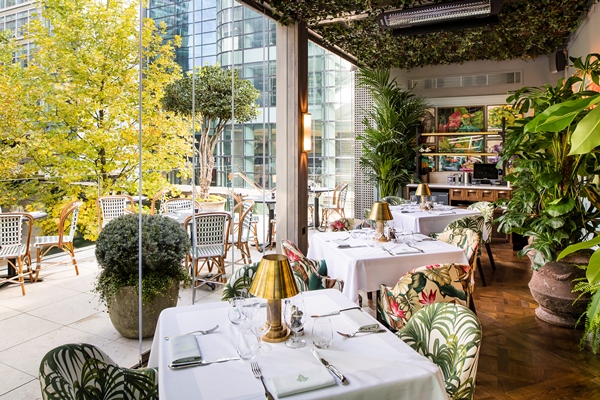 The Ivy in the Park, Canada Square Park

Looking for fine dining without the stuffiness usually served with it? Head to Six by Nico. This establishment's regularly changing six-course tasting menu concept makes it one of the best restaurants near Canary Wharf. The standard is nothing less than excellent, but don't delay – when each themed menu has finished its limited run, none of those dishes will be cooked again.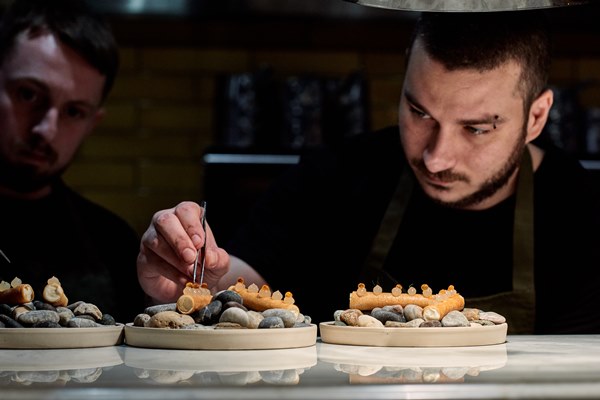 Six by Nico, Chancellor Passage

Enjoy contemporary Japanese robatayaki-style cuisine in elegant yet relaxed surroundings at ROKA. The cooking style sees a variety of dishes cooked over hot coals. Apart from the mouth-watering menu options, the restaurant boasts a fine view over Canada Square against a backdrop of Canary Wharf's unmistakable skyline.
Located comfortably in the heart of Canary Wharf, Caravan supplies the bustling area with chic decor, unbeatable vibes & extremely diverse cooking served day and night. With breezeblocks beautifully clashing with natural stone situated next to Konstantin Grcic's seminal 'Six Public Clocks' art piece, it's one of the most picturesque places to plan your date night.
Caravan, Reuters Plaza

Restaurants in Canary Wharf with Live Music
A gorgeous restaurant and bar with a south-facing terrace on the waterfront, No35 Mackenzie Walk serves up a tempting selection of sustainably sourced scratch-cooked plates all day. If you'd like to listen to live music while indulging in some of the best food in Canary Wharf, make sure you pop in on one of the establishment's Good Music Saturdays. You're sure to be delighted by back-to-back live music and DJ sets by one of the restaurant's favourite trios.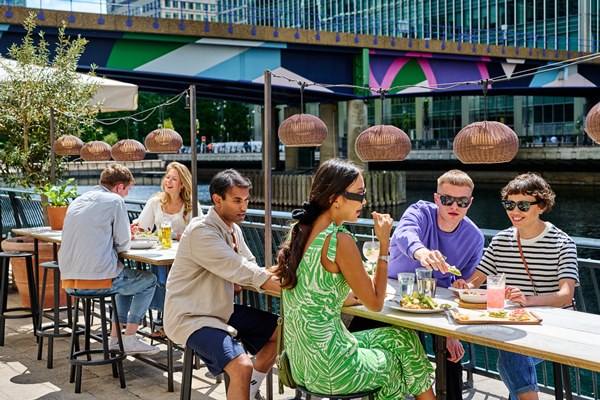 No35 Mackenzie Walk, Mackenzie Walk

A breath-taking eatery and music venue overlooking the magnificent Canary Wharf skyline. Boisdale boasts a restaurant, four private dining rooms, an Oyster Bar & Grill with a terrace, and a Cuban Cigar Library. With a 12 metre long 'amber wall of liquid gold' that holds over 1,000 bottles of malt whisky and the best jazz and blues line up you'll find anywhere else in the city; Boisdale is an unmissable dining and musical experience.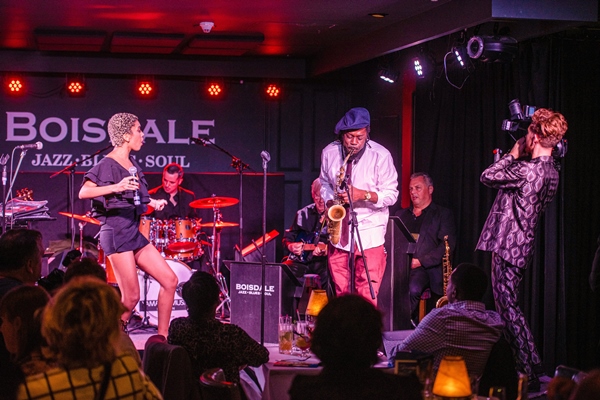 Boisdale of Canary Wharf, Cabot Place