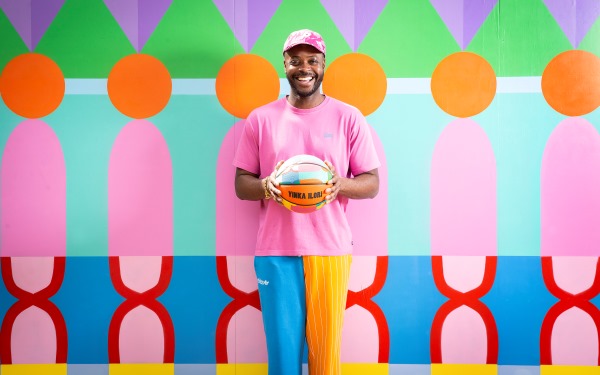 What's On
Shooting Hoops with Yinka Ilori
As Yinka Ilori brings a multi-coloured basketball court to Bank Street Park, the artist discusses his design process, his biggest influences, and where he finds inspiration
25 May 2021
Tell us about your design for the basketball court.
The slogan of the court is 'be the best you can be'. I found it difficult not to have time and space to play in public spaces last year, so I wanted to create an area that encouraged play for everyone. I wanted to give people a place they can come and just enjoy being outdoors and being together again.
What is your design process?
My design process doesn't have a particular rhythm or formula. It mostly starts in a sketch book. I love to travel; if I go to Nigeria, for example, I love to take in the way the buildings look, the patterns and colours on people's clothes, and just absorb everything in my surroundings. Wherever I am I find that everything that is part of that culture inspires me.
How was your design inspired by Canary Wharf?
Canary Wharf is known for its skyscrapers, and my drawings draw inspiration from and resemble a lot of these structures. You will notice this particularly in the arch shapes found in my work for this project. My use of colour and pattern show that this is a place that is changing, challenging perceptions of what people might have once thought of Canary Wharf. It is more than a financial district, it is a place where people can live, play, and enjoy themselves. A place that celebrates different cultures.
What has been your favourite project to work on?
Every project is different and important to me for different reasons. I have loved this project because this is my first ever basketball court. I love that it's inclusive and gives somewhere for the community to get together as the court is free to use it means it can be enjoyed by everyone. I've done everything from a pavilion to an underpass to a skate park and now a basketball court. All of these projects are different but great in their own way.
What is the best advice you've received?
I met Tracey Emin when I was working in M&S. She said to me "take your time, trust your process and don't rush yourself". I think particularly in this era of Instagram and social media you can feel like you need to seek validation constantly. It's better to step back, trust the process and perfect your craft.
Who is your biggest influence?
My parents, because of their journey and everything they have done for me and my siblings. Leaving Nigeria with no plan and just figuring stuff out on their own. They chased their dreams; they've achieved so much and continue to do so.
Click here for more information about Bank Street Basketball