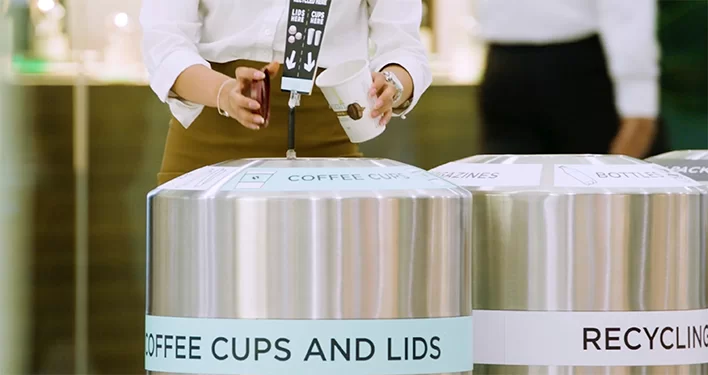 Community
Recycle Week at Canary Wharf: How to Take Part and Beyond
This Recycle Week, 16-22 October, we're spotlighting 'missed capture' items that can be recycled. Our Director of Sustainability, Sophie Goddard, shares what we are doing to mark the week and how we are driving sustainability for our community here at Canary Wharf.
16 October 2023
What is the Canary Wharf Group doing specifically for Recycle Week?
We're all in for Recycle Week! Internally, we are revamping our waste signs and spreading recycling knowledge. We're even showcasing success stories to inspire change in everyday habits.
Externally, we've teamed up with Hawksmoor Wood Wharf for a Recycling Week competition – the winner gets a £100 Hawksmoor voucher, so it's worth sending in those suggestions! Many of our retailers are sharing their current sustainability initiatives to reduce waste such as NatWest's Reverse Vending Machine which provides a secure, eco-friendly way to recycle unused plastic cards. We also have exclusive discounts such as Monica Vinader's jewellery recycling programme, where they will recycle your silver and gold jewellery from other brands and give you £20 off your next purchase.
We're looking forward to seeing what our retailers are doing, and shining the light on their positive actions.
How can individuals who work, live, and visit Canary Wharf be part of Recycle Week?
As a starting point it would be worth downloading the free Canary Wharf app to find all the latest information on events, offers and initiatives. Simply by visiting the estate and going to the shops you can take part. We have also partnered with the charity, The Felix Project, which tackles food poverty by distributing good, surplus food that was otherwise going to waste from shops and restaurants, giving it to those who need it in the local community.
Find out more about The Felix Project's volunteering opportunities
What are your top tips for how individuals can recycle more and reduce their waste at work and at home?
Small changes can make a huge impact. Plan your day with reusables, from coffee cups to water bottles. You can use it in one of our many coffee shops and you can refill your water bottle at one of the estate's many refill stations. Before throwing an item away, ask yourself if it really has had its last use; a repair shop or charity shop can give items new life. Don't forget to read the signs – take a moment to understand the recycling sign on your product, ensuring items find their rightful place.
How do you help individuals to improve their own daily contributions towards sustainability while they're in Canary Wharf?
We're doing a lot on the estate to enable people to live more sustainably and to make doing that easier. We handle waste from management areas in house, ensuring it does not go into landfill, and we transport it by water, instead of road to reduce emissions. Encouraging use of sustainable transport is key, Canary Wharf is well connected, served by the Elizabeth line, Jubilee line, DLR and Thames Clipper by Uber. We have 24/7 electric charging points across the estate for those who drive in. We also collaborate closely with our community to help identify solutions, hear our tenant's thoughts and make fundamental changes such as improving their energy performance.
How else are you tackling waste in Canary Wharf?
As part of our ambition to move beyond zero waste, we have continued to evolve our approach to circularity. That means keeping high-quality resources in use for as long as possible rather than throwing them away. We have recently launched our Sustainability Report, which includes our new Circular Economy Action Plan (CEAP). We know that if we set specific goals and take action, we can support our tenants to keep materials and products in use for longer, while benefiting the wider community. Read more about our CEAP which is in our 2022 Sustainability Report.
Download the Canary Wharf app to find out more about Recycle Week
Read our 2022 Sustainability Report