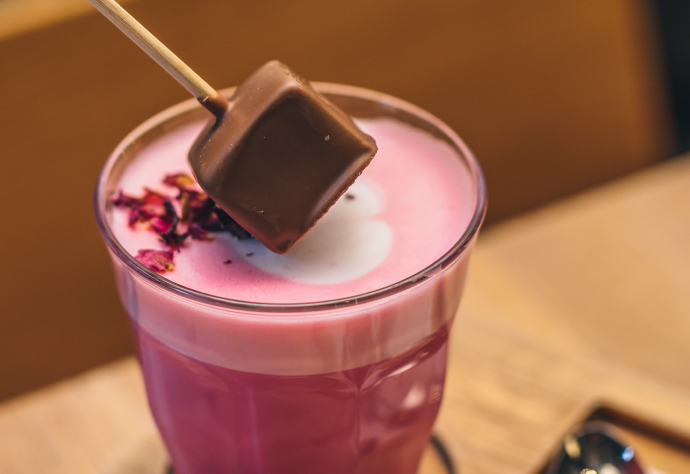 Eating & Drinking
Pamban: Our Cup of Tea
Founders Aruna Sellahewa and Mayhul Gondhea explain why they're bringing their award-winning chai to Canary Wharf this March.
15 February 2020
What can we expect to find at the new Pamban branch?
We are chai and coffee specialists at heart inspired by both our Western and Asian heritage. At Pamban Canary Wharf you can expect to taste our innovative range of over eight different hand-brewed chais, as well as speciality espresso-based drinks and a rotation of rare single-origin filter coffees from all over the world. Our signature red cappuccino (made with antioxidant-rich and caffeine free rooibos is a nod to one of the founders who was born in South Africa, and our Jaggery Milkshake, Faluda and Probiotic Protein Lassis are fun treats. We offer vegan alternatives, too, and we will be showcasing drinks steeped in ayurvedic wellness.
Why did you choose to open in Canary Wharf ?
Having worked in Canary Wharf ourselves, we know the area well and appreciate the need for decent independent coffee and proper chai at speed without any compromise in quality for the busy Canary Wharf crowd. Our baristas have years of experience and live and breathe coffee.
How will it be different to the Camden branch?
Our Camden branch is a 1000sqft site with over 50 covers. It's a large space where we serve all day brunch, cocktails and have events such as live music and yoga. It's our HQ where we do our recipe testing and work on our new products too. Pamban CW is a leaner unit to handle the volume and waves typical of Canary Wharf. We will have some of the latest coffee equipment including the La Marzocco KB90, as well as all the facilities to make our famous chai fresh in front of the customers, which includes grinding the spices by hand in a pestle mortar. We're also planning a filter wall station to showcase rare single origin coffee, and a delivery service for offices and meetings.
What's the secret to a good chai tea?
At Pamban we grind our spices by hand and hand-brew all our chai in front of our customers. Our secret recipe is not a syrup or concentrate but the real deal. We use a blend of teas that give you a depth of flavour and only use a little bit unrefined jaggery (cane sugar) to add a hint of sweetness that compliments and brings out the spice in our classic and addictive chai. We have a range with different taste profiles and experiences: saffron, cinnamon, karak, rose and a whole range of vegan chais to name a few!
What else will be going on in the store?
At our Canary Wharf branch we will be selling our Chai and Coffee for you to take and make at home, alongside our loose leaf tea selection, spices and Sri Lankan and Indian goods, such as our handmade clay cups and Sri Lankan Ayurvedic Samahan. We also plan to do chai tasting and brewing lessons where you can learn all about how we make our chai and have a go, too, plus coffee workshops where you can learn to do latte art.
* Text courtesy of Canary Wharf Magazine 
* Text as originally appeared in Canary Wharf Magazine 
You can also read about Squash Classic 2020 here.