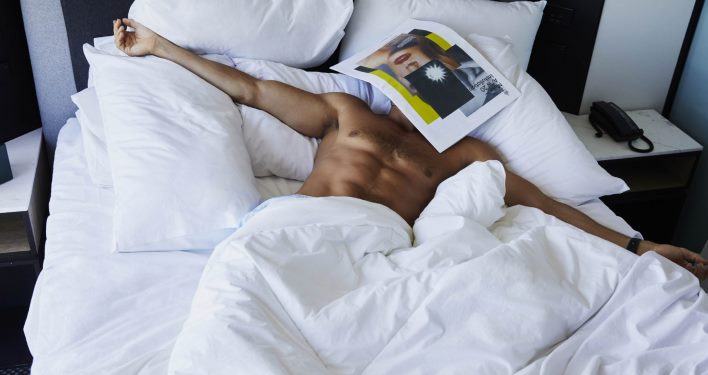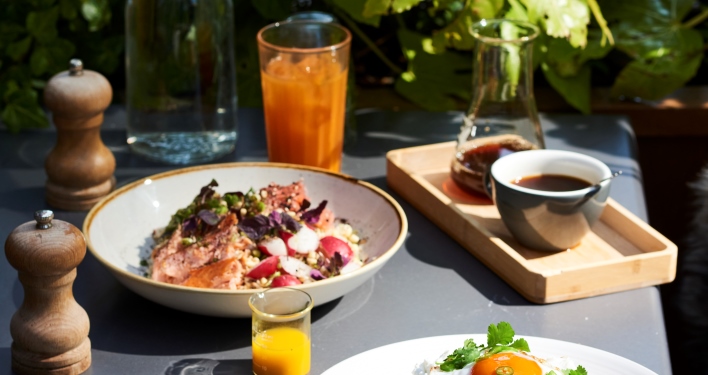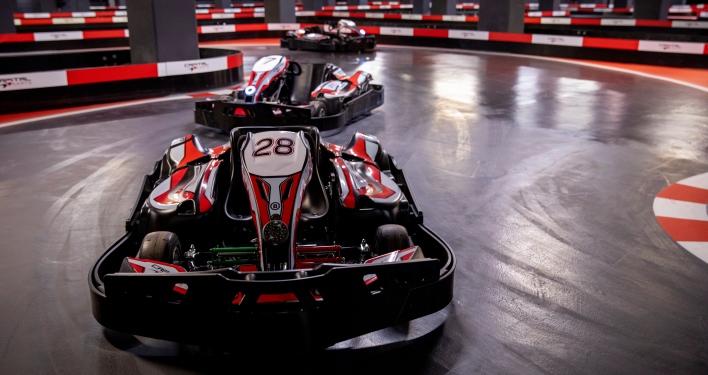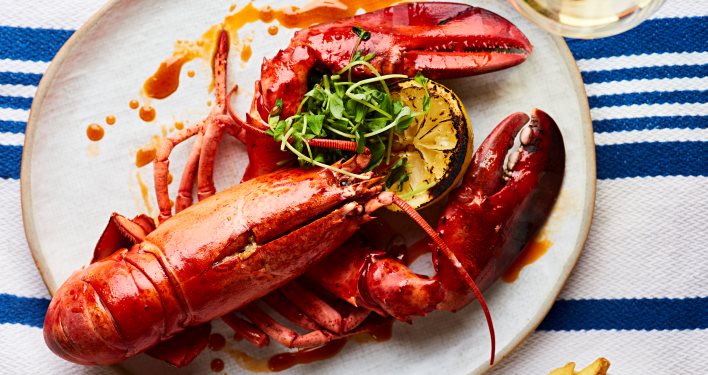 Eating & Drinking
New to the Wharf
Bringing you the very latest openings from restaurants to experiences and shops to services
28 July 2022
Food and Drink
Bringing all-day dining to Reuters Plaza, Caravan is serving its signature well-travelled food and drink menus, plus its own freshly roasted craft coffee. Its restaurant and sun-drenched terrace are open all day for breakfast, lunch, brunch, dinner and everything in between, and it is situated moments from the tube station – perfect for grabbing a coffee, cocktails after work or for private hire.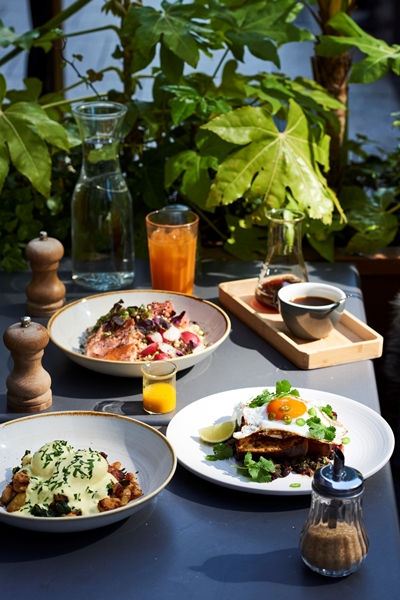 Caravan in Reuters Plaza

Walking into Emilia's Crafted Pasta, diners are greeted at the window with chefs making fresh pasta. The décor has been designed to make it feel like you're entering a bustling trattoria in Italy's Emilia Romagna region, while outside, customers can enjoy views of the water and green open spaces as well as the impressive architecture of Wood Wharf, all the while savouring dishes just like nonna would make them.
It's official! Fairgame is coming to Canary Wharf. A place for food and entertainment, Fairgame will not only be London's most exciting fun & games destination but also the 'go to place' to refuel. Whether you are a Dos Mas Tacos, Burger & Beyond or Rudy's Napolitan Pizza lover – this is the right place for you. Coming soon.
A Californian inspired all day dining eatery has arrived in Wood Wharf, located in the new Tribe hotel. Let the flavours of this warm & welcoming place take you on a journey to the coast, or simply grab a cup of coffee that adds more sunshine to your day. You'll be saying 'Feels Like June' every month of the year.
Opening soon at 10 Newfoundland, M Restaurants is a gastro playground with a heady mix of modern international grill, bar, wine tasting room and members' club. Food is cooked with coal, wood, smoke and ice to indulge the senses and is both seasonal and international, bringing authentic tastes and smells from around the world to your plate and glass.
Click here to book now for summer previews from Monday 15 August and full opening on Monday 5 September.
Specialising in artisanal, natural and sustainable food in a community market format, MMy Wood Wharf partners with local entrepreneurs who care about sustainability, quality, traceability and ethical production just as much as it does. Visit for tasty burgers, handmade pasta, Chinese street food, delicious gelato and even a jazz club!
Patty&Bun lives up to it its name – it is all about no nonsense, fresh, honest, tasty burgers… with some cracking sidekicks too. Using premium ingredients with no fuss attached, expect quality, freshness and simplicity from this burger joint. Now open at 15 Park Drive.
Located in the hotel-styled ground floor of One Canada Square, Shutters is an ever-evolving restaurant and bar, open every day. Focusing on Cornish produce fresh from shore and field and prepared, cooked and inspired by the vibrant sun-soaked living of Southern California, you'll feel as though you've been transported to warmer climates with its feel-good food.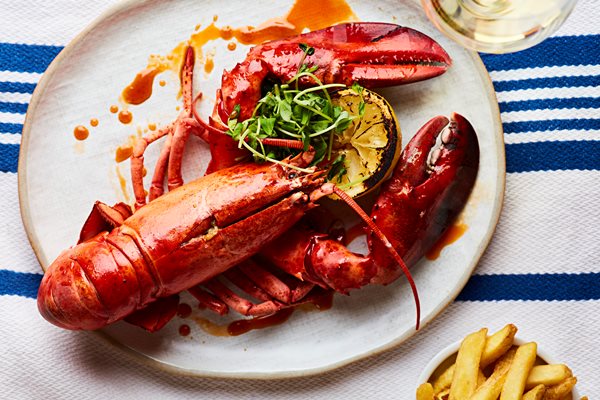 Shutters in One Canada Square

Tian Tian Market is an Asian supermarket bringing modern East and Southeast Asian culture to those living in London in the format of a one-stop-shop. Committed to providing a wide range of premium, niche groceries as well as traditional and trending street food, it has a strong focus on the customer journey by providing an immersive shopping experience, with a selection of more than 10,000 products, as well as exciting sake, soju, and food tasting events. Opening soon in Canada Place.
Born in London, although considered a wonderful culinary city, founder Nick Philpot was bored of bland staples and flavourless chains; he craved a takeaway option that didn't compromise on excitement. And so, after years of pop-ups and thousands of test kitchen hours, the team is opening its third Yolk – this time in Cabot Place. The outpost serves specialty coffee, next-level sandwiches, perfectly poached egg pots and more; it's fine fast food at its very best. Now open in Cabot Place.
Shops and Services
Offering a tanning experience like no other, Browns Tanning has six different sunbeds including red light therapy and sensor technology and at its Jubilee Place store, clients can book sessions directly via its mobile app.
Bringing indoor karting to Canary Wharf, you can reach speeds of up to 45mph on Capital Karts' circuit, where the next-generation electric karts provide instant torque around the super smooth track. With a course length of over 750 metres, race with up to 20 drivers on the fast and flowing circuit for the ultimate go karting experience for both novices and experienced drivers.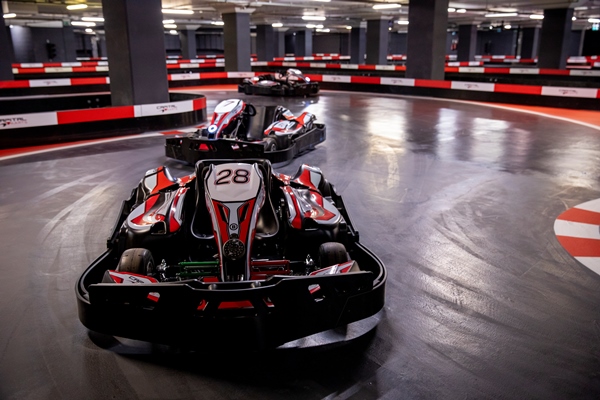 Capital Karts in Cabot Place

The Elizabeth line has arrived and made Canary Wharf more accessible than ever before providing quick links to London and beyond. Canary Wharf's station is situated in Crossrail Place which houses shops, restaurants, gyms, Everyman Cinema and one of London's largest roof gardens, Crossrail Place Roof Garden.
Founded in New York City in 2004, Malin + Goetz combines trusted natural ingredients with advanced technology to create head-to-toe skincare, fragrance and candles for modern lifestyles. Guided by the philosophy of less, but better, all of its products are cruelty-free, and designed for every skin type and gender.
Malmin Dental offers patients the ultimate boutique dental care experience from its brand new state-of-the-art clinic located in the heart of Canary Wharf. Offering a full range of general and specialist dental treatments under one roof, its team of dentists and specialists possess a wealth of experience and dental expertise to provide the highest standard of care.
Tribe Canary Wharf offers the modern traveller an original, exciting and carefully curated hotel and space that focuses on style rather than price, making it a leader in the design-led affordable luxury sector. Designed to meet the needs of both entrepreneurs and wanderers alike, the brand has a laid-back feeling of a trendy urban hub, creative workspaces and the relaxation of home.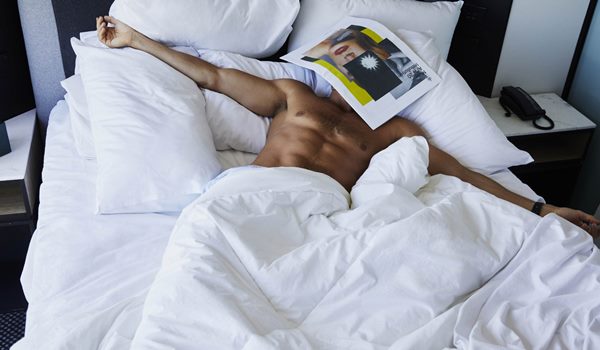 Tribe Hotel, now open Canary Wharf

Ultimate Performance, eliminates self-imposed barriers to help you achieve a level of health and wellbeing you never thought possible, no matter your starting point. Its 'maximum results, minimum time' model means you need just 2.7 hours of personal training per week to achieve exceptional results, whether you want to lose fat, build muscle or transform your health.
Coming soon to Canary Wharf, Wood Wharf Kindergarten will provide outstanding childcare for children aged three months to four years old. It has a vision to provide inquisitive-based learning and language development throughout the early years' curriculum.