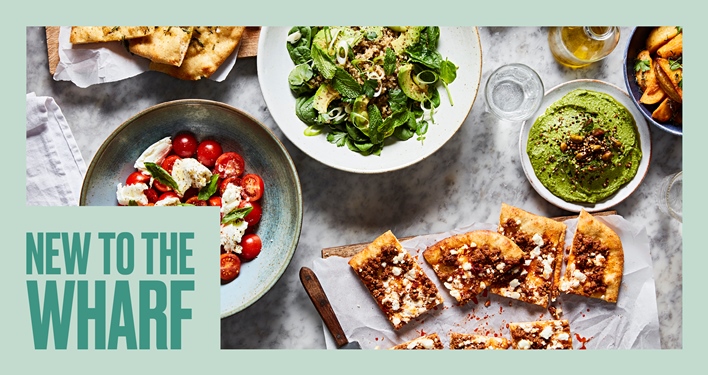 Eating & Drinking
New to the Wharf
Whether you're looking for something to grab and go, a sit-down meal or a drink after work, discover Canary Wharf's newest bars and restaurants to try this season.
2 February 2022
NOW OPEN
Located in the heart of Canary Wharf, sitting alongside Konstantin Grcic's iconic 'Six Public Clocks', Caravan Canary Wharf bring all day dining. Terrazzo, natural stone and breeze block, create a dining and bar space that is stripped back, and sun drenched, serving their signature well-travelled food and drink menus, plus, their own freshly roasted craft coffee. Open all day for breakfast, lunch, brunch, dinner and everything in between. Visit for coffee, cocktails, private hire and relaxed vibes, any time!
Emilia's Crafted Pasta, Wood Wharf
Everything at Emilia's revolves around the essence of Italian cuisine – freshness and simplicity. They believe Italian pasta should be served in a casual way with the generosity and warm welcome of previous generations. Just as Nonna would have done it. Emilia's pasta is freshly made every morning and cooked with a respect for the tradition and techniques passed down the generations from the cooks who taught them their craft. They add to that tradition by following the science behind the pairing of pasta shapes with the right sauces, so you get all the delicious flavour in every mouthful. Plus, they make fresh pasta affordable for all to indulge in on a regular basis, just like Italians do.
Gallio, Atrium Kitchen, Cabot Place
At Gallio they celebrate the feel-good tastes and feelings of the Mediterranean, its natural, vibrant and healthy lifestyle, and the pleasure of coming together to enjoy good food. With pizzas at their core, Gallio offers a varied all day menu flavour-packed with fresh and colourful dishes inspired by the Mediterranean, from breakfast, brunch, lunch and into the evening. Gallio's dishes take you on a journey across all the countries around the Mediterranean, inspired by the food passion, recipes and fresh quality ingredients that makes the Mediterranean regions a paradise for food lovers.
Hawksmoor have opened their biggest restaurant to date in a floating pavilion at the heart of Canary's Wharf's new neighbourhood, Wood Wharf. Hot on the heels of their New York opening, Hawksmoor's restaurant and bar take their inspiration from the New York launch and the Golden Age of Travel: the glamour of Hawksmoor's Manhattan steakhouse, with a little high-end ocean liner mixed in.
Marugame Udon, Atrium Kitchen, Cabot Place
Meet Marugame. Japan's favourite Sanuki udon kitchen! Udon noodles made with skillful hands in their open kitchen, unhurried broths, flavour-filled, freshly fried tempura topped with condiments to compliment. You'll walk into their kitchen, grab a tray and head up to the counter to see your food made right in front of your eyes. Exceptional quality and unbelievable value for money. 
Neat Burger, Atrium Kitchen, Cabot Place
Game-changing, plant-based restaurant group Neat Burger is growing. Championed by ambassador Lewis Hamilton, Neat satisfies everyone's craving for American style food that tastes just like the real thing with the added bonus of being vegan and good for the planet. Neat Burger works in association with the Eden Reforestation Projects where for every product sold, a tree is planted.
Fresh from the rugged Cornish coastline, Shutters Canary Wharf focuses on beautiful Cornish produce fresh from shore and field and prepared, cooked and inspired by the vibrant sun-soaked living of Southern California. Shutters is an ever-evolving restaurant and bar, open each day for brunch from 8 to 11am, all day dining from noon to 10pm, plus proper roasts on Sundays.  Great wines, bubbles and cocktails accompany 3 mammoth copper beer tanks filled with fresh-from-tank Meantime. 
MMy Wood Wharf, 10 George Street
From the creators of Mercato Metropolitano (MM), MMy Wood Wharf is your neighbourhood corner store that specialises in artisanal, natural and sustainable food in a community market format. MMy will condense the typical MM offer to include a variety of artisanal kitchens, an international deli/grocery store, a considerable selection of organic and biodynamic wines from small vineyards, an explosion of local and European cheeses, artisanal bakery products and a music club.
COMING SOON
M is a modern international grill restaurant, bar, private dining space and members lounge with two other London restaurants in Victoria Street and Threadneedle Street. Their food is ethically sourced for purity and quality from around the world and cooked using a range of impressive international techniques and is both seasonal and international, bringing authentic tastes and smells from around the world to your plate and glass. Their menu is split in to four distinct tastes; 'Smoke' – ancestral memories of open fires, absorbed into food with sweet, fruity, caramel, flowery flavours, 'Coal' creating a searing heat to brown meat, fish or vegetables, 'Wood' adding its own unique mystical character and depth of flavour. In contrast 'Ice' is used to help bind a cream with fruit, crisp a salad leaf, or to cure a delicate piece of seafood.
Find more places to eat and drink at Canary Wharf in our directory