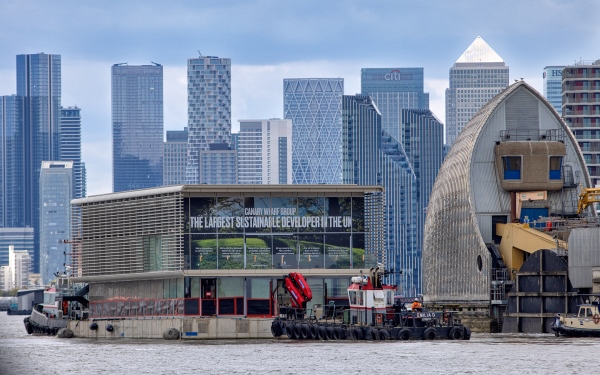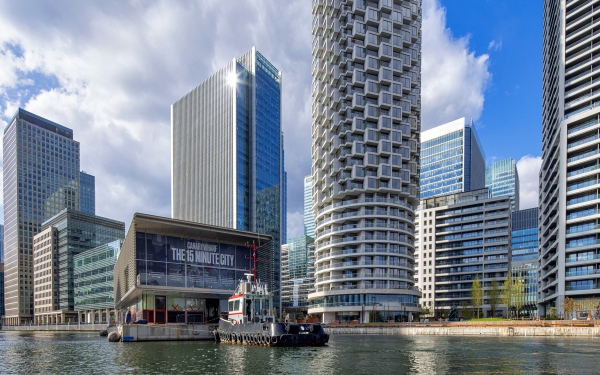 Eating & Drinking
Floating Pavilions Arrive In Canary Wharf
13 April 2021
The Estate's newest structures have sailed into Canary Wharf's new neighbourhood, Wood Wharf; one of these will become home to a remarkable floating lifestyle venue by the end of the year.
The London Project's signature cocktails include Florence Nightingale, The Queen Bee and Ms Helen (the one and only Dame Mirren), in homage to three of our city's great women. Canary Wharf's residents, workers and visitors can look forward to sampling these delicious creations, and so much more; The London Project, a conceptual bar, restaurant and lifestyle venue, will be taking up residency in one of the floating pavilions when it opens for business at the end of 2021.
The twin structures are towed via the River Thames to their final home; Water Square in the heart of the Estate's newest waterfront neighbourhood. These pavilions are part of the Wood Wharf masterplan that has been designed to reflect both the distinctive modernity of Canary Wharf's urban story, and the drama and history of its waterways.
Their design was dreamt up by the brilliant minds at Glenn Howells Architects, their ambition is to create long-term sustainable communities and a healthier future for our cities. The two steel and glass pavilions, fitted out with seating areas, open-end balconies and beautiful planting, are connected by a series of bridges, boardwalks and pontoons. In keeping with the Estate's green credentials – and ambitions – low impact materials, such as sustainably sourced timber and aluminium extracted from hydro sources, have been chosen; primary energy will be provided from the Estate-wide Combined Heat and Power (CHP) network. All of these steps work towards the target of a BREEAM Excellent rating, which would rank the pavilions among the top 10 per cent of buildings in terms of sustainability performance.
David Henderson, Director at GHA is delighted to see his team's vision become a reality. "For the first time, both residents and visitors to Canary Wharf will be able to have a closer relationship with the water and experience the historic dock in a new and unique way."
Stephen Valentino is just as excited, having originally launched The London Project on Bluewater Islands in Dubai. "We are proud for this to be our flagship venue in Europe. The dynamic and creative nature of these floating pavilions provide the perfect setting for us to bring The London Project to the city that inspired the concept. More than just a bar and restaurant, our pavilion will feature a one-of-a-kind distillery, a media arm called London Project Live, a range of dining experiences and the most progressive bar in the region."
Its menu features 'Thamesian tapas and dishes derived from a cosmopolitan cookbook of secret family recipes'. Signature meals range from tomato burrata and pulled beef tacos to Queenie's chocolate torte and, of course, an innovative take on a British classic; fish and chips. Coffee is queen at The London Project; quality and providence are of equal importance and only ethical supply chains are welcomed into the fold. There will be art and music, atmosphere and energy; and plenty of opportunities to make up for lost time with friends and family.
Click to read about Wildlife Photography Competition 2020 Winners in Canary Wharf.