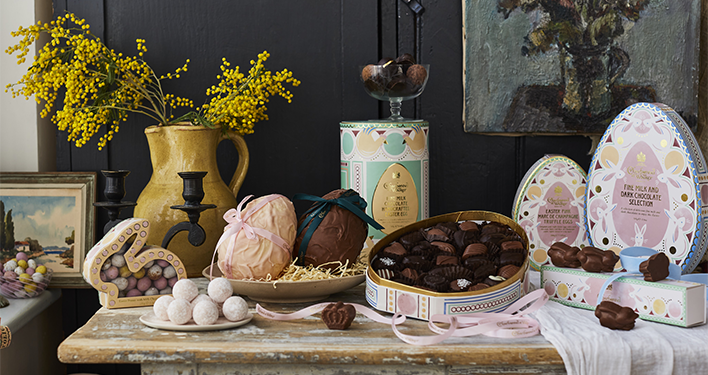 What's On
Hunting for Easter eggs in Canary Wharf
What to do, where to shop and where to eat this Easter
28 March 2023
This year the Easter Bank Holiday kicks off an extended series of bank holiday weekends to take us through the spring and into summer. Whether you're one for a classic Sunday roast with the family, are mostly interested in the chocolate eggs or you fancy making your own traditions, it's sure to be a cracker. Here's where to dine out, have fun and find the best Easter eggs in Canary Wharf.
Where to buy the best Easter eggs and treats
You can't have an Easter weekend without breaking a few chocolate eggs, can you? From classic truffles to hot cross bun doughnuts, these are the treats that guarantee a sugar high.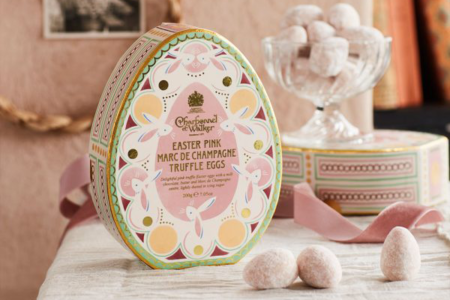 Britain's first chocolatier, Charbonnel et Walker has been making chocolate since Madame Charbonnel was introduced to Mrs. Walker in 1875. This Easter they are doing what they do best with a selection of playful white rabbits, primrose yellow hens and a painterly pastel palette of pinks, blues, greens and gold across their collection of eggs. If you want to be sophisticated, you can't go wrong with their Pink Marc de Champagne flavour.
This famous Belgian chocolatier never fails to delight, making it a firm favourite for those wishing to spoil loved ones rotten. When it comes to this year's Easter collection, we love their spring hampers, filled with multiple eggs and a few little extras for good measure.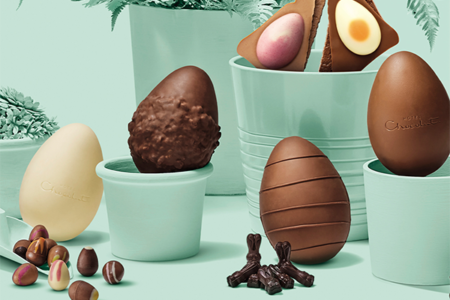 Hotel Chocolat knows how to make an impression when it comes to Easter eggs. Crack open one of this season's delicacies and you will find a whole world of treats inside. If you're looking for a gift with wow-factor, these are hard to beat. Just throwing it out there but we've got our eye on the Extra Thick You Crack Me Up Easter Egg…
There's not one but two M&S Food stores in Canary Wharf – one at Crossrail Place and one at Jubilee Place, and they've taken the Easter theme to a whole new level. Not satisfied with mere eggs, they have created Walter the Sausage Dog, Curly the Puppy, Chocosaurus Rex, Space Eggsplorer, Bunny Cool, Chickita the Chicken and more… we're not sure which one we want more!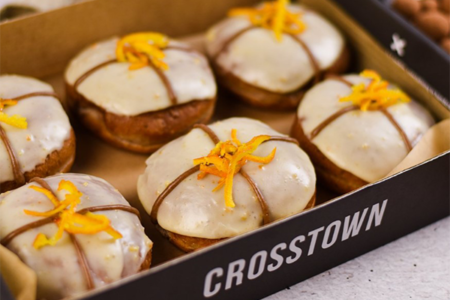 Another much-loved Easter tradition is the hot cross bun, but for those with a sweet tooth, why not take it up a notch with a little help from Crosstown Doughnuts? Their Hot Cross Bun Doughnut is made from vegan, spiced dough, filled with creamy cinnamon custard, topped with Seville orange glaze, and finished with a spiced cross and candied orange peel. Make it a party and buy a box of 12.
In the doughnut mood now? The kings of doughnuts, Krispy Kreme, have bounced into the spirit of the season with a limited-edition range of Easter doughnuts including Hip Hop Hooray, Burrowing Bunny, Bun-dle Of Joy and Eggs-travaganza, all in a sugary feast of pink, green and yellow glaze.
Top things to do in Canary Wharf this Easter
Once the chocolate is sorted, how are you going to spend the holiday? Canary Wharf is your oyster come rain or shine, whether you're looking for family-friendly entertainment, somewhere for a bank holiday date or quality time with friends.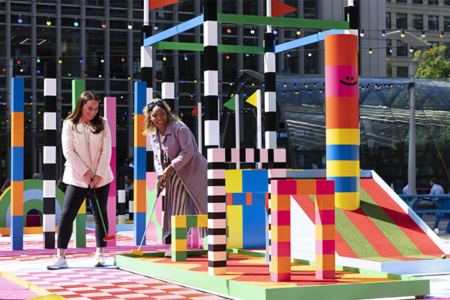 Minigolf has been given a creative twist in Canary Wharf as artists Craig Redman & Karl Maier, famous for their fun, bold and colourful designs, transform Montgomery Square into a jazzy miniature golf course. It's art meets entertainment, it's free to play and it's perfect for all ages.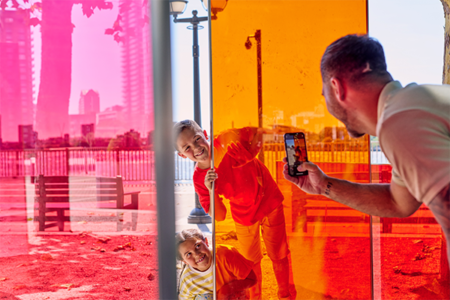 Between the Easter eggs and the Easter bunny, the Easter holidays are certainly a feast for the imagination, especially if you explore the Children's Art Trail. The popular outside experience showcases 12 pieces of art around Canary Wharf with a downloadable trail to follow as you discover each one together, from colourful immersive tunnels to mosaics and sculptures.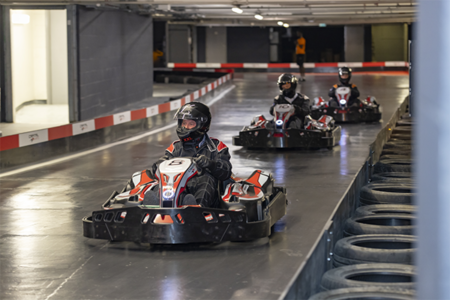 Suitable both for adults and children, Capital Karts is the UK's fastest indoor go karting track. An exhilarating urban adventure, if your sugar high isn't quite enough then this is the ultimate adrenaline boost. Let your Grand Prix aspirations run wild at the track in Cabot Place.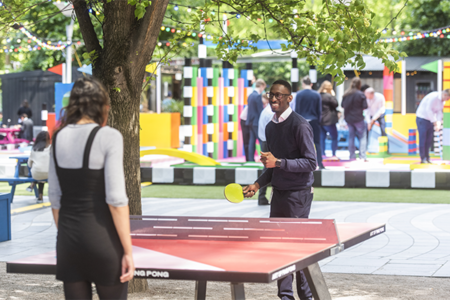 For some good-humoured competition, what could be better than a game of ping pong to work up an appetite before lunch? Pop to Montgomery Square or Union Square and you will find colourful tables designed by Art of Ping Pong to play on. It's free, fun and guaranteed entertainment for friends or family.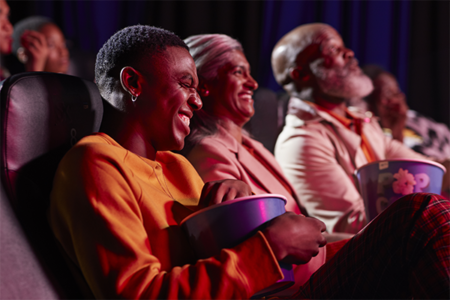 In a world of online streaming, going to the cinema is now quite the experience, and Everyman always takes it to the next level. Everyman Cinema's Crossrail Place location has all the comfy seating and fab food you'd expect, and on Easter Sunday they're showing Monty Python's Life of Brian – a classic if ever there was one.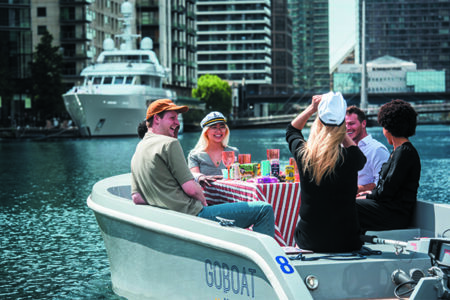 If it's the Easter weekend, then the weather has to be fine right? When the sun's out it's the perfect time to see the city from the water on a GoBoat adventure. The self-drive boat rental gives you the chance to be captain of your own electric picnic boat, exploring Canary Wharf from a new perspective. Hop on board!
The best family friendly dining to enjoy this Easter
What would the Easter holidays be without great food? While a classic Sunday roast is always a treat over the bank holiday, there's lots more to try as well. Gather your tribe for a feast whether you're in the mood for udon noodles, burgers or sourdough pizza.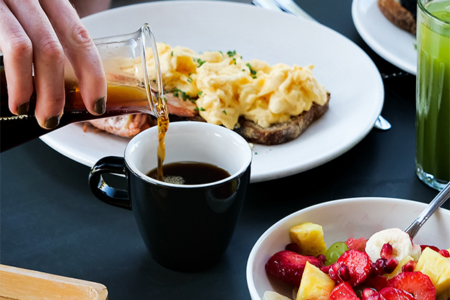 For those who want to spend as much time enjoying the sunshine over the holiday as possible, it has to be outdoor dining at Caravan. Open all day for breakfast, brunch, lunch, dinner, coffee and more, their Canary Wharf location is known for its tasty menu of grains and bowls, sourdough pizzas, small plates and main meals, all of which can be enjoyed on their sun-drenched terrace. For those with a sweet tooth, we recommend finishing with the flourless 65% islands chocolate cake.
It might not be the traditional Easter food, but there are few things with more feel-good factor than an excellent pizza. For family fun or food with friends, head to Gallio on Cabot Place for their famous, flavour-packed fresh pizzas, as well as Mediterranean inspired flatbreads, bowls and mezze.
Known for their craft beer, towering burgers and hot wings, BrewDog Canary Wharf is the place for friends to gather over Easter and settle in for the afternoon. Good cheer is guaranteed in this buzzy corner of Canary Wharf – food comas incoming.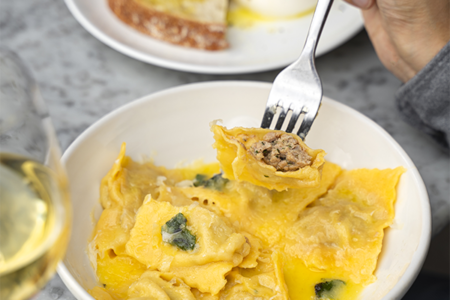 Few do food better than the Italians and Emilia's Crafted Pasta is the place for superb Italian fare in Canary Wharf. Located in Wood Wharf, this light-filled restaurant is all about bringing the essence of Italian cuisine to London – designed to be like a bustling trattoria in the Emilia Romagna region. Think comforting pasta, affordable prices, and fresh ingredients. Watch the theatrics of drinks and dishes being freshly prepared and enjoy the atmosphere.
From Brixton Market to Crossrail Place, Franco Manca is the sourdough sensation that's been taking London by storm since 2008. Seriously good value and even better taste, their minimum 20-hour slow-risen sourdough is the foundation on which their reputation has been built. Let your inner Neapolitan loose and tuck into pizza the traditional way.
In the mood for Japanese food? You have to visit Marugame Udon, Japan's favourite Sanuki udon kitchen. All about the simplicity of hand-made noodles, they're known for their kake-dashi broth and piping hot tempura. Food is freshly prepared each day and is all about bringing joy.
With locations at Cabot Place and Jubilee Place, Nando's fans are always within easy reach of their legendary chicken. For an easy crowd pleaser, it's hard to beat, especially if you're with a group or lots of family members. The question is, do you go for a classic flame-grilled PERi-PERi chicken or the tongue-scorching Extra Hot?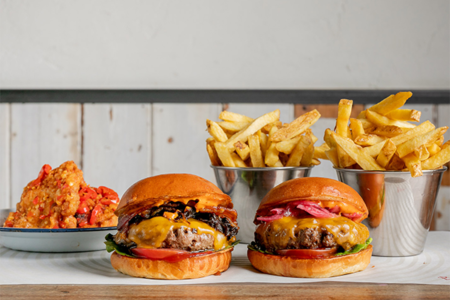 Whether you want a plant-based patty or a classic burger and fries, what Patty&Bun don't know about burgers isn't worth knowing. Located in Wood Wharf, they believe that great burgers come down to the basics – the patty and the bun. Coupled with craft beers, creative cocktails, and some inspiring names ('Hot Chic' chicken burger, 'Lambshank Redemption', and the Portobello 'Dig It' Mushroom Burger), it's guaranteed to please.
Looking for more ideas for the Easter Bank Holiday weekend?
Discover what's on in Canary Wharf