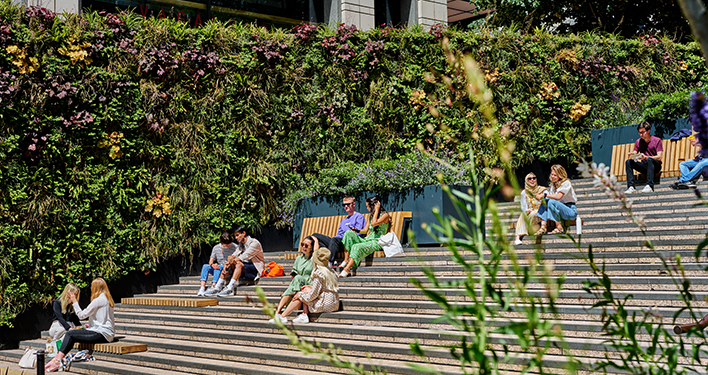 Sustainability
Driving Sustainable Action in Canary Wharf
Following the release of our annual Sustainability Report, and as part of our Recycling Week focus, our Director of Sustainability, Sophie Goddard, shares what we're doing to make sustainability integral to the Canary Wharf estate and how it operates.
19 October 2023
What is Canary Wharf Group doing to make sustainability an integral part of the estate?
We're focusing on where we can have the greatest impact when it comes to sustainability across the estate, which we have broken down into three core environmental areas:
Turning our ambition to be net zero into action
Creating a place for nature as well as people
Transitioning from a linear to a circular economy
Creating a positive community by bringing people together for positive change
You have recently launched your Sustainability Report – what is it and what's the benefit of it?
Our annual Sustainability Report provides an update on everything we have done in 2022. It gives us an opportunity to provide an update on what we have been working on and holds us to account, underpinning our approach to have a robust governance structure when it comes to sustainability. Sustainability is an area in which we're all continuously learning as well, so the report is part of setting our objectives and pushing our strategy ahead, reviewing our activities annually to make sure we remain forward looking in our approach.
In what way does Canary Wharf Group collaborate with the local community to promote sustainability and waste reduction on a broader scale?
The Felix Project is a great example of an important partnership that shows the power of the community working together. We have really challenged ourselves to understand which areas of the community we want to focus on, which has resulted in those key social themes: Education, Skills and Employment, and Wellbeing and Biodiversity. As a result, we have created partnerships with organisations like The Felix Project, which target actions in those core areas.
We're also working with local groups to promote recycling with events like Big Clean Up in Tower Hamlets. You can find out more and how to get involved with these organisations via our ESG webpage or on the app.
Download the Canary Wharf app to find out more about Recycle Week