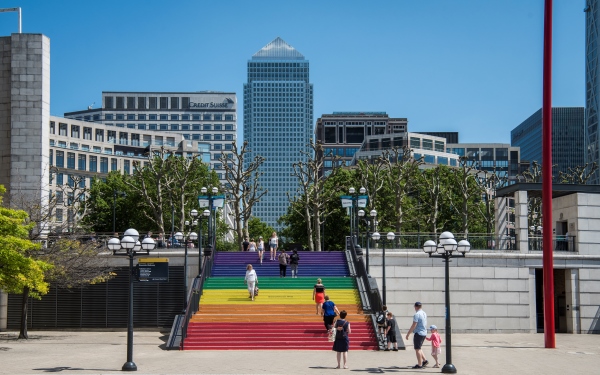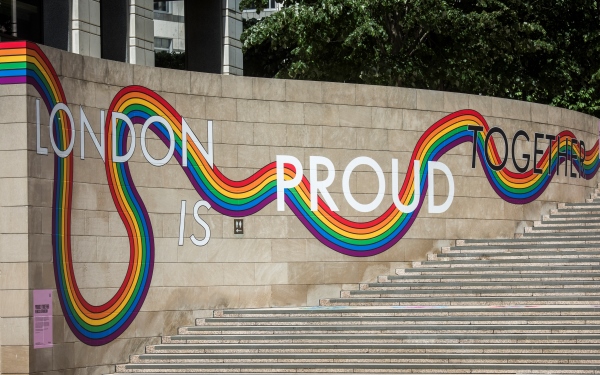 What's On
Celebrate Pride at Canary Wharf
Meet the artists and authors who are helping us celebrate International Pride month at Canary Wharf this June.
3 June 2021
Short Story Stations: Pride Takeover
A while ago now we reached out to three exciting up and coming authors part of the LGBTQIA+ community. Each of these authors agreed to write a fictional story for our short story stations, that can only be printed at Canary Wharf. Each story beautifully addresses a range of topics, shining a light on and celebrating the queer community.
We asked our authors what their story meant to them and why they think it's important for literature that celebrates the queer community to made accessible to the public:
Juliet Jacques 'A Quiet Afternoon' 1-minute button
It was important to me to write about an older trans woman, perhaps even someone who transitioned late in life, because they're often marginal in our communities and ignored by the media. LGBTQ+ people of all backgrounds need literature – it helps us to understand ourselves and feel confident that there are other people out there who will understand us.
Okechukwu Nzelu 'Arrival' 3-minute button
I was delighted to be commissioned for this project because it's a fantastic opportunity to publicly engage with queer experience – both the realities of it and the possibilities of what life can be like for all of us, with some kindness and generosity of spirit. I really wanted to write a story which engaged with the vulnerability that can come with queerness, but also the joy of being human – I wanted to engage with the journey between the two, because I think we all know at least a little bit of both of these things, but maybe less of one than the other. I hope to do just a little bit to help restore that balance.
Kirsty Logan 'The Other Mother' 5-minute button
This story is deeply personal to me, and I'm glad I had the opportunity to tell it. I hope the story is relatable to many people – as we've all been born, and many of us have given birth too – but also provides a new perspective on a familiar story. It's vital to respect the differences between people, but often we have more in common than we think.
Proudly Together, Rebecca Strickson at Cubitt Steps
Rebecca Strickson's 'Proudly Together' installation wraps a rainbow river around Cubitt steps, enveloping the space with colour and reminding us all of how the equal love we all want encompasses everyone in London, and not only during Pride month. 
Within her installation each aspect of all the Pride flags come to life as individual badges on the steps, representing everyone irrespective of their sexual orientation. We are all equal here. 
As a proud bisexual artist Rebecca's installation is a joyful and colourful look at the serious subject of love and a reminder we strive for equality. When speaking about her work she said she has 'created a temporary world where we can harmoniously exist, equally, lovingly and passionately whilst not forgetting the past elders who have made this possible'.
Kaleidoscopic Prisms, Fiona Grady at Jubilee Place atrium
Fiona Grady has created a captivating and colourful installation covering the front of the Jubilee Place atrium. Her work was inspired by the children's toy, combining a palette of rainbow transparent vinyl triangles that dance across the glass surface of the Jubilee atrium. The colour palette references the iconic Rainbow Pride Flag, and as the day goes on and light changes so does the artwork, offering each viewer a unique experience.
The colours of the Pride flag found within Fiona's work reflect the diversity of the LGBTQIA+ community.  Fiona said her of installation 'This joyful use of colour celebrates every queer identifying individual to align a sense of collective belonging'.
CLIP Theatre's Big Drag Storytime, Crossrail Place Roof Garden
Part of our Summer Family Festival, we are delighted to welcome CLIP Theatre and their fabulous Big Drag Storytime!
Experience a storytelling experience with a difference.  Hosted by CLIP's glamorous Drag Queen, settle in for a fabulous storytelling session accompanied by sparkly props, live music, puppetry, general silliness and bubbles. Suitable for ages 0-5 and their families.