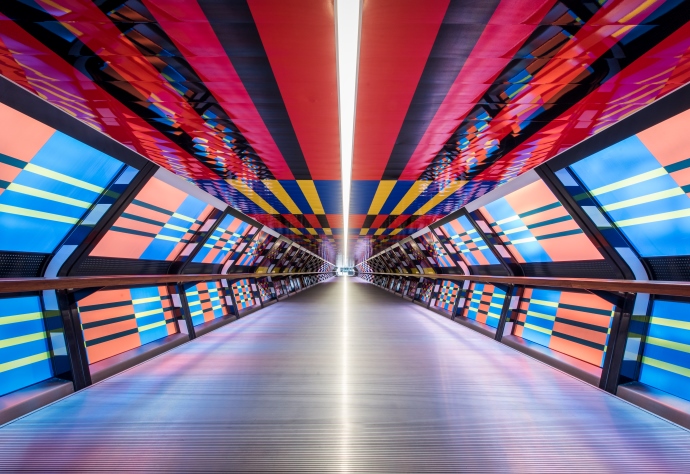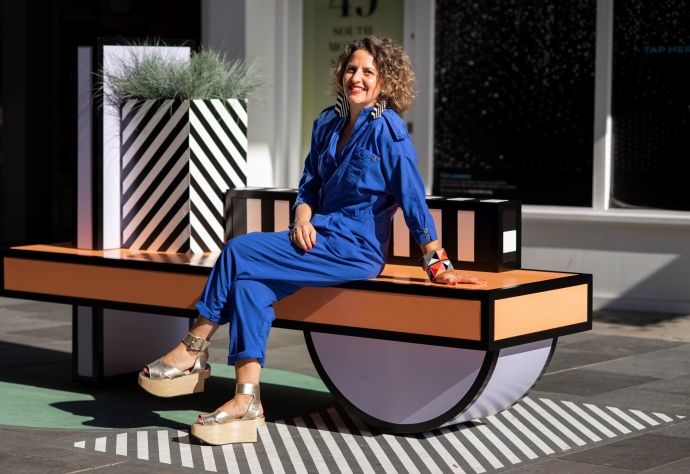 What's On
Captivated by Colour: Camille Walala Reimagines Adams Plaza Bridge
We're delighted to be part of the first ever London Mural Festival
1 September 2020
Taking place throughout September, the Festival is set to use London as a vast canvas celebrating creative communities across the world, whilst introducing a new way for people to experience one of the world's biggest art movements and, here at Canary Wharf, renowned French artist Camille Walala, will transform Adams Plaza Bridge.
Known for her bold colours, playful shapes and geometric patterns, Walala will wrap the bridge in enchanting geometric shapes and every aspect of the colour wheel. Inspired by the architectural details and pronounced perspective of the striking structure, Walala used the tunnel-like bridge as a canvas transforming the space into a surprising and vibrant backdrop for visitors.
Playing with the long perspective of the tunnel, the colourful design shows an optical pattern that shrinks and elongates as it moves across the bridge, creating a distorted effect as visitors pass through. By walking up and down the bridge visitors will also notice two different moods are created by Camille's iconic colour work.
Following the Festival, the mural will remain a permanent feature of our public art collection.
You can also read about Cojean – the ideal lunch spot for healthy snacks in Canary Wharf.