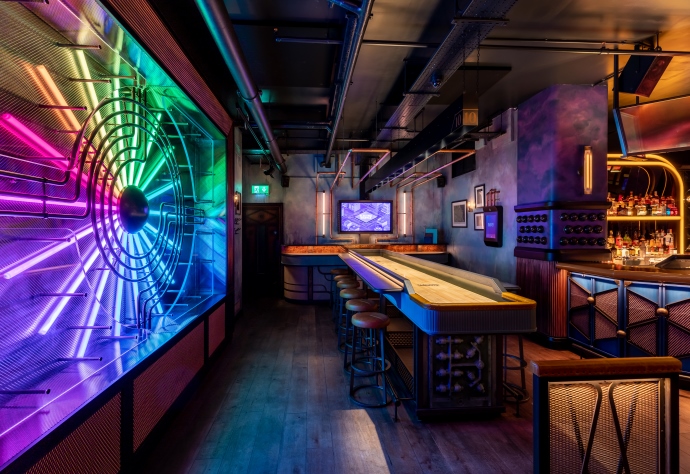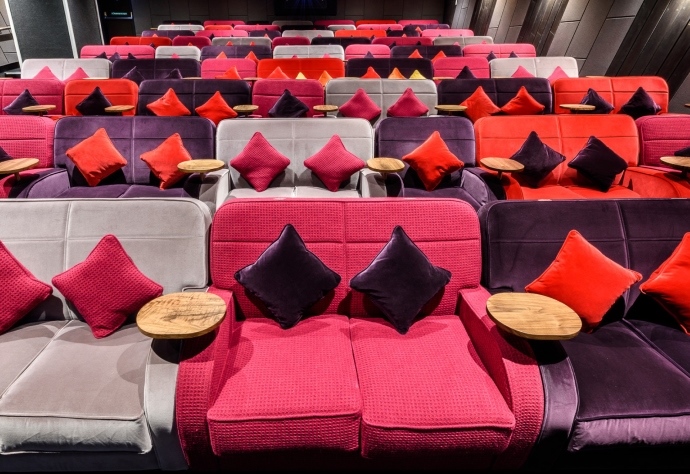 Eating & Drinking
Book Now: Electric Shuffleboard and Films in Canary Wharf
Be won over by 'competitive socialising' at Electric Shuffle and sofa seating at Everyman Cinema, both offering a very 21st century take on entertainment
2 December 2020
If you're new to shuffleboard, Electric Shuffle in Cabot Square is the place to discover it. The venue has taken a 'lightning rod' to the traditional game of skill and chance, where players compete to outscore opponents by sliding weighted pucks into a scoring area at the opposite end of the table. Clever tech not only identifies exact location of the pucks but also scores and guides players – on both the pink and blue teams – through three exciting games.
Electric Shuffle has been brought to Canary Wharf by the team behind Flight Club, the popular social darts venue. "We're committed to redefining moments with friends," explains Juliette from the Electric Shuffle team, "and bringing something new that we think that the local community will, most importantly, enjoy." This is fun and competitive socialising, in the form of high-tech, low-stakes shuffleboard with family, friends and colleagues.
Social distancing is no problem here. Playing areas are semi-private already, and bar tables are 2m apart, plus there are push-for-service buttons, which mean pizza – including gluten free, vegan and vegetarian options – and fries will appear to refuel hungry players. Pizza is the cornerstone of Electric Shuffle's popular weekend Brunch, which combines a bottle of Prosecco, bottomless pizza and shuffleboard; get in touch with the team to find out what's on offer at the moment.
Impressively, Electric Shuffle was awarded best London bar in the Restaurant and Bar Design Awards 2020 so it's worth a visit just to check these two amazing spaces out. Its cocktails are, Juliette declares, "truly unique, from our boozy slushies to our showstopper sharing trophy cocktails and twists on classics." Canary Wharf's favourites include Vodka Orbit, Tequila Charge and Toki Takedown, featuring whisky, yuzu, lemon and mint. 
You might, after all that excitement, need a breather and what's better, especially in the cold winter months, than settling down in front of a film? If you could have a cinema in your own home, you'd want it to have comfy armchairs and double-seater sofas, with footrests and food and drinks delivered to you. That's what you can expect at Everyman Canary Wharf, in Crossrail Place – showing a curated range of mainstream and independent new releases plus classic films you already love, or wish you'd seen at the cinema. Enjoy the film of your choosing – the website is regularly updated with listings – on one of three screens.
There's pizza, burgers served with fries and sharing plates with everything from olives and chorizo to hummus and tortilla chips. And those with a sweet tooth are utterly spoilt for choice. Build Your Own Sundae – choose three scoops and three toppings, from crushed meringue to honeycomb bites – and deliberate over cake, popcorn, chocolate and milkshakes. If you're going to a daytime screening you might like coffee or tea, but there is an impressive alcohol menu too, whether you prefer wine, beer, cider or cocktails. It also features a sharing bottle of rum, complete with ginger beer, to last the film.
And if you're looking for Christmas presents, buy gift vouchers for the film or shuffleboard lover in your life to enjoy in 2021. At Electric Shuffle, vouchers of £25, £50 and £100 are available, and at Everyman (£20 plus), they're themed around famous faces of film and pop culture – from Brad Pitt to Sophia Loren. Membership is also a brilliant gift idea for serious cinema-goers.
Electric Shuffle, 10 Cabot Square, 020 8059 4163; Everyman Cinema, Crossrail Place, 0871 906 9060. Please check opening times with both venues ahead of your visit.
You can also read about Helaine Blumenfeld OBE in Canary Wharf.