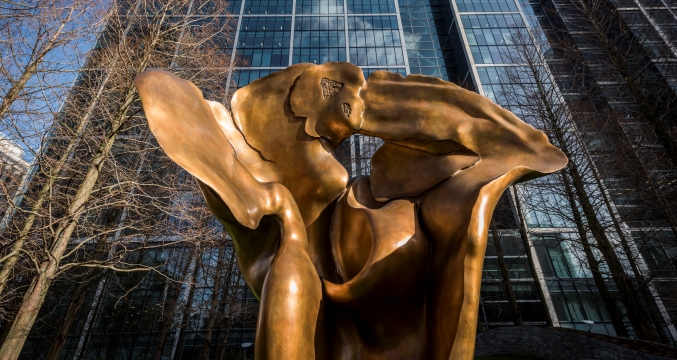 What's On
Looking Up: Helaine Blumenfeld OBE at Canary Wharf
Daily until Friday 18 September in the lobby, One Canada Square; Cabot Square, Jubilee Park, Westferry Circus and Wood Wharf – Free
15 April 2020
A Focus on Marble and Travertine
Since 1972 Helaine Blumenfeld has worked on her white marble sculptures in Pietrasanta, the town in Northern Italy not only renowned for its marble quarries, but also as a centre for sculptors to work, providing studios, foundries and skilled artisans. The marble there is white, sometimes flecked with grey, and fine-grained Statuario marble. Blumenfeld also uses travertine, a highly textured stone with random holes caused by heat during its formation from sedimentary limestone. 'White marble is much stronger and harder than travertine,' Blumenfeld explains. 'Statuario white marble is my preferred material, not only because it is capable of rendering very fine detail, but because of its translucency when carved very thin. Travertine is not translucent. It is very porous, softer and much easier to work. It has naturally occurring holes which can interrupt the line and effect I am trying to create. I will use travertine for very particular works where I want to create a sense of time and drama.'
Helaine Blumenfeld's extensive exhibition at Canary Wharf includes recent pieces in white Statuario marble that show its qualities pushed to the limits, from density to finest translucency. Four impressive, monumental sculptures on the edge of Westferry Circus, Spirit of Life (2007); Mysteries (2011); Meridiana (2016) and Taking Risks (2019), testify to the artist's skill, gained through nearly forty years of working in her studio in Pietrasanta, where she can work long hours without distraction on her regular visits. 'The process of carving Statuario is very slow, which means that my plans for a sculpture grow slowly as I work.'
In the Lobby of One Canada Square are sculptures in white marble, Statuario and Travertine in different colours. The earliest, Fantastico (1974), is named after its material, Fantastico marble, whose intense dark seams running through the white body Blumenfeld has used to accentuate form and movement within the composition. Seascape 1983, an assemblage of five parts in white Travertine, and Forest of the Gods (1993-94) in pink Travertine, reveal how she uses the texture of the material to great advantage in creating a sense of drama.
When carving Blumenfeld allows the individual qualities of these different materials to contribute to her overall vision for the sculpture – her deep respect for materiality is essential in the ways she works. Next month we will focus on her work in other media, which includes bronze, terracotta and wood.
Find more information about the artist on helaineblumenfeld.com or hignellgallery.com
* Text courtesy of Canary Wharf Magazine 
* Text as originally appeared in Canary Wharf Magazine 
You can also read about Squash Classic 2020 here.