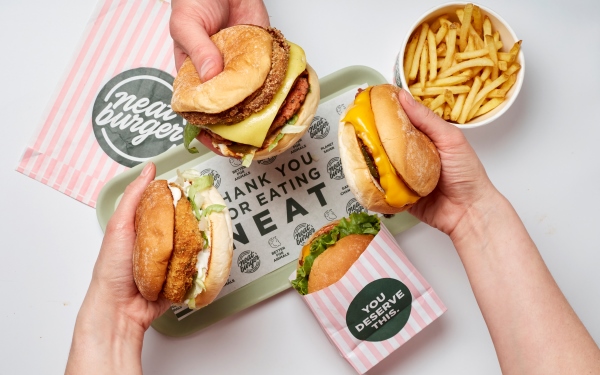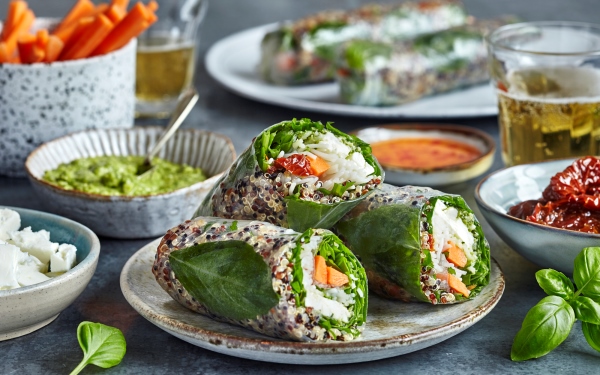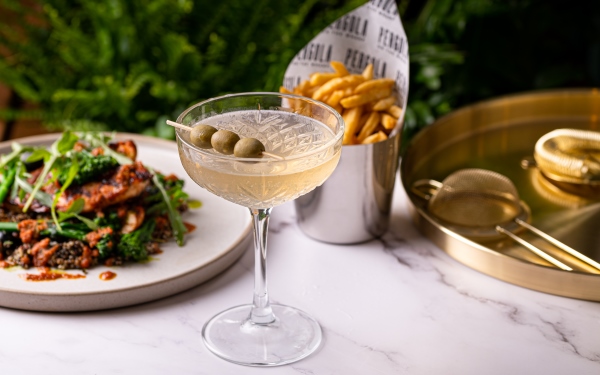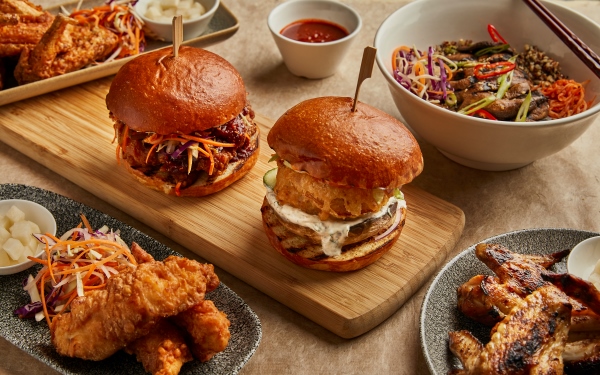 Eating & Drinking
10 New Eateries to Try at Canary Wharf this Autumn
Whether you're looking for grab and go food or a sit-down meal, there's plenty to whet your appetite at Canary Wharf this season…
1 October 2021
Six by Nico
Chef Nico Simeone has brought his latest venture to the Estate: Six by Nico. Creating a story every six weeks, diners can experience a brand new six course tasting menu, each of which is themed on a different place and memory. The lastest theme until 31 October is Guily Pleasures, where you can dine on a six-course tasting menu inspired by pure indulgence and moments that we all long to enjoy. Think eating tuna ceviche 'straight from the can' and nutella and waffles for dessert.
Pergola on the Wharf
Bringing the outside in with its abundant foliage, ferns and vines while boasting panoramic views over Canary Wharf from its floor-to-ceiling windows and terrace, Pergola on the Wharf is the new place to be. As well as a roster of London's best up and coming street food concepts, it features an in-house restaurant centred around an open kitchen where you can watch the chefs prepare cuisine inspired by the 'Earth, Land and Sea' from scratch.
Kick the weekend off in style on a Friday with Pergola Lates, where you can enjoy great music into the early hours, then carry on the partying on Saturday with its weekend bottomless brunch, a can't-be-missed occasion that plays host to feel-good hits and samba dancers who bring the music to life. Sunday meanwhile is a more sedate affair with the smooth sounds of soul, played live by a rolling roster of incredible bands.
Emilia's Crafted Pasta (Coming soon)
The Emilia's Crafted Pasta journey has at its heart the idea that simple, natural, comforting pasta should be affordable and enjoyed regularly by everyone who wants it. Everything relating to its food captures the essence of Italian cuisine – freshness and simplicity. Chefs making fresh pasta will greet diners at the window in a dedicated and custom-made area that is visible from all sides, while inside the restaurant will be like entering a bustling trattoria in Italy's Emilia Romagna region. Outside, diners will enjoy views of the water and green open spaces as well as the impressive architecture of Wood Wharf.
MMy Wood Wharf (Coming soon)
From the creators of Mercato Metropolitano (MM), MMy Wood Wharf specialises in artisanal, natural and sustainable food in a community market format. Founded on the understanding that each local community needs a centre of aggregation around food, social values and sharing experience, the elements of inclusiveness, sustainability and healthy lifestyle remain at the core of this concept. Think international deli/grocery store with a huge selection of organic and biodynamic wines from small vineyards, local and European cheeses, artisanal bakery products and even a music club.
Hawksmoor (Coming soon)
After the 15th anniversary of opening their first Hawksmoor establishment, this winter the renowned steak restaurant will be opening a new outpost and bar in an eco-friendly floating pavilion on the docks of Wood Wharf. Their biggest and most ambitious space yet, spread over three levels with a 150-cover restaurant and a 120-cover bar, it will also have the first ever Hawksmoor outdoor area for eating and drinking.
The Atrium
Check out the moreish offerings from these eateries which are all located on Level 2 of Cabot Place.
Neat Burger (Coming soon)
Neat Burger is the first of its kind. Ethical, sustainable and delicious, the planet-friendly plant-based full-flavoured game-changer has even been backed by Lewis Hamiliton. Designed to satisfy everyone's craving for American-style food that tastes just like the real thing, it has the added bonus of being vegan and better for the planet.
When you think of a traditional doner kebab you may not automatically think 'healthy' but GDK is doing things differently. Established in 1989, the eatery has spent years perfecting tasty and nutritionally balanced kebabs and secret sauces along the way. Made from quality ingredients, its recipes have virtually no preservatives or additives and its lean beef and pure chicken are imported from Germany. Don't forget to order its handmade doner kebab bread too for the ultimate experience.
Opening soon, Gallio brings the very best of the Med to Canary Wharf this autumn. Inspired by the lifestyle, food and ambience of the coming together of friends and family, it will serve up colourful dishes from across this part of the world. Pizza is at the heart of the all-day menu, but it also features dishes that will take you on a journey across all of the countries around the Mediterranean.
Marugame Udon (Coming soon)
Marugame Udon encourages its diners to find beauty in the everyday; after all, udon is a staple Japanese home cooking comfort food. Be welcomed into its kitchen and take your pick of its thick handmade udon noodles in broth, top them with piping hot tempura, then personalise to your taste with everything from grated ginger to fresh chillies, spring onions and tempura batter pieces. Yum!
Get your Nando's fix, whether opting for lemon and herb, flame-grilled PERi-PERi chicken or the tongue-scorching Extra Hot, roll up your sleeves and get stuck in. Wash down its chicken dishes, tasty appetisers, side dishes, salads and desserts with its bottomless soft drinks.
Seoul Bird
Brining the moreish flavours of South Korea to London is Seoul Bird. Inspired by founder Judy Joo's Korean-American heritage, as well as her and co-founder Andrew Hales' food tours across South Korea, diners can expect to devour everything from its incredibly crispy double-fried chicken including tenders, wings and thighs, to its cult Seoul burgers, bowls and sides. Its range of signature dipping sauces are a must to sample while you sip homemade Korean iced tea or a bottle of flavoured soju.
Smashing Plates
Looking for a quick bite to eat? New to Wharf Kitchen – food from across the globe – is Smashing Plates, which will transport you to Greece one mouthful at a time. Founded by Neofytos Christodoulou, the eatery nods to its heritage with gyros and pitta – its tasty, unorthodox fries are also a must-try – and everything on the menu is made using the very best ingredients and sourced, prepped and cooked in Smashing Plates' chefs' unique way.
Urban Greens
Elevating salads to a whole new level is Urban Greens, where you can enjoy fresh 'fast' food that's both healthy and nourishing. Specialising in creating flavoursome greens, its bowls are a technicolor of mouth-watering ingredients and exciting textures that complement each other. Catering for all dietary requirements, its vegan option Chèvrelet features chèvre, red rice, lime pickled beets, shredded kale, blanched cauliflower, pea shoots and toasted hazelnuts, accompanied with a mango spring onion dressing. Now that's one way to get some of our five a day.
Kaleido
Reinventing the salad, Kaleido is known for its colourful salad rolls that are packed with veggies. Each one is wrapped with fresh and delicious ingredients into a thin and transparent rice paper that is only 30 calories and gluten free and made fresh each morning by a passionate team of rainbow makers.
Visit our Eating & Drinking Directory
Click here to read about Community Champion Awards 2020 in Canary Wharf.