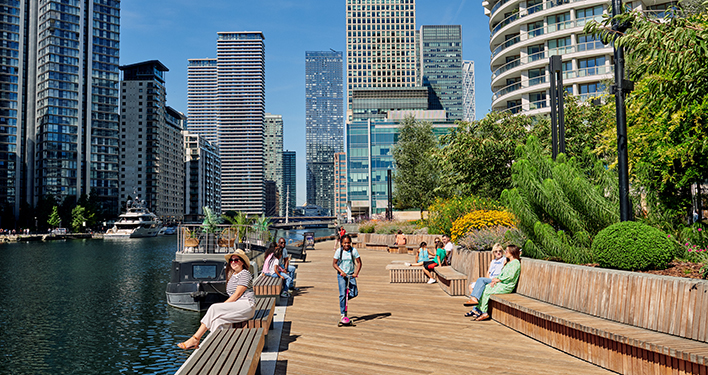 Residential
Why Canary Wharf is a Haven for Young Professionals and their Families
Well connected, brimming with entertainment opportunities and with the best commute in town, Canary Wharf isn't just somewhere for professionals to enjoy a cosmopolitan lifestyle, but for their families to flourish as well.
6 November 2023
Brand new primary and secondary schools, indoor and outdoor activities for the weekends, parks and green spaces, family-friendly restaurants and an ultra-safe environment in which to live, work, learn and spend quality time together. Here's why Canary Wharf is a haven for young professionals and their families.
Getting around in Canary Wharf
Canary Wharf is a beautiful place to live and work thanks to careful planning and a lot of hard work that has gone into restoring the waterside biodiversity, helping local wildlife to return, and the development of more than 16.5 acres of parks and green space, peppered with more than 10,000 plants. However, alongside that natural beauty, it offers the best of all worlds – an easy walk to and from the local schools, shops and offices, and excellent transport links to the rest of London and beyond.
For example, thanks to the DLR, Elizabeth line and Jubilee line, you're easily connected. Going into central London (Bank) only takes 10 minutes, Westminster is 10-minutes 10away, London City Airport is 14-minutes away , and even Heathrow Airport is 45-minutes away by tube. If that doesn't float your boat, you can hop on one of the Thames Clipper by Uber boats to any one of 24 piers along the River Thames between Barking Riverside Pier and Putney Pier to socialise or travel to work.
Working in Canary Wharf
Canary Wharf has a historic reputation as a place of business, but today its thriving job market spans all manner of industries. From start-up and scale-up businesses in the Level39 tech community, to world-leading organisations including JP Morgan, Barclays and Morgan Stanley, the Estate is a thriving and connected community offering employment opportunities and career growth prospects for young professionals with a passion for progress.
Schools in Canary wharf
Education within Canary Wharf continues to evolve, and one of the things young parents love the most about living here is taking their little ones to Mulberry Wood Wharf Primary School. The two-form entry school is part of the Canary Wharf community and is surrounded by the beauty of boardwalks and floating aquatic habitats. There are also plans for two new primary schools in Canary Wharf, one new nursery and a secondary school in Canary Wharf – the co-ed Mulberry Academy London Dock for 11 to 19 year olds, which is due to open in September 2024.
The opportunities don't stop there either. Canary Wharf nurtures education and progress, with partnerships with leading institutions from across London. When it comes to further education, institutions like the University of East London and Queen Mary University of London are close by, and the UCL School of Management is located in a space at One Canada Square, complete with state-of-the-art hybrid lecture theatres, student hubs and video pods for global connectivity.
Where to live if you work in Canary Wharf
Life in Canary Wharf is an elevated experience – a template for the best of urban living. Canary Wharf boasts three luxurious apartment buildings that have been created to, quite literally, take a metropolitan lifestyle to new heights – at one with both nature and the sophistication of a world-leading city. Each building is an architectural masterpiece offering a different aspect of city living to suit individual character and preferences.
One Park Drive is a waterside haven designed by the Swiss-based architecture firm, Herzog & de Meuron, while 8 Harbord Square is a loft-style retreat with Manhattan vibes and views of the best sunsets from Blackwall Basin on the London Docklands. 10 Park Drive sets a new standard for sophisticated London living with a series of studios as well as one-, two- and three-bedroom spaces where floor-to-ceiling windows frame views of the city skyline and fill the environment with natural light. Each building has its own unique characteristics, ranging from a wellness suite with a state-of-the-art gym to a 24-hour concierge, a communal sky garden and even a private cinema.
Find out more about living in Canary Wharf
Is Canary Wharf safe?
Canary Wharf has a reputation as one of London's safest areas to live, according to both police and locals. It has very low crime rates at less than 10% of London's average, and fosters a sense of community with events, support networks, and clubs that promote a family-friendly environment. The Estate itself has a 24/7 security presence, 365 days a year, complete with security patrols. Furthermore, residential buildings and office buildings have their own security and concierge services to ensure everyone visiting and living on the estate is safe at all times.
Family life in Canary Wharf
With hundreds of stores, cafes, bars and restaurants, Canary Wharf has everything you could ask for when it comes to shopping, leisure and entertainment to support family life.
Canary Wharf family restaurants
There's a wealth of restaurants, cafes and foodie favourites to choose from, whether you're having a quick bite after school, a long Sunday lunch with the family or grabbing bits to take home to cook. You will find the largest Waitrose branch in the country, as well as seven other grocery stores (including M&S, Tesco and Amazon Fresh). Favourite foodie locations for the whole family also range from Emilia's Crafted Pasta to Zizzi or classic American burgers at Patty&Bun.
Canary Wharf family activities
Alongside five shopping malls and more than 300 shops within a 15-minute walk of one another, you're never lost for things to do on the Estate. Sports facilities from basketball to miniature golf, a seasonal ice skating rink to padel tennis, jogging routes peppered with outdoor artwork, as well as excellent gyms and fitness facilities are all just the tip of the iceberg. There's also a roster of more than 100 events throughout the year, from art exhibitions to plays and music events. Whether it's a family day out or date night for parents, Canary Wharf has something for everyone.
There's so much to talk about when it comes to living in Canary Wharf, because this is an environment that's been purposefully designed to support the best of modern living for all age groups. It isn't merely a place where people can live, but where they can thrive – at work, home and during their leisure time. A proactive, supportive, nurturing and safe space, this is where every aspect of modern life is elevated, making Canary Wharf one of the best places in London for young professionals and families to live.
Find out what makes Canary Wharf an unparalleled place to live