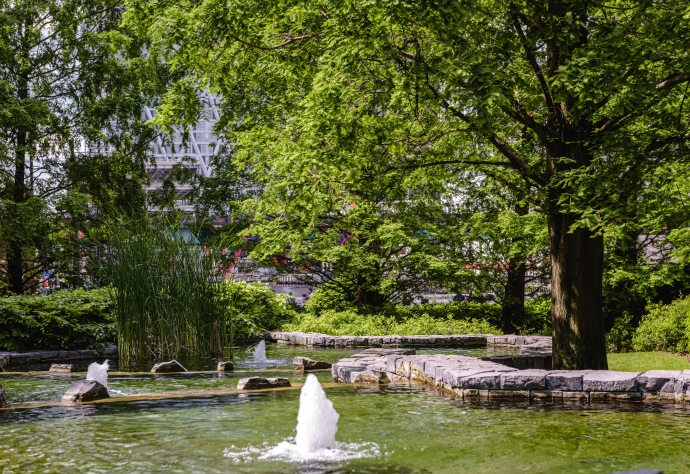 The Estate
Where to Spend Time Outside in Canary Wharf
Canary Wharf, with its creative park spaces, contemporary art and unique roof garden, has been designed to make being outside as enjoyable as possible.
11 September 2020
In London, parks are "the lungs" of our city, felt as keenly by us all today as Charles Dickens when he made this statement. Nearly half of Greater London is green and these thousands of acres provide vital spaces in which its citizens can read, rest, walk, exercise and enjoy nature at its best. The Canary Wharf estate is proud to be home to 20 of these acres, comprising landscaped parks, gardens and squares, populated by 1,000 trees and 4,000 shrubs, as well as thousands more seasonal plants.
2020 has reminded us of the importance of spending time outside, and the Estate was designed to facilitate this, given that the benefits are extensive: increased energy, improved digestion, lower levels of stress and anxiety, higher levels of serotonin, boosted immune system, and a positive impact on overall health. That's why you'll find well-tended, open-air spaces that are open to everyone, every day, at Canary Wharf.
Jubilee Park stretches between the two entrances to Canary Wharf Underground station, populated by mature trees and distinctive both for its serpentine raised water channel and its artworks. The Fortuna sculpture, by Helaine Blumenfeld OBE, was commissioned for Canary Wharf and inspired by the Roman goddess of luck. Blumenfeld is as skilled in working with marble and wood as she is with bronze and terracotta; the diversity of her body of work is reflected in sculptures of natural forms both human and foliate. For art lovers, this must be on your list of places to visit in London, if you've also been to see Blumenfeld's Tempesta in Hyde Park, and Meridiana in Holland Park.
If you head down to Wharf Kitchen in Jubilee Place shopping mall or over to Reuters Plaza, both close by, to pick up street food to enjoy in Jubilee Park, look out for one of our most recognisable artworks – Konstantin Grcic's playful Six Public Clocks in Nash Court – and for the street food markets and sporting events that pop up in Montgomery Square. Alfresco dining and drinking is a feature of Canada Square Park too, just a few minutes' walk away, and one of the Estate's most versatile green spaces. Host to restaurants and bars round its perimeter, enjoy a range of events here – from music performances to open-air film screenings.
From here, it's not far to one of the largest roof garden parks in London. The Crossrail Place Roof Garden, with its distinctive and unique latticed roof structure, is designed to evoke a ship laden with rare and exotic specimens from across the globe, which are planted throughout – from New Zealand tree ferns to Japanese maple. Our gardeners work tirelessly to plant and cultivate 70,000 plants every year that change with the seasons; admire these as you wander through the hidden pathways.
Leave the roof garden via Adams Plaza Bridge, allowing plenty of time to admire French artist Camille Walala's creation for London Mural Festival, taking place throughout the city in September and celebrating creative communities across the world. The colourful design, which shows an optical pattern that shrinks and elongates as it moves across the bridge, will become a permanent feature of our public art collection. This collection also includes, visible as you stroll along the North Colonnade towards Cabot Square, remarkable perimeter railings by James Horrobin, known for his forged ironwork; he worked with architects Skidmore, Owings & Merrill to design railings reminiscent of the cogs on a steam engine. Nearby, Fisherman's Walk, off Wren's Landing, has equally impressive bespoke railings, this time by Bruce McLean; 40 metres of charcoal steel are heavily worked with shapes, faces, circles and squares.
For those who love spending time outdoors by the water, you'll enjoy Westferry Circus, with its beautiful, tranquil gardens and easy access to walks along the riverfront, and Harbour Quay on the other side of the Estate, host to outdoor gym equipment or perfect picnic spots. If you love minigolf and the weather is playing ball (excuse the pun), play nine holes – for free – in Bank Street Park. The choice is yours, and we encourage you to make the most of the weather while it lasts.