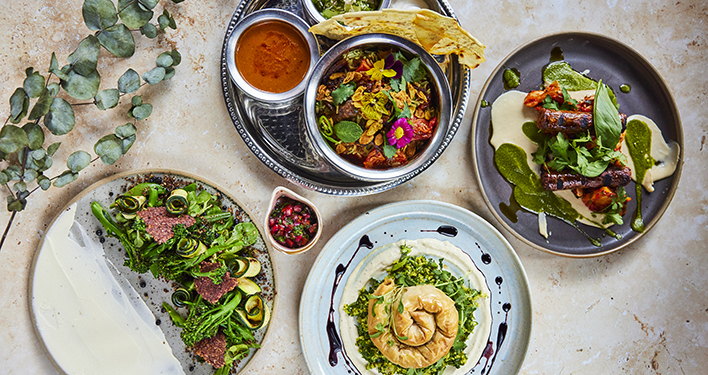 Eating & Drinking
Where to dine at lunch time in Canary Wharf
Whether you have 15 minutes or a full hour, lunchtime is a precious point in the day. Here are a few of our favourite lunch spots in Canary Wharf.
18 September 2023
You might be catching up with a colleague, having a moment to yourself, maximising the minutes as you run from one meeting to the next or enjoying a wellness boost between the gym and optimum midday nutrition, the culinary Canary Wharf residents are ready and waiting with delicious lunch menus and seasonal special offers to tuck into.
Best for meat lovers: Blacklock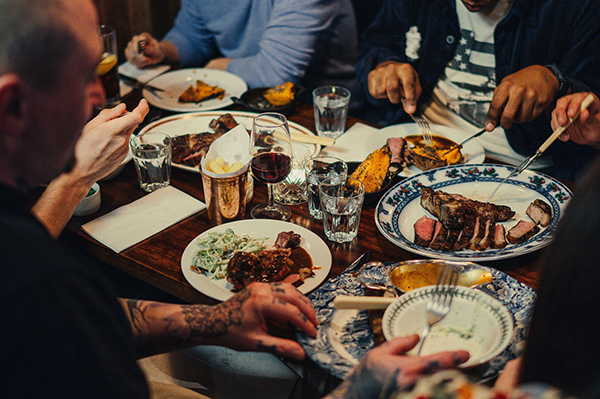 Building on the success of its Soho flagship, Blacklock is new to Frobisher Passage and brings with it both favourite features and never-before-seen dishes, including its first ever bar food menu. Born from a love of the traditional London chophouse, this is the place for high quality meat dishes, with lunchtime favourites including their Pork Belly Bun wrapped in crispy crackling, their classic Steak Sarnie, and their Blacklock Burger complete with onions caramelised in vermouth.
Best for feel-good-factor: Caravan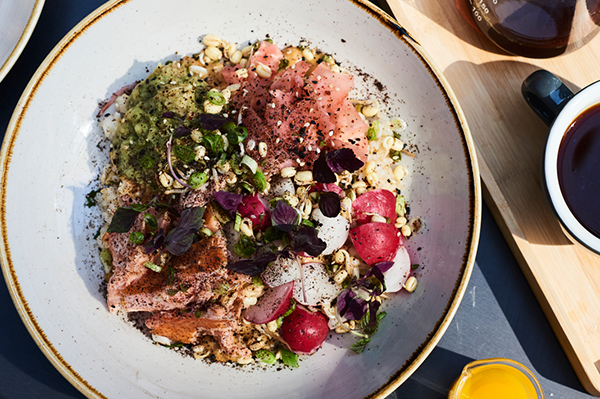 Popular for its sumptuous, healthy dishes with a sunshine twist, Caravan Canary Wharf at Reuters Plaza is open from dawn 'til dusk, but at lunchtime it's a little international inspiration to fire you up for the rest of the day. Whether you fancy superfood filled bowls of grains and greens, sourdough pizza or something more substantial, their well-travelled menu is filled with flavour and feel-good-factor.
Best for Bombay-style comfort food: Dishoom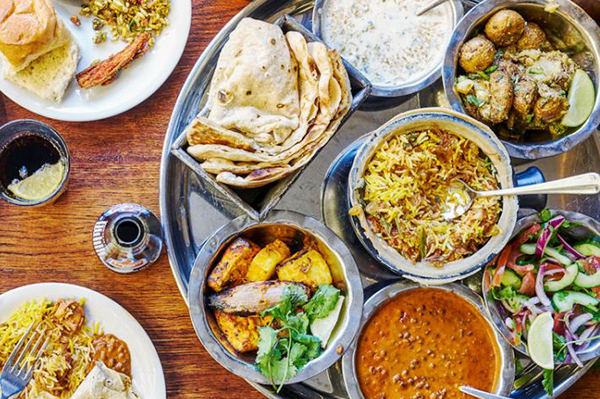 Head to Dishoom at Wood Wharf to find a feast of Bombay-style comfort food with a contemporary twist and bustling cafe-style atmosphere. Their all-day menu is a chance to tuck into delicious dishes ranging from their classic chicken tikka to Malai mushrooms from the grill, small dishes like their lamb samosas made to an old family recipe, or inspired salads. It's guaranteed to fill you up and impress your guests.
Best for authentic Italian: Emilia's Crafted Pasta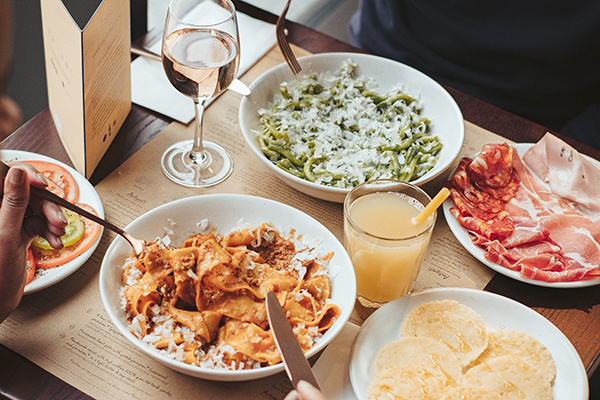 Soul warming and stomach filling, Emilia's Crafted Pasta prides itself on providing the kind of nourishing Italian fare that the most experienced Nonna would be proud of. Using traditional techniques, they're particularly popular for their home-made pasta dishes, served at their Wood Wharf location. Perhaps you're in the mood for a classic radiatori with tomato, mozzarella and basil, or an indulgent casarecce with a creamy truffle and pepper sauce. There's also a bar menu for smaller snacks.
Best for a taste of California: Feels Like June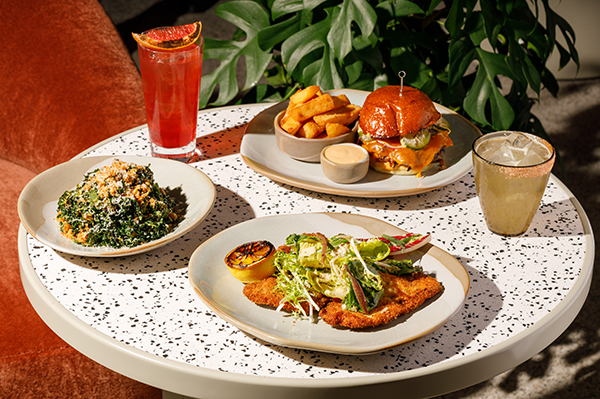 For a little California sunshine in the heart of Wood Wharf, head to the aptly named Feels Like June. The menu is brimming with brightly coloured summer sensations, and in true Angelino style, they pair beach vibes with the speed needed during a busy working day. Choose from their all day menu with more substantial dishes like sautéed salmon, vegan burgers or beef picanha, or opt for their express lunch menu with a starter and a main course for £19.95.
Best for sustainable seafood: Fish Game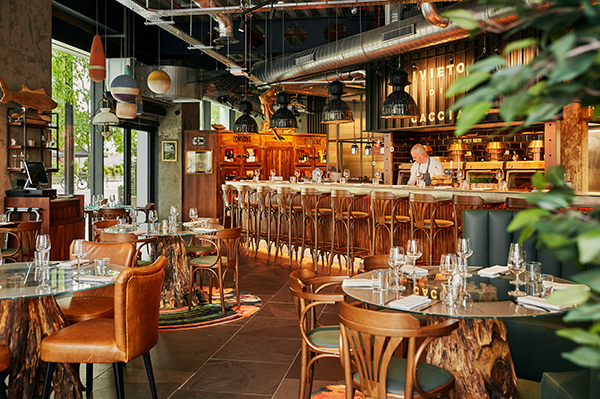 Now open on Water Street, Fish Game is, unsurprisingly, a seafood and game restaurant with serious emphasis on ultra-seasonal, sustainable British ingredients. Sourcing their produce from all over the UK, they cook it simply over fire and the charcoal and let those natural flavours do the talking. Lunchtime favourites include Shetland Island mussels, Southwest monkfish, Venison tartare and Aberdeen ribeye, in a selection of small plates, starters and main courses. If you're settling in for a leisurely lunch, they have a set lunchtime menu including two dishes for £16.
Best for steak: Hawksmoor Wood Wharf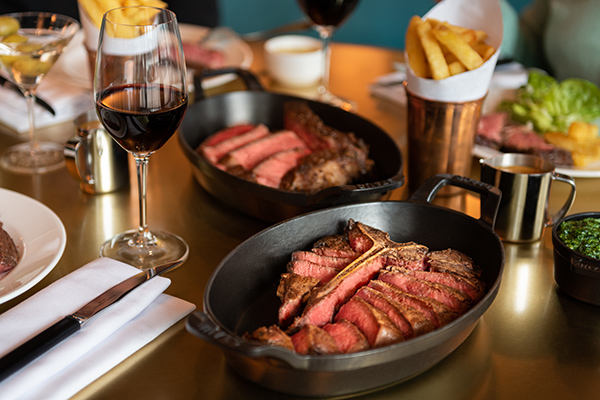 Bringing their Manhattan steakhouse vibe to Wood Wharf, Hawksmoor is in an eco-friendly floating pavilion offering some of the best New York classics in town. With views of the dock, lunchtime invites you to dine according to the occasion, whether it's the 'three Martini', a grand celebratory luncheon or a quicker, lighter affair without compromising on flavour. Favourites include their steak salad, the Hawksmoor burger with triple-cooked chips, steak and bone marrow pie or a choice of two or three courses on their express menu. Who can resist finishing off with the peanut butter shortbread?
Best for plant-based lunches: mallow
100% plant-based and sustainable, mallow is a light and welcoming space in Wood Wharf, where you can tuck into beautifully presented, seasonal food and drink with eco-friendly vibes. They aim for minimal waste and ingredients are sourced locally wherever possible – it's amazing what's produced right on our doorstep! Their express lunch menu is available weekdays from 12pm until 3pm, choosing from a delicious charred courgette tapenade flatbread with feta, a tantalising plum tomato mushroom bhaat or a mouth watering za'atar aubergine tempura.
Best for adventurous dining: Six by Nico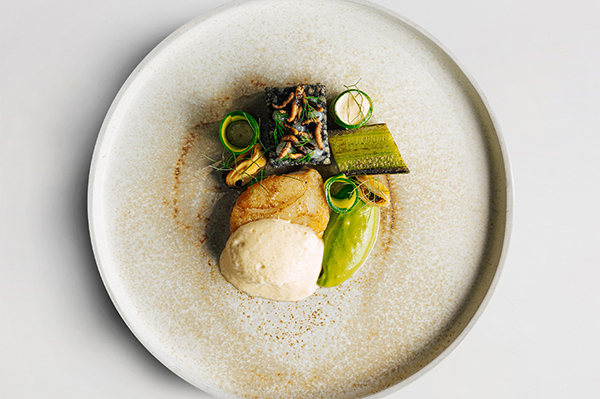 If you're looking to impress colleagues or clients, Six by Nico is the place to go. On Chancellor Passage, they're famous for their innovative, themed menus, which change with the seasons. Including themes such as Tokyo and Neverland, tuck into six-courses with matching wines and plenty of talking points. The new menu, Catalonia, will be served from 25th September and is steeped in culture and evoking holiday nostalgia.
Want to discover more delicious deals and destinations?