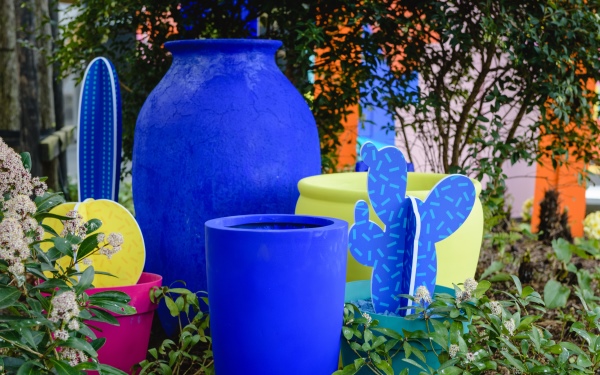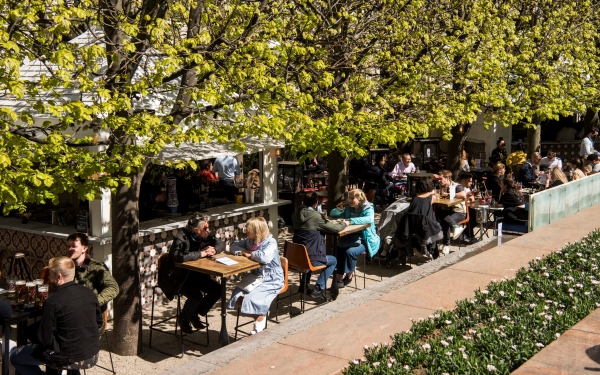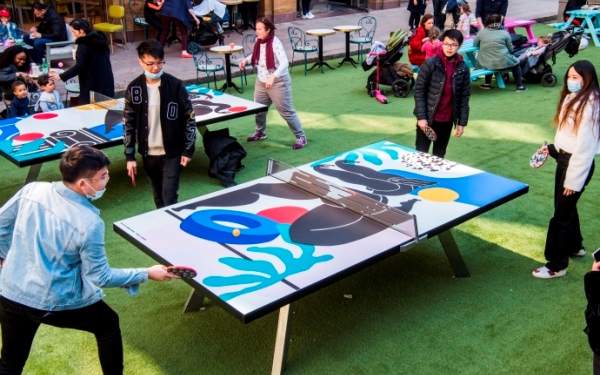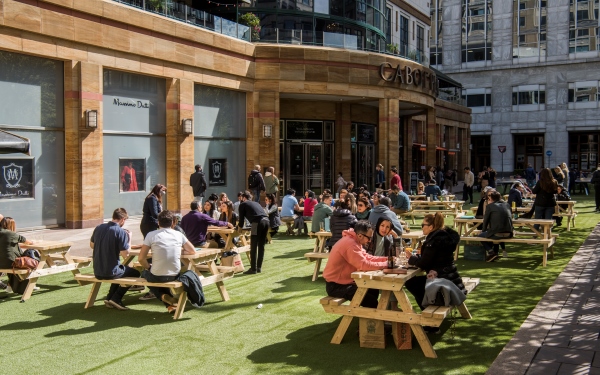 What's On
Top 10 Things to Do This May Bank Holiday
With the warmer weather and restrictions easing, get out and about this bank holiday weekend – here's our pick of ideas across Canary Wharf
28 April 2021
Get Transported to the Colourful Gardens of Morocco
Feel as though you're on holiday and experience the 'Crossorelle Roof Garden', a magical installation inspired by the Jardin Majorelle in Marrakech, the garden of which was bought and restored to its former glory by Yves Saint Laurent and Pierre Bergé.
This installation has been created by artists Baker & Borowski and visitors can take a walk through the spectacular rooftop garden and discover beautiful archways, stunning shadows and bold backdrops.
Go on a Family Adventure Around the Estate
Take part in 'The Canary of The Wharf', brought to the Estate by Tea Dance for Little People, where you will be led around Canary Wharf's open spaces by an audio guide and a brightly coloured canary bird. As well as seeing history nestled among skyscxrapers, discover nature in the middle of the city while en route spotting a giant made of bronze, decoding some mysterious clocks, and even finding a building floating in the sky! What's more, while on the trail you can unlock codes to receive rewards such as 10 per cent off the summer menu at Café Brera or two free scoops of ice cream when you spend £10 at Bird in Wharf Kitchen.
Try Your Hand at Ping Pong
Get your bats at the ready because ping pong is back at Canary Wharf! Enjoy a little friendly competition with family, friends, or colleagues on the newly decorated tables designed by artist Kelly Anna, who is known for her bold and colourful prints. Popping up on the turfed green at Cabot Square, our event steward is onsite from 12-6pm Thursday to Sunday to provide bats and balls. Those who have their own equipment can play outside of these times.
Ping Pong, free, 12noon-6pm Thursday – Sunday ongoing, Cabot Square, space is limited and operates on a first-come, first-served basis
Tee Off with a Round or Two of Minigolf
Canary Wharf's favourite minigolf course has had a little facelift, so you can put(t) your minigolf skills to the test at its brand-new location of Columbus Courtyard. With nine holes to play, including the classic 'loop-de-loop', the 'death drop', and many more trick shot opportunities, it is the perfect place to show off your skills to friends and family.
Minigolf, free, 12noon-6pm Thursday – Sunday ongoing, Columbus Courtyard
Admire the Latest Outdoor Exhibition
Visit Looking Up!, the largest solo exhibition to date from renowned artist Helaine Blumenfeld OBE. You can get an unrivalled opportunity to view her sculptures and their forms, which are dotted in and around the Estate, as well as being curated in carefully designed outdoor spaces amongst mature trees. The pieces are a fusion of natural forms, both human and foliate, spiced with abstraction and date from 1974 to 2019, and form her largest solo exhibition to date.
Looking Up!, free, daily until Tuesday 30 November, across Canary Wharf
Dine Al Fresco
With outdoor drinking and dining possible once more, treat yourself this bank holiday to a special meal with loved ones on ROKA's Terrace, overlooking Canada Square against the backdrop of Canary Wharf's dramatic city skyline. Alternatively, share the very best of Spain on Ibérica's La Terraza and savour an authentic Spanish experience with contemporary cuisine and wine. Meanwhile make the most of those all-important and much-needed reunions at Plateau; the cityscape views are sure to impress.
For those after something a little less formal, why not relax with friends, drink in-hand at No35 Mackenzie Walk's south-facing waterfront terrace, drop in to Shake Shack by the Park Pavilion for a feel-good helping of a burger and fries or enjoy causal drinking and dining at The Ivy in the Park. In need of further inspiration? Read our guide to all of Canary Wharf's outdoor drinking and dining spaces.
Have a Picnic
Make the most of the spring weather by indulging in this quintessential British pastime. Picnics are a perfect way to mix and match your favourite foods, making the choices limitless. Have the work done for you by picking up some ready-made sandwiches and treats from Ole & Steen, or for a more DIY approach shop for picnic-perfect bites at Waitrose & Partners. Meanwhile for ease you can pick up lunch bundles or tuck into an afternoon tea from Le Pain Quotidien or Cojean, the latter of which is new to the Wharf and has a wide selection of sandwiches and cakes as well as a juice bar.
Don't forget the gear too – click and collect at Marks & Spencer for all the essentials, from plates and glasses to cool bags and picnic blankets. Top it all off with a crisp, refreshing vintage from Humble Grape – it is the bank holiday after all. All that's left is to pick your ideal spot; whether it be a bench on the riverfront at Harbour Quay, the tree- and art-filled open spaces of Jubilee Park or the tranquillity of Westferry Circus, with 20 acres of landscaped parks, gardens and squares, there is a place on the Estate to suit all tastes.
Go Shopping
Now that the shops are well and truly back open, it's time to indulge in a spot of retail therapy. Purchase a piece from your favourite brand's spring/summer collection or simply browse in-person some of the 300 stores that are spread across five malls for a day out to remember. Want to plan ahead? Check out our shopping guide here. From Claudie Pierlot, Maje and The Kooples to high street favorites such as Zara and Mango, there's outfits that will make you look your very best this season. Meanwhile for post-lockdown beauty, why not have a pampering session at-home and pick up all of your essentials from Kiehl's, a luxurious dressing gown from The White Company and candles from Penhaligon's? This leads onto our next point…
Pamper Yourself
Yet to shed the lockdown look or just after some feel-good pampering? Make the most of your time over the long weekend and indulge in an image overhaul or enjoy some quality 'me' time. Unwind and re-energise with a massage at Third Space Spa, with options for 25, 50 and 80-minute treatments available. Alternatively head over to Canada Place for a quick eyebrow threading at Blink Brow Bar or a manicure and a glass of fizz at London Grace, while those needing to give their locks a new lease of life can book an appointment at cutting-edge hair salon Jon Hala. Gentlemen need not feel left out either – with Adam Grooming Atelier offering a classic barber's experience from its Cabot Place branch, now is the perfect time to ditch the caveman look.
Head Back to the Gym
Whether you were the first person back in the gym when they reopened on 12 April or you're slowly easing yourself back in, nothing quite beats getting the endorphins flowing with a spot of activity. From running on the treadmill to lifting weights, getting on the rowing machine to peddling away on a spin bike, every little bit of exercise is good for the mind, body and soul. Head to Third Space and Awakn which are now open.
You can also read about Cojean – the ideal lunch spot for healthy snacks in Canary Wharf.