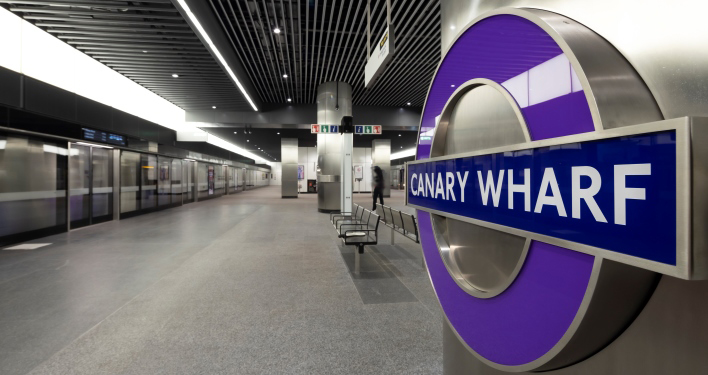 Offices
The Elizabeth line is a fitting legacy
22 September 2022
 "One of the most poignant cartoons published on the morning of Friday 9th September showed a picture of Her Majesty the Queen on board an Elizabeth line train to the shining light of heaven.
It was fitting The Queen was able to open the Elizabeth line in May this year, which brings state of the art technology and infrastructure for the next generation of Londoners. It provides quicker, better access to the wealth of experiences and cultures that we are lucky to have on our doorstep. It opens up more possibilities to more people and brings us all closer together.
We have already seen good early success – today over 1.1 million people come to Canary Wharf each week, and many of our shops, bars, restaurants, services and other amenities are doing better than in 2019. The next chapter is the line's opening of Heathrow, a further game changer for our residents, office workers and visitors – now able to get from Canary Wharf to Heathrow in 40 minutes.
But as we think about the travel and infrastructure now in place, our industry must continue to raise its game to provide a better environment as we think about our community and public spaces.
Quite rightly people today expect more from the environment where they work.  Particularly as businesses are navigating a difficult economic period and a tight labour force, now more than ever they want to bring their people together and ensure the work environment promotes productivity and culture for everyone. It is our job to provide that – and we continue to push ourselves to provide more.
And none of us are homogenous, everyone wants different things from where they work. The industry's responsibility is to build for the diverse community – one person's favourite restaurant is another person's exercise class.
But the central theme of our environment is the same – a community where it is easy to access activities, shops, restaurants, a comfortable and easy commute, a quiet bench to sit with a coffee amongst trees and birds, a busy place to have a meal and a glass of wine with colleagues, time to paddle board, swim, or visit the doctor, dry cleaner or farmer's market at lunch, a sense of security walking home from an evening out. These all play into supporting our mental health and wellbeing and feeling happy at work and relaxed at home.
It is also about the type of building we want to work in. One that helps collaboration, that provides space for creativity and for us to meet all together. And puts sustainability first, to safeguard the future. Building sustainably is building green. But real sustainable development is building something that works for the community for the long term. 
In my view there has never been a better time for us to meet these challenges head on.  Working in partnership, whether that is with global leaders like Eden Project to create a greener environment or our world class engineers and architects to create sustainable building design. We look forward to bringing the best of the future as we continue to collaborate and put our communities first as we provide an extraordinary environment for the generations to come." 
Katie Oliphant
Director of Office Leasing at Canary Wharf Group