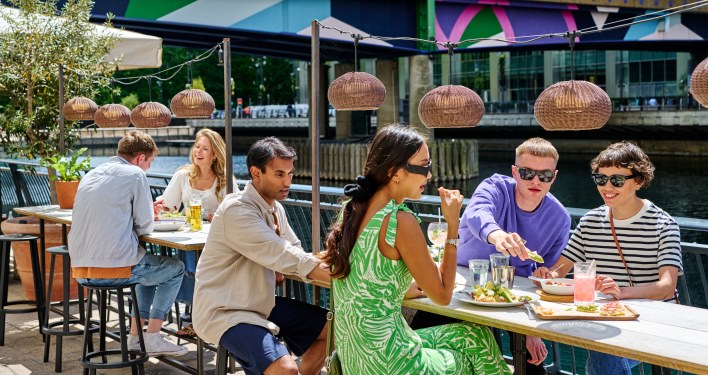 Eating & Drinking
The Best Bars in Canary Wharf
Whether you and your mates want to enjoy a champagne brunch, a boozy lunch, cocktail sundowners, or an evening of inspired food and drinks, there's a venue for you in the Wharf.
16 August 2022
Discover the best Canary Wharf bars below, where you'll find:
The best bars for cocktail enthusiasts
Bars for wine lovers
The best terraces and rooftops for drinks
The best craft beer bars
The best spots for drinks and entertainment
Ready to don your drinks explorer's cap? Let's dive in!
Best bars for Cocktail enthusiasts
With a nine-metre-long bar, dark green marble floor, polished timber ceiling and velvet booths, you might expect The Lowback to take itself terribly seriously. The good news is it doesn't.
Instead, the atmosphere, food, and drinks at what's one of the best bars in Canary Wharf are all about glamorous good times without the pretence. If you're looking for unique cocktails (and some of London's finest champagne cocktails, to boot), visit this water-level bar between 4pm and 7pm. There's also an outdoor terrace to enjoy when the sun's out.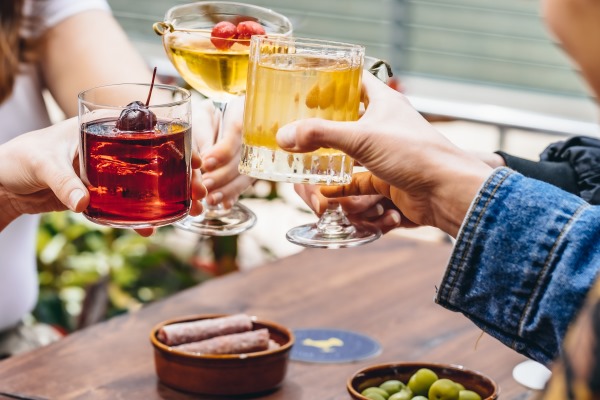 The Lowback, Water Street

With its exposed lightbulb fittings, polished dark wood floors and ritzy décor, Rocket offers a perfect blend of traditional and informal atmospheres. They serve classic British dishes such as honey & mustard glazed sausages or British beef rib steak burgers as well as an immense selection of gins, whiskies and wines, Rocket is one of the best cocktail bars in Canary Wharf for either a quick drink or a whole weekend.
Served in all sorts of interesting vessels, the Alchemist's drinks are a celebration of molecular mixology. Add a drop of this or a dash of that and watch them bubble and fizz! If you're feeling peckish, you'll find an array of internationally inspired plates small and large. One of the finest cocktail bars in Canary Wharf, the Alchemist certainly lives up to its slogan, "Theatre served".
The Alchemist, Reuters Plaza

A secret garden-inspired lounge is just one of the many good reasons to visit The Parlour. You'll find plenty of other great reasons on the seasonal menu, incredible cocktails among them. The charming setting and the many food and drink options available make this cocktail bar in Canary Wharf a perfect spot for all-day dining and drinking.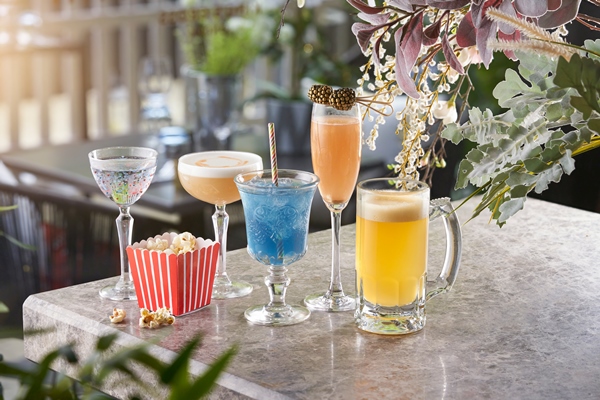 The Parlour, The Park Pavilion

Bars for the Wine lovers
If you're a wine lover, you're spoiled for choice when it comes to Canary Wharf bars. And one not to miss is Humble Grape. The wine list includes a rotation of 30 wines sold by the glass and 400 wines sold by the bottle. The Humble Grape team sources and imports wines from 95 vineyards in 16 wine producing countries. You can also dine on delicious small plates and mouth-watering mains with the perfect wine pairing.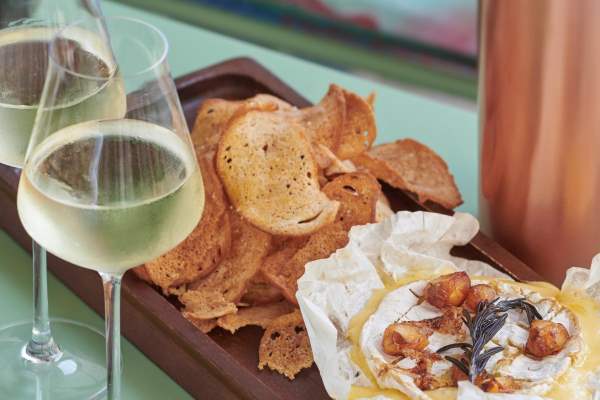 Humble Grape, Mackenzie Walk
Warm, welcoming, and relaxed, Nicolas is one of the best bars in Canary Wharf for wine lovers. Head to the wine bar if the gift of the grape's what you're after. If you'd like something more substantial, the bar also has a French restaurant, so you can choose a bottle of excellent wine to complement your meal. A renowned French wine merchant, Nicolas stocks more than 900 wines.
Best terrace and rooftops for a drink in Canary Wharf
One of the most popular Canary Wharf bars, No.35 Mackenzie Walk is where you can enjoy delicious cocktails, draught beers, wines, small plates, and bigger meals on a beautiful outdoor waterside terrace. It's a gorgeous spot if you're looking for classic cocktails with a twist and a spot in which to relax and unwind.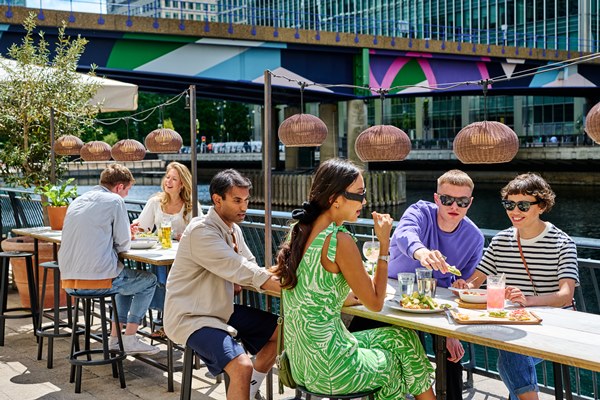 No.35 Mackenzie Walk, Mackenzie Walk

La Terraza by Ibérica is the well-known Spanish restaurant's outdoor dining and tapas venue. It's also, one of the best cocktail bars in Canary Wharf if you want to get into the spirit of summer. La Terraza focuses on amazing cocktails and sangrias, sherries, wine, and barbequed grilled vegetables, fish, and meats.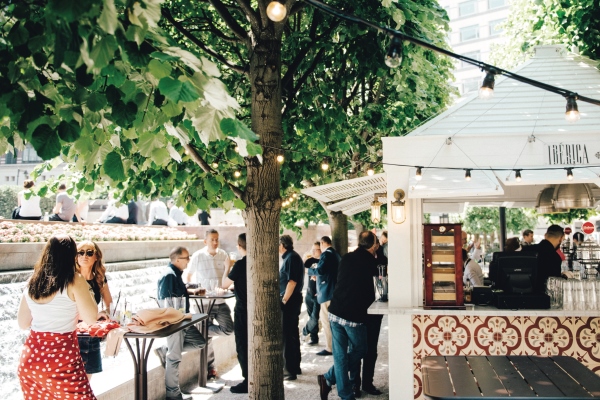 Ibérica La Terraza, Cabot Square

Nothing less than Edenic, Pergola On The Wharf is a plant-lover's paradise that also happens to boast fabulous food and drinks menus that focus on freshness, seasonality, and provenance. The drinks menu was created in partnership with some of the top breweries, distilleries, wine merchants, and up-and-coming brands in London. Pergola could easily become one of your favourite places to drink in Canary Wharf.
Constructed from upcycled shipping containers, 640 East is a quirky gem selling craft coffee by day and boozy slushies, wine, bubbles and craft beer by night. All their coffee is supplied by Caravan coffee roasters, who supply specialty grade coffee ethically sourced from Ethiopia, Colombia and Rwanda. It's unique ambiance and central location make 640East an unmissable place to drink in Canary Wharf.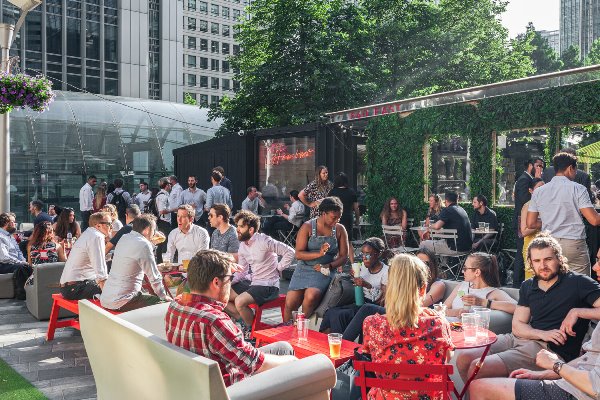 640 East, Montgomery Square

Best craft beer bars
BrewDog deserves a spot on any round-up of the best bars in Canary Wharf if it's craft beers that you're looking for. The tap list is extensive, and the food menu is an interesting take on internationally inspired bar snacks and pub fare. There's also plenty of vegetarian and vegan options available.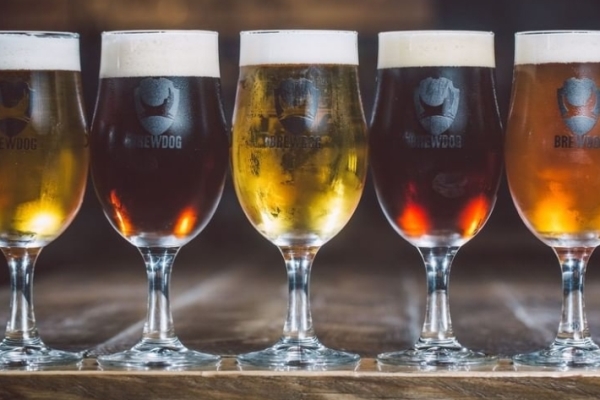 Brewdog Canary Wharf, Churhcill Place

The Henry Addington takes the classic British pub to the next level. Take your pick from the establishment's extensive range of craft beers and other tipples, along with whiskies, gins, summer cocktails, and low- or alcohol-free options.
With this being their 11th restaurant opening, it's clear that everyone loves P&B. Now they aren't just offering up their usual selection of mouth-watering burgers but are also collaborating with the Forest Road craft brewery and will deliver massive 5L or 10L DIY kegs to tables with customers being able to pull their own pints!
Drinks and entertainment
A great Canary Wharf bar for drinks and entertainment, Electric Shuffle offers a great selection of beers, wines, and spirits, as well as small plates, sharing platters, sharing pizzas, and other dishes. Add to that 10 gaming areas where you can play a reimagined version of shuffleboard, and your evening is made.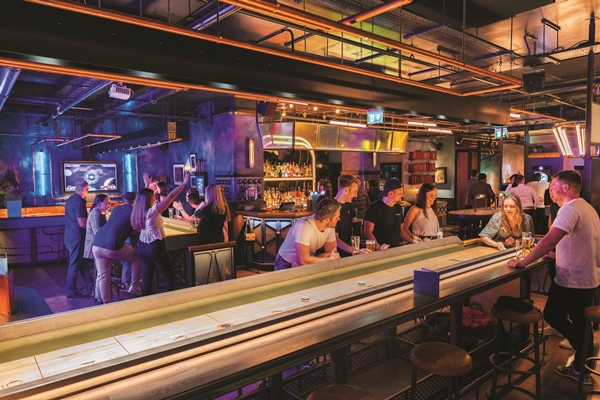 Electric Shuffle, 10 Cabot Square

Boisdale is two floors of nostalgic decadence overlooking Cabot Square. It's lacquer red and dark green walls have hosted some of the world's best jazz, blues and soul musicians, earning it a reputation as one of the best bars in Canary Wharf, as well as the seal of approval from Jools Holland himself, who is Boisdale's Patron of Music.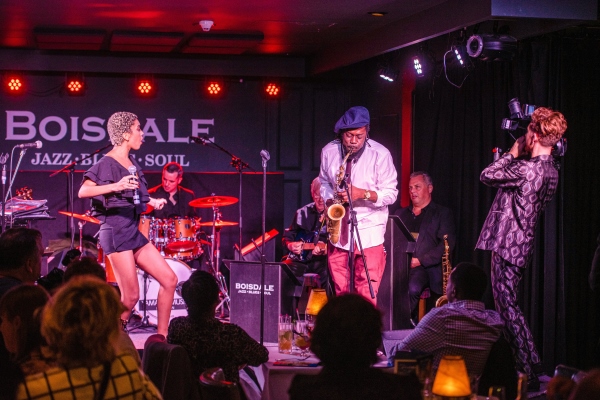 Boisdale of Canary Wharf, Cabot Place

A wide range of cask ales, lagers, wines, and spirits and a surprisingly good menu awaits you at Sports Bar & Grill. The venue's a must if you're a sports fan, as you can watch games from major national and international football tournaments, rugby league and rugby union, Formula One, NFL, boxing, golf, tennis, college football, and more.