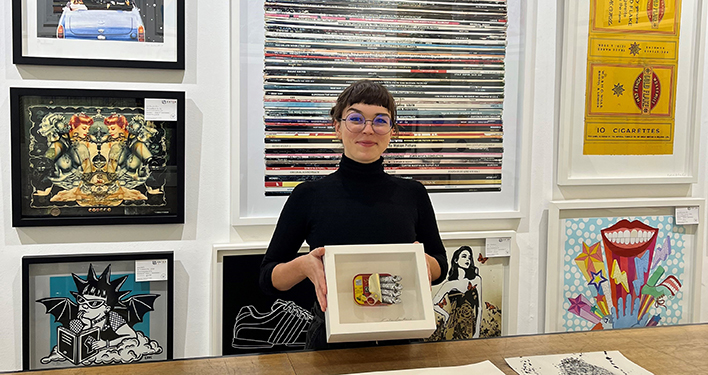 What's On
Q&A with Helen Hiett, Head of Buying at Enter Gallery
Enter Gallery, one of the UK's leading independent art galleries, has opened a brand-new gallery space at a pop-up location in Jubilee Place. We talked to Helen Hiett, Head of Buying.
25 September 2023
Q1: Art galleries and often art in general is associated with being elitist, inaccessible and even pretentious – how does Enter Gallery break down this stigma?
At Enter Gallery we believe that art is for everyone, so we strive to make anyone who walks through the door feel welcome. Inclusivity is top priority, so everything from the artists that we work with, to how we curate our walls is designed with this in mind. We also love nothing more than chatting about art, so when you visit the gallery, you'll be warmly greeted by an Art Consultant who will show you around the space, answer any questions, and help you to select the perfect piece for you. To make things as affordable as possible, we stock artworks at a wide range of price points, and should you fall in love with a piece we offer access to the Arts Council's fantastic Own Art Scheme, which allows you to get the artwork right away, while spreading the cost over ten- or twenty-months interest free.
Q2: As well as allowing for people to purchase affordable art, Enter Gallery also provides a space for people to view art for free – how do you curate the artworks and the space, so people feel comfortable to come in and admire the works?
Enter Gallery is known for its unique curation style. We like to break the boundaries of traditional curation by making sure our walls have a rich variety of artworks. The right art for you should make you feel something, so our curation is designed to facilitate that emotional response. We enjoy hanging emerging artists next to blue chip artists like Damien Hirst or Tracy Emin, to give the viewer space to look at all kinds of art and to choose pieces based on what speaks to them visually, rather than just for the name associated with the work. Enter Gallery is a welcoming place, and very active within the local community. Our exhibitions and events are open to all, and we love welcoming people to the gallery for Q&A's, artist-led workshops, and our free monthly Kids Club, designed to inspire the next generation of artists.
Q3: Canary Wharf Group shares in Enter Gallery's ethos 'Art for All'. Our permanent collection of over 100 artworks is free to visit and predominantly outside so people can encounter the artworks as part of their daily routines. What attracted you to set up a pop[1]up in Canary Wharf?
We're so excited to be the first art gallery opening in Canary Wharf, we've enjoyed introducing the community to our selection of artists and artworks. Enter Gallery have always admired Canary Wharf's collection public art, so it's a pleasure to be popping up in a place that prioritises creative spaces that uplift and inspire people on a day-to-day basis.
Q4: Enter Gallery stocks a huge range of artists including Banksy, Yayoi Kusama, Damien Hirst, and Bruce Mclean and Yinka Ilori who we also have in our permanent collection. What is the process and thought behind the selection of works you stock?
Our commitment to inclusivity extends to how we select our art. We give a platform to a wide range of artists. We are proud to display works by household names and want people to be able to enjoy seeing these works on our walls, but we also know how important it is to support emerging artists, and over the years we've been instrumental in launching the careers of a number of artists who've gone on to enjoy great success, including Lucy Sparrow and Dan Baldwin. What makes art so special is its ability to make people feel something, and we understand that different things appeal to different people. The main unifying thread across all our choices is how the art makes you feel. It could be the colour palette, brush strokes, the subject of the art, the printmaking process, or the comment the work is making. It could be a technical masterpiece or just a simple mark on paper. The main thing is how it hits you, often it's an instant human reaction and you think to yourself 'there's something special here.'
Q5: What is your favourite artwork on display in the Canary Wharf pop-up?
It's tough to choose because we have so many fantastic works available at the Pop-Up! We have a couple of great new releases by Justine Smith which are proving very popular, and then there's 'Gold Tears', a rare piece by Damien Hirst. Personally, I've always had a soft spot for Sir Peter Blake's Tattooed People series because 'Ron' was the first artwork I ever purchased. The series is such an excellent example of Blake's work – fun, stylish and absolutely timeless.
Enter Gallery London is open until Sunday 8 October. Monday to Saturday: 11am-7pm, Sunday: 12noon-6pm.