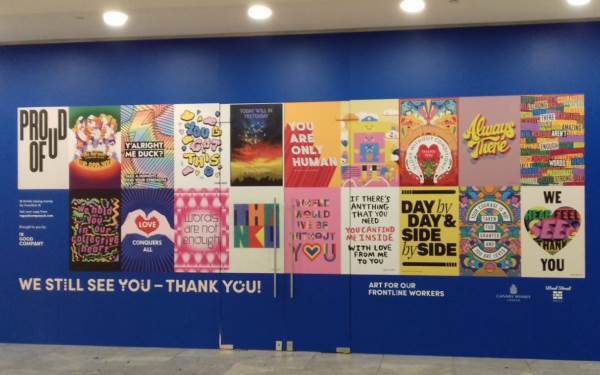 Community
Posters for the People 2.0 showcases in Canary Wharf
An art project, to raise funds to provide psychological support for essential frontline workers
23 May 2021
In Good Company, a Leeds based organisation behind some of the city's most striking murals and installations, is showcasing its Posters for the People initiative in Canary Wharf's Jubilee Place mall  – an art project, to raise funds to provide psychological support for essential frontline workers.
The vibrant poster display will be in place until throughout the summer in Jubilee Place, located next to Reiss.
Posters for the People 2.0 has seen 450 sites transformed with vibrant billboards and posters designed by 19 leading artists from across the UK, including Margaret Calvert OBE, Stanley Donwood and Super Mundane.
Each poster conveys a positive and supportive message thanking essential frontline workers for their continued efforts. Members of the public can buy copies of the posters, with all money raised going to Frontline19, an organisation that provides free psychological support to people working on the frontline.
Posters for the People was the brainchild of The Wunderkind Group founder, Laura Wellington who set up In Good Company as a passion project with the aim of bringing more large-scale art, fun and colour to the city. When projects were put on hold as COVID-19 took hold, Laura wanted to use her skills and connections to amplify the gestures of thanks she saw in the streets around her Chapeltown home.
In the first lockdown, the original Posters for the People campaign saw 450 poster sites and billboards across the city transformed.  Posters for the People 2.0 is sponsored by Leeds City Council, BJSS, MyVyne, FYI and Pop Art Media Group.
In Good Company is a curated street art project in Leeds that works to bring more art, fun and colour to the City. Collaborating with international artists, local businesses, and property developers, In Good Company curates large scale murals and creative interventions that put creativity at the front of how we develop, interact with, and think about the City.
Frontline19 is a free, independent, confidential and UK based nationwide service delivering psychological support to people working on the frontline. Supporting NHS workers, social workers, care home staff, firefighters, police officers and all those working in frontline services, Frontline 19 matches individuals with a qualified therapist to provide them with the help they need.
Posters for the People banners cost £25 (including shipping) for a 1m x 750mm banner. Posters and  custom sizes are also available. Visit www.ingoodcompanyuk.com for all the details of the artists involved, or follow @ingoodcompanyleeds on Instagram.